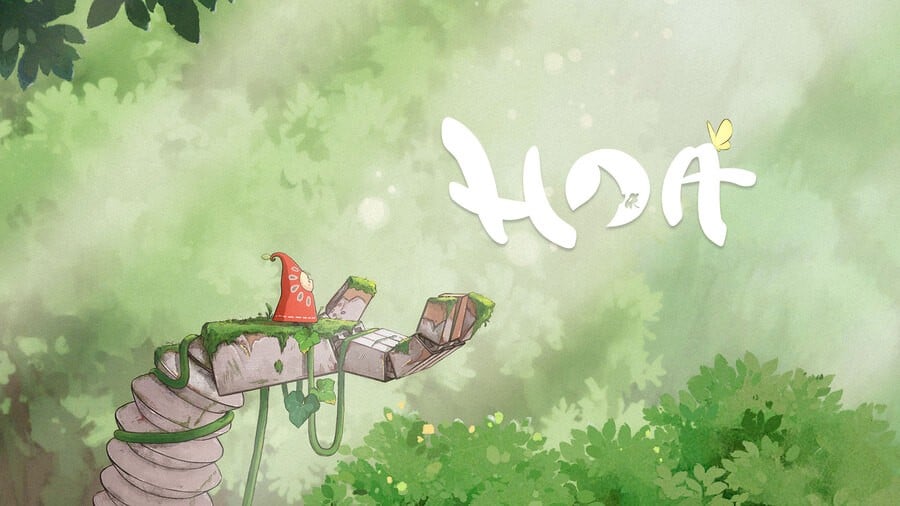 The latest Nintendo Download update for North America has arrived, and it's bringing new games galore to the eShop in your region. As always, be sure to drop a vote in our poll and comment down below with your potential picks for the week. Enjoy!
Switch eShop - Highlights
Hoa (PM Studios, 24th Aug, $14.99) - Experience the magic of nature and imagination as you guide Hoa on her journey through stunning environments back to where it all began. With a gentle yet compelling flow, you'll navigate and solve exploration-based puzzles. Relax to the organic rhythm of subtle storytelling while being intrigued by endless little wonders. Enjoy a beautiful puzzle-platforming game that features breathtaking hand-painted art, lovely music and a peaceful atmosphere. Hoa will be available on Aug. 24.
Arietta of Spirits (20th Aug, $19.99) - A charming adventure game with an emotion-filled narrative and fast paced combat, Arietta of Spirits tells the story of a family visiting their grandmother's cabin for the first time after she passed away. However, the family trip takes an unexpected turn when Arietta meets a new friend and gains the ability to see strange spirits. Explore a mysterious island, meet fascinating characters, discover deep lore and fight a wide range of enemies. Arietta of Spirits will be available on Aug. 20.
King's Bounty II (1C Entertainment, 24th Aug, $59.99) - This long-awaited RPG expands on the legendary King's Bounty franchise with an epic new story, as well as new factions, enemies and features. Recruit, develop and command your personal army on a non-linear adventure of betrayal, sacrifice and survival. Fight for your own future, outsmart enemies in unique turn-based combat, make difficult decisions and experience the intensity of one of the classic sagas in an exciting new way. King's Bounty II will be available on Aug. 24.
Switch eShop - New Releases
Adventure Field 4 (22nd Aug, $9.99) - Several years after Atoa defeated his evil self, Eras, and Marok took their place as leaders of the Sarook Kingdom. Atoa defeated the evil that was born from within him but a greater danger is now looming upon Sarook kingdom. . . The direct sequel to Adventure Field™ 3. . . Adventure Field™ 4 is a 20 hour, semi open-world, turn-based JRPG. Battle monsters, complete quests and save Sarook Kingdom! In this game you will have to fight your way through dungeons and powerful enemies to try gathering souls gems. Between the fighting and the exploration, you can cook and grow some vegetables, discover hidden mysteries hidden within the night and day system, try to find what people need to finish side quests and find many collectibles and secrets along the way!
Arcade Archives KURIKINTON (13th Aug, $7.99) - "KURIKINTON is an action game released by TAITO in 1988. The game follows the martial artists of KURI KINTON in their brutal battles with evil fighters, set amid chaos and violence at the end of the millennium. Use special breathing techniques to power up and unleash amazing energy blasts to come out on top! The "Arcade Archives" series has faithfully reproduced many classic Arcade masterpieces. Players can change various game settings such as game difficulty, and also reproduce the atmosphere of arcade display settings at that time. Players can also compete against each other from all over the world with their high scores. Please enjoy the masterpiece that built a generation for video games.
Buissons (19th Aug, $7.99) - Move when the night is dark and use the day as an opportunity to observe and flush out your opponents. Use the secrets of nature to your advantage and prepare for surprises: each game comes with a new forest of its own. Only one bush will survive. . . And do not forget to drop a fart from time to time, after all it's a lethal weapon. You and your friends will laugh!
Chess Gambit (D-Lo, 16th Aug, $10.70) - This game transports you to a low-poly environment where castles, tough soldiers, battle-hardened knights and loyal bishops are the true stars. Use your best strategies to open a path and conquer the castle of your opponent's king!
City Driving Simulator 2 (20th Aug, $11.99) - This isn't one of those fantasy scenarios, where cars behave like children's toys and all you have to do is drive as fast as you can. This is a game for true car enthusiasts. Select one of many meticulously rendered vehicles and take it for a spin in a lifelike environment. Cruise in the suburbs, tear through the city streets and show you have what it takes to call yourself a real driver.
Dungeon's Hell (Piotr Skalski, 10th Aug, $2.99) - Do you have what it takes to tackle the Dungeon's Hell? This exciting and fun game for everyone has 60+ different and really hard levels that you need to complete in order to show your prowess. It's a very engaging game with endless gameplay, and you can always test out new ways to enjoy the experience and immerse yourself as much as possible. With Dungeon's Hell, you always have a cool platforming experience and you need to test your skills in order to win!
Faraday Protocol (12th Aug, $24.99) - Faraday Protocol is a first-person, story-driven puzzle game that will test your curiosity and keen perception. You are Raug Zeekon: interstellar archeologist from planet Cunor. You have been sent by your company to investigate the source of a mysterious signal coming from an unexplored star system. As you deploy from your spaceship, you'll find yourself in a new and unknown environment. A voice will welcome you to "Opis" - the mysterious place where you have landed. Opis is structured with a succession of puzzles and trials you'll need to conquer in order to keep exploring. Solve intricate puzzles by re-distributing energy through the use of your Bia-Tool and demonstrate your abilities during the stations' challenges. The mysteries of Opis are hidden within its core. Who built it? When and why? And where are they now? Investigate lore elements spread throughout the station, interact with the governing A. I.
Heart Chain Kitty (20th Aug, $9.90) - A heart-shaped stranger has arrived on Kitty Island! And he brings news of his parents. Of course Kittey has to go on a journey to find them now. Deep below the world, Darkside awaits. And possibly a nightmare or two. But Kittey will be fine - he'll just have to find more of these mysterious hearts. Hearts are love, and love gives us strength. Heart Chain Kitty is a 3d platformer with big and surreal levels. Kittey learns new abilities as he progresses through his adventure. Putting these to good use, he'll surely find his parents soon.
Links Puzzle (Kistler Benjamin, 12th Aug, $2.99) - Rotate, move or slide the links in the correct position to link all pieces and complete the board! Easy to learn and with increasing difficulty a great puzzle experience! Different mechanics like rotating, moving or sliding keep you on your toes to find the right connections. Over 150 Puzzles will keep your mind busy and experience a relaxing puzzle experience.
Mayhem Brawler (19th Aug, $19.99) - Mayhem Brawler is an urban fantasy themed beat 'em up that brings back the 90s arcade vibe to present day. With comic book style art and kick-ass soundtracks, it offers a unique experience that you can tackle solo or as co-op with friends while defining the next step in the story with your choices.
Metal Commando (19th Aug, $4.99) - This game will take you through series of classic levels, various enemies, and boss battles with amazing experience of side-scrolling platformer games. Use various weapons filled with slugs and power-ups to fight your way through multiple enemies, metal tanks, copters and put an end to the evil army leader's and his world of terror. Different enemies have different patterns of attack, which is great when you're fighting them one on one, but once there's more than a few on the screen you're going to be jumping and running your way through storms of bullets from every angle.
Monster Train First Class (19th Aug, $29.99) - Monster Train brings a new strategic layer to roguelike deckbuilding, with a tactical twist: defend not one, but three vertical battlegrounds simultaneously as you fight to protect the final pyre against the forces of heaven. No playthrough is ever the same, it's a fresh challenge every time. You'll never play the same deck twice! Hell has frozen over. Only you can protect the final burning pyre from the forces of heaven and restore the inferno. To take back hell, you'll need to power up. Choose your route carefully, different locations yield different benefits. Upgrade your champion, gain Pact Shards and their benefits, recruit powerful units, upgrade cards, gain passive bonuses, or duplicate any card in your deck. Strategize to Fit Your Playstyle With six clans to choose from, each has its own unique and surprising gameplay. Pick your primary and supporting clan to gain access to all cards from both.
Murder Mystery Machine (25th Aug, $19.99) - Join the District Crime Agency in this isometric, modern noir deduction thriller. Explore crime scenes in complex dioramas, organize your evidence effectively, and blur the lines between right and wrong to present your case. Do you have what it takes to be a real detective? On her first day at the DCA, fresh-faced rookie Cassandra Clarke, is teamed with a reluctant burnt-out detective, Nate Huston, to investigate the murder of a prominent politician. While all evidence points to a botched robbery, it soon entwines the two detectives into a complex, interconnected series of crimes that are anything but an open-and-shut case.
Pixel Game Maker Series BURAIGUN GALAXY STORM (Gotcha Gotcha, 12th Aug, $11.99) - "Pixel Game Maker Series BURAIGUN GALAXY STORM" is a vertically scrolling shooter that reminds you of a 90's arcade. You can use three types of weapons: "Wide Beam", "Thunder Laser", and "Spear Shot", and you can also switch between "Side Formation" and "Front Formation". Let's build your own strategy! The game also has "A-CHo/SYSTEM" that slows down the time when you are on the brink of damaging to avoid enemy bullets. You can change the difficulty of the game and play in various modes such as "PRACTICE" and "BOSS BATTLE". Story Humanity is on the verge of extinction due to a sudden attack by mechanical beings. . . "Reika" have a unique power, converting the mental power of humans into powerful energy. She boards the state-of-the-art fighter "XEX" and flies off to the heart of the enemy alone. . .
Rush Rally Origins (Brownmonster, 19th Aug, $6.99) - The definitive top down racer REALISTIC TOP DOWN RALLYING! Rush Rally Origins combines the classic top down racing action from the original Rush Rally with the highly praised graphics and physics from Rush Rally 3. Take on 36 new and unique stages across the world, each with the ability to change the time of day and weather. Drive over many challenging surface types including snow, gravel, dirt, mud and tarmac! EXPERIENCE THE RUSH Race at 60fps with one of the best car dynamics models to date, highly tuned for Rush Rally Origins to give a more fun top down racing experience.
Sakura Succubus 4 (19th Aug, $9.99) - Ogasawara Hiroki was once an ordinary man, until numerous beautiful succubi fell for him in droves, and soon he obtained quite the harem! After narrowly escaping a lifetime of imprisonment in the succubus realm, Hiroki is ready to kick back and relax. Idol succubus Ayu invites him on a vacation to her private beach house in Okinawa, and Hiroki is happy to oblige. The other succubi come along for the ride, and a week of summertime fun begins. Join Hiroki as he breaks up vicious pillow fights, teaches social media queen Cosmos how to swim, and (begrudgingly) goes jogging with tennis athlete Hazel, all the while deepening his bonds with his adoring harem.
Space Scavenger (20th Aug, $12.99) - Action roguelike where you build and command your own spaceships. Battle enemies, explore planets and customize your ship on the fly. Make the best use of the quirky ship modules you find, ranging from slingshots to ion cannons, to try and avoid certain death.
Stay Safe (14th Aug, $5.99) - A roguelite survival adventure with an ever changing world! Break out the deep prison and escape this subterranean dungeon 35 floors underground. Explore Each play session is different, explore every inch of the map for precious loot, trinkets and gems with added effects to help you on your journey to the top. Fight Battle you way through each floor using a variety of ranged and melee weapons or spells.
Thea 2: The Shattering (19th Aug, $22.99) - Thea 2: The Shattering is a follow-up to the successful Thea: The Awakening, which brings the idea of innovative genre hybrid, with elements of turn-based, 4X strategy, survival, RPG and a card game, to entirely new and thoroughly polished level. The player takes on the role of a deity from the Slavic mythology-inspired pantheon and as such, controls the fate of a small flock of believers struggling for survival. This goal can be achieved in many ways, from diplomacy to war, from exploring to conquering, but any playstyle will surely lead to completely unique adventures thanks to the procedurally generated environments. Rich options, from crafting to town-building system, as well as the co-op multiplayer gameplay, make Thea 2 an ideal choice for tactically minded players, who are up for a challenge.
Tomb Sweeper (Piotr Skalski, 10th Aug, $2.99) - Tomb Sweeper is an intense and exciting maze game. It's a unique and interesting title where your focus is to try to move the player from wall to all or corner to corner in order to create a path and complete the level. Once the level is full of colour, you can reach the next level. There are more than 100 levels to go through, and you will have a lot of fun enjoying every moment, while also testing your skills. Do you have what it takes to complete all levels?
Ultimate Bumper Cars: Dodgems (20th Aug, $11.99) - Ultimate Bumper Cars is a realistic Bumper Car Simulator with multiplayer support and realistic physics. This brilliant attraction is fun for all ages. Dodgems or Bumper Cars will always be remembered as one of the longest running and most successful attractions in the amusement industry. No other ride can compete with Dodgems when it comes to family fun and entertainment. Bumper-to-bumper traffic never been this fun – or bumpy! Grab all your friends and family for fantastic fun on our classic Dodgems simulator game. Step into the dodgem arena, take control of your own dodgem car, and race around as you try to avoid the chaos! Jump into one of 16 cars, put your foot on the accelerator, and try to eliminate your rivals! But watch out for the guy behind you; he has a wild look in his eye!
Where's Samantha? (19th Aug, $9.99) - Where's Samantha? That's exactly what George, an unassuming swatch of fabric, is asking. Help George as he searches for his lost love Samantha (wind is a heck of a thing when you're a little piece of fabric)! Overcome puzzles and obstacles in this hand-drawn textile world and unfold George's whimsically narrated tale.
World Soccer Strikers '91 (19th Aug, $5.99) - WSS'91 is here! Welcome to the 90's, kid! Soccer, action and graphics on par with the arcades! Gather up a bunch of friends on your own living room!
WSS'91 is a physics-based, retro-style "soccer" game. No magnetic feet is what makes WSS91 different. You cannot depend on the game's engine doing everything for you. You'll have to aim, dribble and shoot all by yourself!
Wrestledunk Sports (20th Aug, $12.99) - Wrestledunk your friends! Spike, squish, stab, wrestle and dunk your way to victory in a pack of multiplayer sports games! Get into the super competitive local and online multiplayer action for up to 8 players. Try out the free demo! - Try out all the sports, like Fencing, Wrestling and Smashball! - Online and local multiplayer for up to 8 players - Warm up or round out the teams with AIs for every sport - Unlock dozens of arenas and modes - Easy to pick up controls, hard to master moves - Streamer mode for online play It's easy to get a match going with Wrestledunk's custom cross-platform rollback netcode. Can you have 4 local players and face off against 4 others online? Of course! Someone destroying you at Smashball? Switch up the sports and teams seamlessly! Not sure? Try out Wrestling and Volleyball in the free demo online with your friends! Controller recommended.
Zombo Buster Advance (19th Aug, $3.99) - Key Features: - Lead a team of 12+ anti zombie shooters into the operation. - Craft and equip power up badges to your units, create your own super soldiers. - Fight against 30+ kinds of zombies and engage in epic boss battles. - Make good use of various supportive gadgets in the war zone, from dynamites to the Kill-with-snap gauntlets! - Use your tactics to counter the in-game flow changer such as the escalator, travelators, passages and many others. - Forge ahead a total of 50 fun and challenging stages worth of hours playing. - Examine your units, enemies, gadgets and others with the in-game game journal. - Complete a series of missions and claim the rewards. - As always, a bunch of upgrades!
So that's your lot for this week's North American Nintendo Download. Go on, be a sport and drop a vote in the poll above, and comment below with your hot picks!