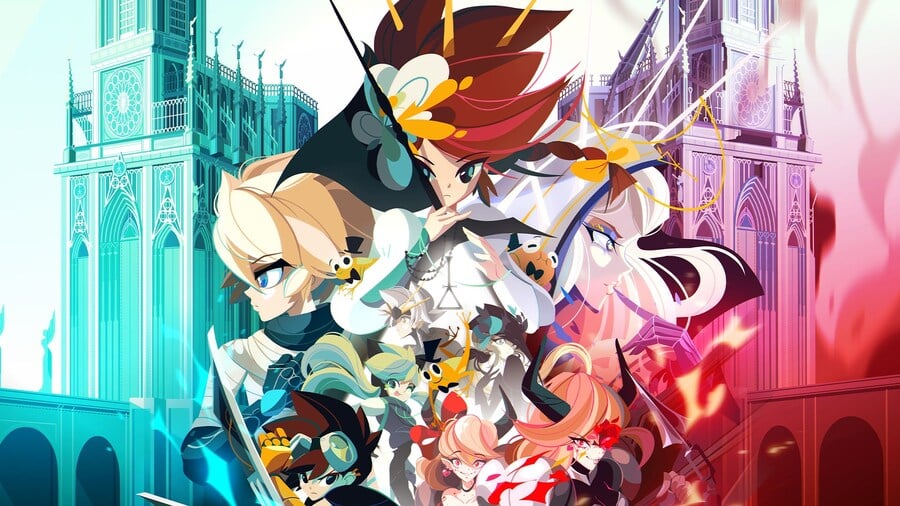 The latest Nintendo Download update for North America has arrived, and it's bringing new games galore to the eShop in your region. As always, be sure to drop a vote in our poll and comment down below with your potential picks for the week. Enjoy!
Switch eShop - Highlights
The Legend of Zelda: Skyward Sword HD - A hero rises, and the legend begins. Join Link in his high-flying quest to save Zelda, a childhood friend who must confront her destiny. Soar between floating islands and descend to the mysterious surface world in this updated HD version of the original The Legend of Zelda: Skyward Sword game. This classic journey, enhanced for Nintendo Switch, not only features improved performance, smoother motion controls and newly added button controls, but also a range of quality of life improvements. The Legend of Zelda: Skyward Sword HD will be available on July 16. Read our Zelda: Skyward Sword HD review.
Songs for a Hero: Definitive Edition (Dumativa, 8th Jul, $14.99) - Join an unlikely hero as he sings his way through a strange world full of floating platforms, bright and colorful enemies, and many other inexplicable phenomena in an adventure unlike anything you have ever heard! This humorous platformer features a fully dynamic soundtrack that reacts to your every input, meaning that the hero will always sing and crack jokes about whatever is happening to him, whenever it happens. Songs for a Hero: Definitive Edition is an old-school, sung-through videogame extravaganza!
Cris Tales (Modus Games, 20th Jul, $39.99) - Experience the past, present and future simultaneously in this gorgeous, indie love letter to classic JRPGs. To stop the Time Empress and rewrite the future of the land, embark on a harrowing journey across the kingdoms, recruiting powerful allies to aid in the fight. Master their abilities and Crisbell's unique Time Magic to overcome mighty foes. Peer into the past, act in the present and watch as your choices dynamically change the future. Pre-order Cris Tales today and get ready for the game's launch on July 20.
Labyrinth City: Pierre the Maze Detective (15th Jul, $11.99) - From the award-winning studio behind Homo Machina and Californium, Labyrinth City: Pierre the Maze Detective is a one-of-a-kind, revolutionary puzzle game. Playing as detective Pierre, you must find your way and solve puzzles to retrieve the magical stone stolen by the nefarious Mr. X. You'll meet adorable and hilarious characters, travel through works of art and interact with a world that was previously only available on paper!
Switch eShop - New Releases
AKIBA'S TRIP: Hellbound & Debriefed (20th Jul, $39.99) - Expose the evil lurking in Japan's pop culture mecca in this HD update of the first entry in the AKIBA'S TRIP series. Supernatural creatures are stalking the pop culture mecca of Akihabara—and you know that because they've turned you into one of them. Their only weakness, and yours, is sunlight, which means there's only one way to stop them: call them out on the streets, knock their clothes off, and expose their skin before they can do it to you.
Arcade Archives SEA FIGHTER POSEIDON (HAMSTER, 8th Jul, $7.99) - "SEA FIGHTER POSEIDON" is an action game released by TAITO in 1984. The player fights against enemy divers and enemy leaders to save their captured friends. If the player's water scooter runs out of fuel, it will explode, so be sure to defeat enemy divers with torpedoes and steal it from them. The "Arcade Archives" series has faithfully reproduced many classic Arcade masterpieces. Players can change various game settings such as game difficulty, and also reproduce the atmosphere of arcade display settings at that time. Players can also compete against each other from all over the world with their high scores.
Connect the Dots (9th Jul, $6.99) - Help Pierre connect the dots by matching same color dots together to make his art master piece. Over hundreds of puzzles to play from. Can you make the ultimate masterpiece?
Cotton Reboot! (Success, 20th Jul, $39.99) - Japan's favorite shooter mascot finds her way into a beautiful HD game with stunning graphics and remixed soundtracks. This is the original "Cute 'em up", and will test your skills as well as tug on the heartstrings as Cotton and her friends are finally back in the ultimate celebration of one of Japan's most beloved gaming mascots. Choose between the HD Reboot mode or go legit with the X68000 original mode with pixel perfect graphics from the iconic Japanese home computer. Read our Cotton Reboot! review
Dark Fantasy: Jigsaw Puzzle (NAISU, 15th Jul, $4.99) - Jigsaw puzzles have never been this atmospheric! Dark Fantasy will take you on a journey through gloomy portraits.
Dark Nights with Poe and Munro (15th Jul, $12.99) - "You're listening to Radio August. Dark nights, with Poe and Munro…" Adventure in the strange town of August with local radio hosts and secret lovers Poe and Munro, as they encounter six unique mysteries on and off the air. Direct the banter and the action as they fend off a nightmare stalker who just won't let go, a vengeful ghost looking for everlasting closure, a demonic painting that grants wishes - and more - but can you keep Poe and Munro together, and alive…?
Defend the Kingdom (15th Jul, $4.99) - Defend the kingdom is a classic tower defense game where you build up towers and upgrade them to defend one end point from evil creatures approaching from one or more lanes. Different towers have different pro s and cons and it is always a trade off which tower suits the best for each situation. Explore three biomes and 35 levels each have three difficulties. Earn stars by completing each difficulty to upgrade your stats and earn gems to buy skills and power ups. A fun tower defense game for every tower defense game fan.
Dogworld (9th Jul, $14.99) - Shoot, jump, and slide your way through a ruined, mysterious, dog-filled world as you fight to save humanity from the clutches of a rogue AI named Daddy. Acquire new weapons, upgrade them to be more powerful, collect secrets, meet bizarre characters, and explore the ruins of a destroyed world.
Escape From a Deserted Island~The Adventures of Nyanzou&Kumakichi: Escape Game Series~ (15th Jul, $4.90) - One day, while Kumakichi is worried over what to eat for dinner, Nyanzou pauses from reading his manga to announce, "I'm gonna be the King of the Pirates." Hearing what only could be a joke, Kumakichi thinks, "Not again…". He tries to ignore Nyanzou, but Nyanzou has a reputation for being reckless. He forces Kumakichi to come along out to sea.
Guild of Darksteel (15th Jul, $14.99) - Guild of Darksteel is a cinematic, side-scrolling adventure set in a lush, layered dark fantasy world. Embark on a dark fantasy adventure and follow the Sellsword, an immortal, as he seeks a purpose in eternal life by joining the Guild of Darksteel. Become one of their immortal mercenaries and investigate the mysterious tunnels underneath the cities of Ravenrock.
Junkyard Builder (15th Jul, $4.99) - In the beginning was the junkyard. Abandoned and despised by most people. But not you! Since you're the owner, the business is booming! See that rusty car over there? Let's do some makeover. Several corroded pipes? Let's turn them into bales and sell. There's junk everywhere I see. You know what that means. That's how you make the profit! Don't forget to invest. Why should you do everything around here? Don't waste time, get your money's worth!
Lambs on the road : The Beginning (15th Jul, $2.99) - From the creators of Eternum EX, in collaboration with Gone Mad studio. Lambs on the road is a survival horror story of a father looking for her daughter. Help John to find her daughter, Mary, throught different dangers, lost in a post-apocalyptic world where the chaos reigns. Try to escape from the starving and desperate people, hide, run, fight and overall, never look back.
Lost Grimoires 3: The Forgotten Well (16th Jul, $14.99) - King Raphael returns victorious from the expedition against the army of the mysterious Elf Sylvanheir. While king's subjects are preparing for his triumphant arrival, his sister - startled by his strange letters from during the war - suspects that Raphael has been cursed and that a real war is about to begin.
Lotus Reverie: First Nexus (15th Jul, $15.99) - Do you like adventure and strategy games? Lotus Reverie is a visual novel focused on time management, following in the footsteps of other games such as Devil Survivor and Persona. Within a limited amount of time, you will forge bonds with other survivors and uncover the incredible mysteries this world hides in this survival game where only one pair will remain. You will enjoy the best of each character and survive to the end of the world!
Macrotis: A Mother's Journey (15th Jul, $11.99) - Help Bilby find her children in an endearing underground adventure! Macrotis is the story of a mother's relentless search for her missing children, an emotional tale told through lush 2.5D platforming filled with thought-provoking puzzles. Climb, jump and gnaw your way through beautiful yet dangerous environments, avoid traps and use water physics to your advantage. As you progress, you'll gain a variety of natural and supernatural abilities to overcome the obstacles in your path. Will you help Mother Bilby rescue her family?
Metro Simulator (UIG Entertainment, 8th Jul, $19.99) - Attention - the train is now arriving at platform 1! You are the train operator and thousands of people rely on you every day on their way to work or home. Take this unique chance to experience Moscow's subway systems in a whole new way! You control the train just like in real life: Accelerate, brake, open doors, switch cameras, set car functions and many other tasks! Take on the role of a passenger and visit stations, trains and the depot. Will you rise to the challenge and take control deep under the metropolis? Your passengers trust in you, get them to their destination safely and on time!
Mind Maze (20th Jul, $4.99) - Put walls, build a labyrinth, capture cells of playing field. Do not let the appearance of closed corners to avoid being captured by enemy. Calculate the moves to build a strategy, create a logical trap for opponent. Be cunning, force your opponent to make a mistake and cover the field like rapid avalanche, carrying you to victory. Play the single-player campaign or compete with other players in hotseat mode.
Our Battle Has Just Begun! episode 1 (15th Jul, $9.99) - You have no memory of your adventure or heroic strength, and yet the people celebrate you as the Hero who saved the realm. This is just your typical adventure game filled with heroes and heroines. . . except it starts where games usually end. In the midst of an unconscious state, you hear a voice desperately calling out to you.
Red Colony 2 (15th Jul, $6.99) - The Blue Colony was a place of opportunity, a capitalist metropolis where hard work, determination and a keen eye for business could punch you a one-way ticket to the top of the illustrious Sky City. . . That was until the Virus hit. Now the elite are hunted by flesh-eating monster that were once their former workers. You play as Nicole, a mother desperate to get her daughter out of the terrifying slum at the bottom of the bottom in the Blue Colony. Your task is not an easy one, the slum has been hit hardest by the outbreak and zombies are not the only thing stalking you from the shadows.
Restless Night (16th Jul, $4.99) - Hordes of zombies and bloodsucking bats, dozens of deadly mutants and cannibals, reanimated maniacs and pumpkin-killers — can you handle these mobs? You will have to survive through the night each and every time you'll play Restless Night. This game is full of horrifying encounters with undead enemies, but your rifle will come in handy! Can you make it to the dawn? There's only one way to find out — grab your favorite firearm and get ready to crush, kill and destroy all these zombies with classic old-school style. Made with love and taste, even your grandfather remembers this feeling and how fun it actually is!
Reverse Memories (Navila Software Japan, 8th Jul, $6.99) - Yu Sheng, a teenager who has lost memories of his past, returns to his childhood town to search for what he has 'lost'. He meets Yi Yao, and it's love at first sight. At the Summer Festival, he shyly confesses, and she accepts. But the next day Yi Yao loses all her memories of him. Will he be able to find the truth as he wanders through the corridors of memory? + A Mystery Visual Novel + Elaborate design of the performance + Original music + Full story sound acted
Risk System (15th Jul, $9.99) - Risk System is a gorgeous hand crafted 2D shmup with a unique core mechanic where you boost your ship's firepower by performing stunts and weaving between enemy fire.
This complete cohesion between controls, gameplay and aesthetics means that when you play, you'll feel like you're a daredevil ace pilot from the most awesome mecha anime!
Rogue Wizards (15th Jul, $14.99) - The Council oversees the elam families, aristocrats who are descended from the first humans in Rilfanor, and the banlits, who were originally people born without magical abilities. The Guild has never admitted banlits because of their lack of magical capacity; and they've never admitted women because they believed women were too weak-minded to control such power. Now, many generations later, the elam magic is weakening, and latent magic talent has reappeared among the banlit population.
Squeakers II (16th Jul, $2.99) - Have you ever faced forthcoming death? Or have you ever imagine how it is to rush yourself just to get another minute of your life? Forge ahead, against all odds, not knowing what's waiting there for you and if you are strong enough to bear the suspens. The end is getting closer. Will you manage to survive? Startling originality, firing imagination, engaging and amazing chain of events.
Unavowed (7th Jul, $14.99) - Join the ranks of the Unavowed, and fight against the oncoming darkness.
A demon possessed you one year ago. Since that day, you unwillingly tore a trail of bloodshed through New York City. Waking up on a stormy rooftop, you meet your saviors: the Unavowed, an ancient society dedicated to stopping evil. Life as you knew it is over, but by joining them you have a chance to reverse some of the damage you've done—and, if you choose wisely, to redeem yourself.
Within the Blade (16th Jul, $10.99) - Hide in the shadows and strike down your target with ninja skills
Within the Blade is an epic game in stealth, platforming, and RPG genres, in which the player takes on the role of a Ninja. Explore the scenic world of feudal Japan, using your stealth to complete missions. Collect various materials to craft weapons: shurikens, poisons, elixirs, grenades, mines. As well as the main weapon the Ninjato and Kusarigama to build your power.
Wizodd (15th Jul, $4.99) - Wizodd is a dungeon crawler roguelike game where you find various equipment and upgrades while encountering dangerous monsters and bosses to advance down to the lower floors. Inspired by The Binding of Isaac but without blood and more magic. This game is easy to play and simple to get the mechanics, all you do is find monsters and make them explode in different ways, and as you improve on Wizodd, you get to be stronger, dodge the various traps and clear levels more quickly.
Word Crush Hidden (15th Jul, $4.99) - Word Crush Hidden is a fun word search puzzle game where you need to connect each letter to the words searched for. Daily challenges, achievements and over 1399 levels bring you an enjoyable word search experience and if you are stuck the power ups help you to find the words.
So that's your lot for this week's North American Nintendo Download. Go on, be a sport and drop a vote in the poll above, and comment below with your hot picks!