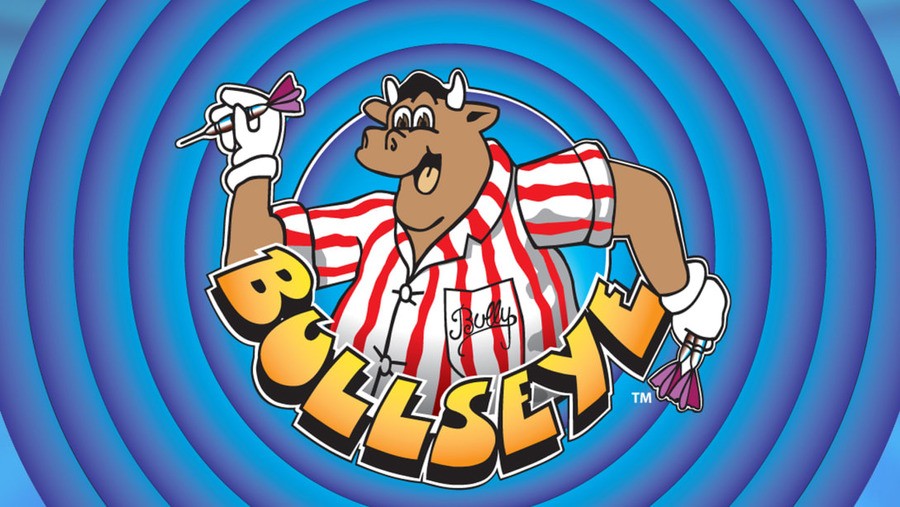 Well well! It seems Nintendo is leaking all the big name properties prior to its E3 2021 presentations! Not only did a rogue game page reveal the existence of Mario + Rabbids Sparks of Hope prior to its debut at the Ubisoft Forward event over the weekend, but now Nintendo has published game pages for Bullseye, a licensed darts game based on the '80s British gameshow — and presumably the 'one more thing' megaton announcement being saved for today's Nintendo Direct...
Okay, maybe not, but for anyone in the UK who grew up watching Bully (the show's mascot bull) and presenter Jim Bowen send contestants from land-locked cities in the Midlands home with speedboats and other lavish (if impractical) prizes, this is as big a shock as any 'NEW F-ZERO FOR SWITCH' announcement could be.
If you're unfamiliar with the show (due to geography or age), it combined quiz-style trivia with the nail-biting tension of darts. We sound like we're being facetious there, but the game can be genuinely tense and there's an enormous amount of skill and precision involved. Plus, how many other games can you play with a pint in your other hand? It's a brilliant sport, and we won't hear a word against it.
Publisher Sabec has form in the area of video game versions of bar games. Whether this new 1-4 player release repurposes elements from elsewhere, we don't know, but we're pretty sure 2020's Darts didn't feature "5000 multiple choice trivia questions across ten categories".
Here are some screenshots for you:
Bullseye is out on Switch on 17th June, priced at £12.99 / $12.99. To say we had low expectations would be an understatement, but after a dire E3 presentation or two this week, this might be worth investigating for novelty value alone. IF it has the full intro from the show, the sheer WTFness of having that on our Nintendo Switch will be worth the admission price.
Will you be picking this up next week? Bully for you! Don't forget to tune in later for our coverage of today's Nintendo Direct — we've got Blind Date for Switch on our E3 bingo cards.