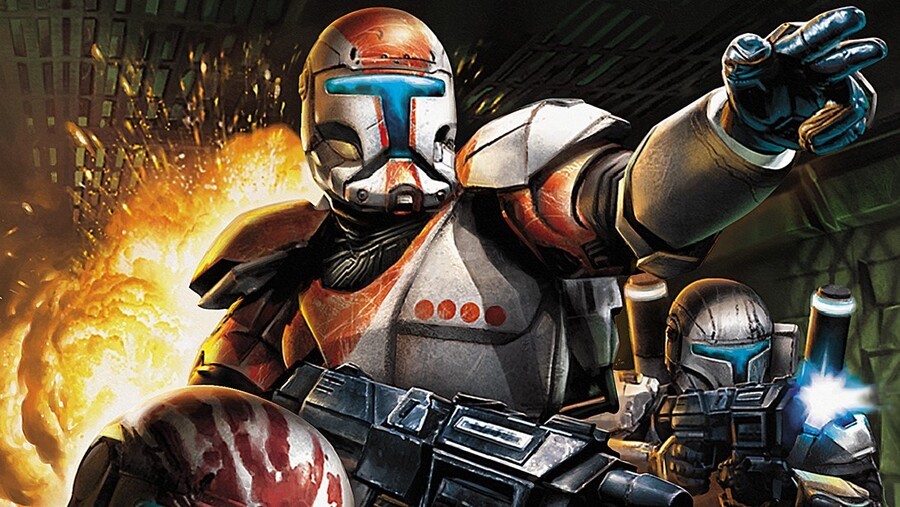 The latest Nintendo Download update for North America has arrived, and it's bringing new games galore to the eShop in your region. As always, be sure to drop a vote in our poll and comment down below with your potential picks for the week. Enjoy!
Switch eShop - Highlights
STAR WARS Republic Commando (Aspyr Media, 6th Apr, $14.99) - Welcome to the Clone Wars. Chaos has erupted throughout the galaxy. As leader of an elite squad of Republic Commandos, your mission is to infiltrate, dominate and ultimately annihilate the enemy. Boss, Fixer, Scorch and Sev, better known as Delta Squad, are back on Nintendo Switch. Relive the legendary campaign as you battle a variety of highly intelligent and deadly enemies – from brutal Trandoshan mercenaries to the flying insectoid warriors of Geonosis.
Breathedge (6th Apr, $24.99) - Survive in outer space! Craft tools, pilot vehicles and even control space stations to survive and explore the wreckage. Breathedge is an ironic, outer space survival adventure game. Take on the role of a simple guy called the Man who is just carrying his grandpa's ashes to a galactic funeral and suddenly finds himself in the middle of a universal conspiracy.
Knockout City Cross-Play Beta (EA, 21st May, $0.00) - Brace yourself for outrageous fun and intense competition in a new take on team-based multiplayer games. Are you ready to throw, catch, pass, dodge and tackle your way to victory? Join the Cross-Play Beta from April 2 to April 4 ahead of the game's launch on May 21. You'll have a chance to dominate across a new map and get a feel for the arsenal of Special Balls at your disposal. Check out new playlists to take down rivals as a team or face off one vs. one for glory.
Switch eShop - New Releases
A Long Way Down (Forever Entertainment, 1st Apr, $14.99) - A Long way down is a mash-up between an RPG and a deck-building game. Embody Sam and try escaping this maze where a sneaky and evil mastermind reigns. Let your memories and your choices guide you. . . but don't fall into darkness. Craft a deck The cards you choose will determine how you explore the dungeon and how you defend yourself from the horrors it contains.
Abbie's Farm for kids and toddlers (Asylum Square Interactive, 1st Apr, $9.99) - This game lets children experience an exciting day on the farm. Help Abbie feed the animals or bake a tasty cake. The farm has lots of animals that want to be cared for. Their food grows in the yard, and Abbie can draw water from the well. Children playfully learn what to feed to each animal. But don't worry if they aren't fed or given water for a few days - they can take care of themselves as well!
Acalesia (1st Apr, $4.99) - Our attractive protagonist wishes for just two things — to save the princess and to become rich. Actually, he's doing it just to get rich, but if the princess Celinda will be saved in the process, let's consider it a nice bonus! To get all the treasures of Acalesia this hipster with a shotgun will have to fight hordes of monsters, sneak through a myriad of devious traps and reveal a few secrets of survival.
Animal Doctor (25th Mar, $19.99) - Would you like to spend your life caring for animals? With Animal Doctor you will be surrounded by animal friends and pets. Look after creatures large and small while you train as an intern at an animal doctor! Treat and aid the recovery of wonderful pets, farm animals and working beasts.
Animal Learning Puzzle for Toddlers and Kids (winterworks, 26th Mar, $8.99) - In this easy to use animal puzzle game, toddlers and kids can learn the pronunciation and spelling of over 80 animals from around the world. All voice recordings are done by 100% native speakers. The game can be customized to offer different difficulty settings, so children of a great age range can enjoy the puzzles.
Arcade Archives SWIMMER (25th Mar, $7.99) - "SWIMMER" is an action game released by TEHKAN (KOEI TECMO GAMES) in 1982. Take control of the swimmer and see if you can make it to the treasure island. Use Power Pills and dive underwater to skillfully avoid obstacles and enemy monsters.
Balloon Girl (30th Mar, $7.99) - Balloon Girl is a retro inspired flying adventure game. On a beatiful day balloon girl and her other friends hanging around and suddenly the magic balloons are flying away and are now distributed all over the world. So you need to "collect them all". Every level is unique and has his own trick to solve. Sometimes there are more than one way to solve this level - you can explore and figure it out.
CyberTaxi (5th Apr, $9.99) - CyberTaxi is an action-packed driving first-person shooter and taxi simulator set in a grim vision of the future. You play as a cab driver who works in a dark-noir Hindenburg city and strives to escape this hellish location. As a taxi driver you have to complete dozens of various missions for different factions and gain access to further districts of Hindenburg city.
Dungeons and Puzzles (1st Apr, $9.99) - Dungeon and Puzzles is a 2D spatial logic and ability switch puzzle game. The adventurer's ability depends on what equipment he currently uses. You have to think through every step. After clearing the level, you can try other routes of strategy to optimize your solution.
El Hijo – A Wild West Tale (HandyGames, 25th Mar, $19.99) - About El Hijo In El Hijo the player takes the role of a six-year old boy, searching the Wild Wild West for his mother. It's a non-violent, spaghetti-western stealth game. The journey begins when a farmer and her son El Hijo are attacked by bandits who raze their farm to the ground. The mother decides to leave El Hijo at a secluded monastery in order to protect him. However, El Hijo decides that the monastic life is not for him and decides to escape.
Ghost: Elisa Cameron (25th Mar, $9.99) - You wake up in a cold, desolate bathroom without any memory of your whereabouts, as a surveillance camera tracks your every move. Can you piece together the mystery and find your way to safety? As Elisa Cameron, you must work to save your sister, your future, and possibly the world.
Good Night, Knight (QubicGames, 2nd Apr, $11.99) - Become the one and only - extremely honorable, brave and … a little bit sleepy Knight of the Holy Divers. The ancient evil has been banished, the princess rescued and the Knight retires - but something is wrong. You awake falling to your death - probably - from the top of the mysterious underworld spire. Regain your memories and save the world - most likely - again. Go forth Holy Diver it's - definitely - all up to you.
Laws of Machine (25th Mar, $3.99) - He developed the system of artificial intelligence based on neurospheres, which was recreated during his experiments with lunar type soil. The Professor started developing DRx (Domestic Robot) series assistants, and these robots were able to do almost everything a human can do and even more, he built in robots one of his new development – "SOTM" , with help of which was possible to teleport the objects specially proposed for teleportation.
Lost Words: Beyond the Page (Modus Games, 6th Apr, $14.99) - 2D Adventure Platforming. Navigate beautiful 2D worlds set inside a young girl's diary by walking on the words and using them as tools to solve different puzzles. Immersive Storytelling. Traverse an emotionally moving narrative by renowned games writer Rhianna Pratchett as the player makes decisions which shape the events that take place in Estoria.
Mermaid Castle (26th Mar, $4.99) - The mermaid sisters need your help! Their home, the beautiful Mermaid Castle, was destroyed and its treasure stolen. So hop in, gather coins, watch out for sharks and swim through the beautiful submarine underworld! The Ruthless Shark Gang, led by its ominous boss, Shark the Hammer, raided the Mermaid Castle. The attack left the home of the mermaid sisters in ruins. And what's worse, all their valuables were stolen!
Moorhuhn Kart 2 (1st Apr, $29.79) - Besides the star of this game series Moorhuhn itself, you have the choice between Lesshuhn, Frog, Snowman, Pumpkin, Turtle or Hank the mole. The game features 8 tracks, Offline Single player and Multiplayer as well as an Online racing mode with best time leaderboards. Collect 10 different weapons and Power-ups as you race around the tracks and strategically fire them to drive your opponents off the road.
Press "A" to Party (BoomBit Games, 30th Mar, $6.99) - Get ready to party with your friends and family in this casual arcade game collection for players of all ages! Sit down on the couch and jump straight into the action thanks to one button controls and fast gameplay. Up to 4 players can compete against each other on the same screen for the title of the ultimate arcade champion.
Scandal In The Spotlight (25th Mar, $24.99) - The Story: The ultimate long-running boy band, Revance. One night you attend their after-concert party and receive a mysterious invitation from the guys in the band! They drop a bombshell! Their lyricist has gone missing and they want you to fill in. You start a new life with these singers. . . and begin the deception of millions of fans.
Squad Killer (31st Mar, $4.99) - Recalling the straightforward and addictive challenge of 8-bit classics, Squad Killer puts you in control of a retro arcade experience with a little modern flair. Graphics are presented in pixelated two-tone style but offer a touch of detail, customization and precision that pushes beyond the limits of its inspirations.
Stacks On Stacks (On Stacks) (6th Apr, $12.99) - Play as the Master Stacker, Rockit, who must use her psychic helmet to stack the colorful bricks falling all over her madcap world. BUILD stable towers by executing architectural feats of balancing. INCORPORATE mixed-up materials into your towers: works of art, aquariums, magnets, and more. DEFEND your towers against invading ghosts, a fireball-breathing dragon, and other outlandish hazards. KNOCK your finished towers back down with a wrecking ball.
Stick Fight: The Game (1st Apr, $7.50) - Stick Fight is a physics-based couch/online fighting game where you battle it out as the iconic stick figures from the golden age of the internet. Fight it out against your friends or find random sticks from around the world!
Storm Tale (31st Mar, $7.99) - The lives of peaceful villagers have changed the day an ancient prophecy became true. It spoke of an evil sorcerer who would bring destruction to our world. Now they need your help to build a new home and get ready to defend themselves against the evil that will return. Embark on a medieval tale of hope and courage. Overcome many obstacles and win many trophies on your journey through this compelling match 3 game - and take your skills to the next level with the help of cool power-ups.
Street Racing: Tokyo Rush (2nd Apr, $11.99) - The blazing neon nights of Tokyo belong to you now. You're the keenest street racer in the Tokyo streets, hunting for a thrill! Explore the glowing Tokyo night freely in this open world! Challenge the local daredevils to: - Circuit races! - Sprint car races! - Drifting to the limits of control! - Barrelling down Speed Traps!
Tinker Racers (25th Mar, $4.99) - Tinker Racers is not about reaching the finishing line at all. In this Survival Racing Party Game, the challenge is to stay in sight on chaotic miniature tracks. You want to be leading the race to be the camera target. Especially because everyone that leaves the camera dies! Race with mini RC cars on tracks that your parents never allowed you to set at home.
Train Station Simulator (1st Apr, $21.99) - Train Station Simulator is a station builder and manager game. Install ticketing machines, monitors, appliances, place benches and dozens of other public space related objects. Hire your staff for a more reliable operating ecosystem. Be a creative engineer by planning flooring, building walls and creating emergency routes. The demand for rail travel is evident: setup the complete timetable for your central station and deploy all local and national bus, tram and taxi. Ride the rails and operate your ultimate grand central empire. We wish you a Happy Train Station Building!
Ty the Tasmanian Tiger 2: Bush Rescue HD (Krome Studios, 30th Mar, $29.99) - More rangs, more vehicles, more mechs, more EVERYTHING... in an open world Aussie Adventure. There might even be a few surprises! TY puts the BOOM in BOOMERANG! This classic platformer, updated for Nintendo Switch, features more rangs, more vehicles, more bots, and more EVERYTHING... in an open world Aussie Adventure.
What Comes After (1st Apr, $6.99) - From the creator of Coffee Talk, in collaboration with Rolling Glory Jam the creator of Rage in Peace. What Comes After is a experience, a heartwarming story, and a love letter to all of you who think you're a burden for other people. Help Vivi finds herself through the journey that takes her to where people go after they died, to what comes after. Ride the train filled with the souls of the people, animals, and plants that are on their way to leave this world, and talk to them to learn about love, regrets, life, and death that haunt us every day until our time has come. All presented in a light-hearted way with a sprinkle of comedy and philosophy.
Switch DLC:
In Space, No One Can Hear You Scheme – A free update has landed for Among Us, the winner of The Game Awards' Best Multiplayer Game in 2020. The Airship is the latest and largest map, featuring new tasks, the ability to pick the room you start in, ladders and more. Play with 4-10 players online as you attempt to prepare your spaceship for departure. But beware – one or more random players among the Crew are Impostors!
Activities:
An Excillant Choice, My Liege – You can unlock an endless array of exciting abilities with one of the many jobs on offer in the BRAVELY DEFAULT II game for Nintendo Switch. With so many jobs to obtain in-game, this quiz may help you get an idea about which job might match your personality. Anyone with a Nintendo Account can redeem this My Nintendo reward for free. Plus, two new Heroes of Light desktop wallpapers are available as well. Light up your screen with these artful displays to keep your adventurous spirit high!
So that's your lot for this week's North American Nintendo Download. Go on, be a sport and drop a vote in the poll above, and comment below with your hot picks!