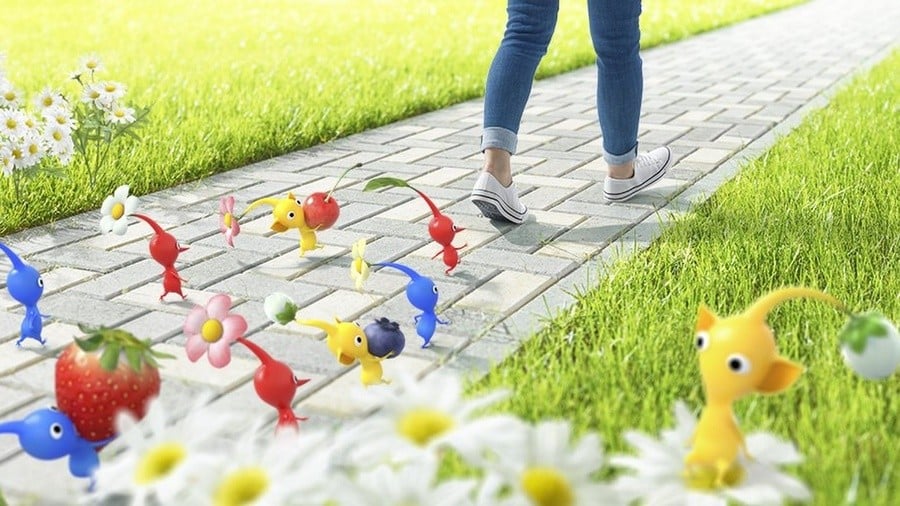 Last week, Nintendo revealed that it had partnered with Niantic – the developer of Pokémon GO – to create another augmented reality mobile game based on Pikmin. Now, some lucky players have had some hands-on time with the new project.
The game, tentatively known as 'Pikmin App', is currently being played by select fans in Singapore as part of a new test, and the first details on how the game works and the content included has started to appear online. As reported by VGC, the app has players walking, just like in Pokémon GO, in order to "grow their Pikmin squad and send them on expeditions."
According to VGC's notes, the app provides players with several Pikmin Seedlings to begin with. These Seedings can grow and eventually be plucked to reveal a fully grown Pikmin once the player has generated enough 'Step Energy' through walking.
All the usual suspects are present – you'll be able to grow Red, Blue Yellow, Rock, Winged, Purple, and White Pikmin – but 'Decor Pikmin', a new type of Pikmin that wear attire associated with the place you found them, are also included.
Aside from walking to grow and pluck Pikmin (which can be individually named by the player), one of the app's other main features is 'Expeditions'. Here, players can choose an Expedition to tackle, then choose the Pikmin they want to adventure with, before setting off to earn items. Sometimes, your Pikmin will pick up a Postcard – a digital image of Pikmin out and about on their adventure which uses real-world photos shared by Pokémon GO and Ingress players. You can read VGC's full report here to learn more.
Are you liking the sound of this? Think you'll be downloaded it when it eventually launches? Share your thoughts with us in the comments.
[source videogameschronicle.com]