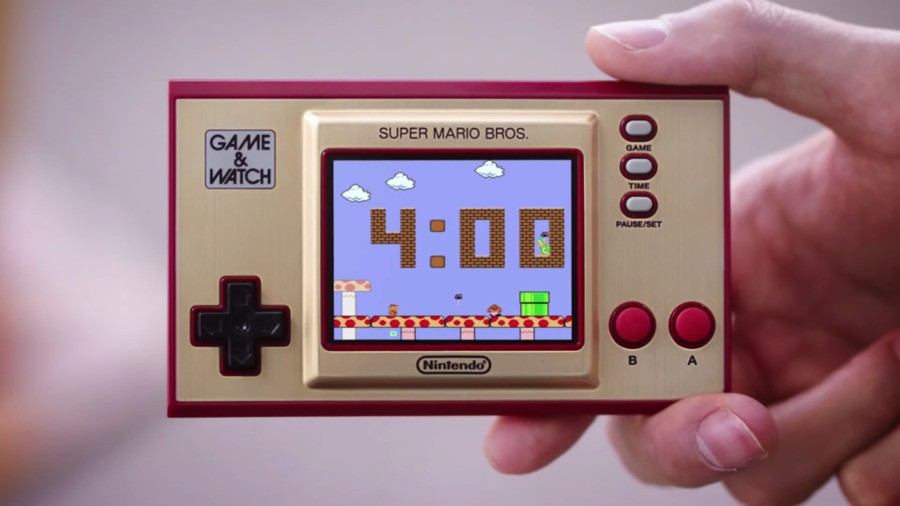 This Friday, a brand new Game & Watch system is being released by Nintendo in celebration of Super Mario's 35th anniversary. It's a pretty exciting launch for collectors and fans of Nintendo's history, but the company has today apologised for an error that will be present on all systems.
As you may know, the system includes a digital clock which features 35 'little touches' for owners to discover. One of these is a 'Mario Drawing' song that, while vocalised in English, also displays lyrics in a number of different languages.
Somehow, the languages have been mixed up somewhere in development. Here's Nintendo's statement:
"We would like to inform you about an error with one of the digital clock's 35 little touches in the Game & Watch: Super Mario Bros. system.
Unfortunately, the 'Mario Drawing' song (vocalised in English only) that can be accessed by holding the A button, displays an incorrect language's set of lyrics if German, French, Italian or Spanish is selected from the title screen. English, Dutch and Japanese languages remain unaffected."
When you do get your hands on the system later this week, then, you'll have to choose a different language to the one you actually want if your chosen language has been affected. The table below shows which language will be shown depending on which one you select.
| Chosen language in title screen | Language of song lyrics to be shown |
| --- | --- |
| French | German |
| Spanish | French |
| German | Italian |
| Italian | Spanish |
Nintendo goes on to promise that the launch of the system will still take place this Friday:
"The system launch is not affected. Game & Watch: Super Mario Bros. will launch on November 13th as planned. We would like to apologise for any inconvenience caused."
Mamma mia! Still, there is some hope. Hacker stacksmashing has pulled the system apart to see what makes it tick, and is hopeful that this issue can be fixed by fans, rather than Nintendo itself.
[source nintendo.co.uk]