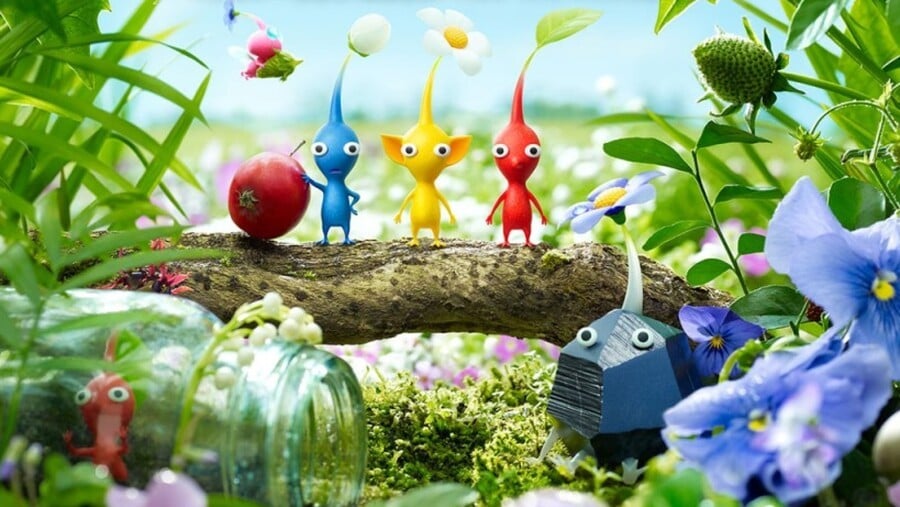 Another eventful week down in the year 2020AD, and Nintendo dropped a surprise Direct Mini on us all, with games cropping up unexpectedly on eShop, including cloud versions coming the the West, and a prominent prognosticator produced a peculiar take on Nintendo's Switch strategy.
With the weekend now upon us, though, it's time to discuss our weekend gaming plans. Members of Nintendo Life have done just that below, and we'd love for you to join in via our poll and comment sections. Enjoy!
Jon Cartwright, video producer
I'm struggling to even decide what to play after the Mini Direct dropped a truckload but Part Time UFO has been capturing my attention. I missed out on the initial mobile release but HAL's puzzler is incredibly charming and addictive - plus it has QBBY (from BOXBOY!) hidden in most levels which means it must be good. It kinda takes me back to the simplicity of World of Goo but with a quicker pace and jollier vibe.
I'll get around to revisiting No More Heroes and No More Heroes 2 before the year's end but for now, I'm actually going a bit further back in time. I've been on a bit of a Puyo Puyo kick in anticipation for Puyo Puyo Tetris 2 and ordered Puyo Puyo 2 for Saturn and Puyo Puyo Sun 64. I don't have a huge history with Compile's games so I'm hoping to give myself a history lesson with these two.
PJ O'Reilly, reviewer
Hello. This weekend I'm going to be getting stuck into a bunch of review stuff including Sniper Elite 4, a game I absolutely loved when it originally released, and Bakugan: Champions of Vestroia, which so far feels very Pokemon: Let's Go, so keep an eye out for thoughts on those shortly. I'll also be putting aside a little time for some Halloween horror-flavoured shenanigans with Little Nightmares and Layers of Fear, two games I've owned since they first came out and just haven't got around to playing yet. Here's hoping they scare the pants, trousers and socks right off my body! Have a spooky weekend whatever you're playing and stay safe out there.
Gavin Lane, features editor
I'm itching to give Control on Switch a proper go. It was one of the games I hoped to see on Switch at the start of the year, although I wasn't holding out much hope. There are concerns when it comes to gaming via the cloud, but it seems that feedback from readers is generally positive so far, so I'm eager to spend more time with the game. A Halloween treat, indeed!
Elsewhere it's the same old story, really: a bit of the backlog, some Hades, and I'm sure I'll be meeting up with ol' Jack in Animal Crossing: New Horizons. Stay safe, everybody!
Gonçalo Lopes, contributing writer
What a spooky weekend! As yearly traditions mandates it is time to break out the minis: Castlevania: Bloodlines and Ghouls 'n Ghosts on Mega Drive Mini; Splatterhouse, Daimakaimura and Akumajō Dracula X: Chi No Rondo on TurboGrafx-16 Mini; Super Castlevania IV, Super Ghouls 'n Ghosts and Super Metroid on Super NES Classic.
Sadly I have yet to figure how to insert my Zombies Ate My Neighbours cartridge on the SNES Mini, might have to go assemble the real thing. Will likely live stream some of these for extra challenge.After checking out the Halloween event on Animal Crossing: New Horizons, time to return to my two games of the week: The brilliant gacha-madness of Part Time UFO and the sensory overload of Crimzon Clover - World EXplosion. So many explosions, so little time...
Liam Doolan, news reporter
There's so much to play this weekend, so I guess I'll start with some No More Heroes (it's been a while). In fact, if I can, I might just power through the entire game and then follow it up with the second entry right away. I want to knock both of these over on the Switch well before the arrival of No More Heroes III next year.
Apart from this, I'll probably spend some time with Pikmin 3 Deluxe and the Hyrule Warriors: Age of Calamity demo. I suppose I should play something spooky this weekend...the Splatoon 2 Halloween Splatfest will do - Team Treat all the way. Happy Halloween, everyone!
As always, thanks for reading! Make sure to leave a vote in the poll above and a comment below with your gaming choices over the next few days...