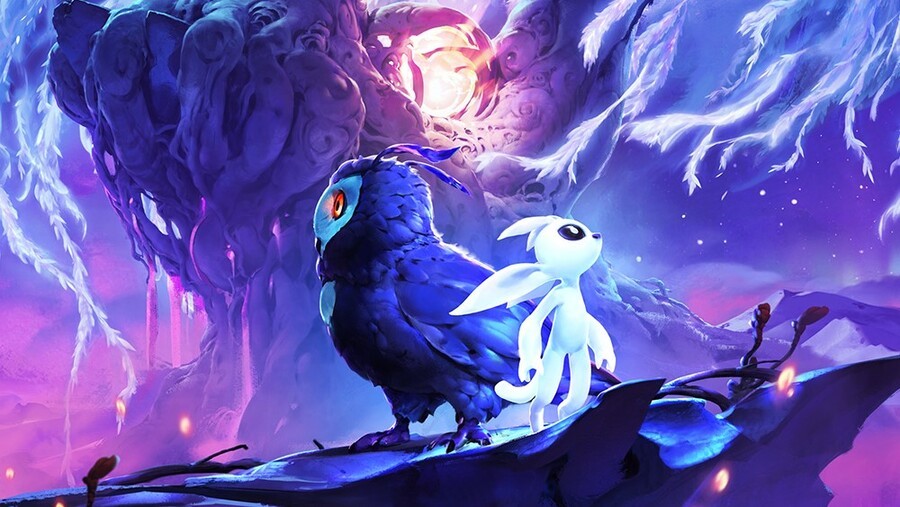 The latest Nintendo Download update for Europe has arrived, and it's bringing new games galore to the eShop in your region. As always, be sure to drop a vote in our poll and comment down below with your potential picks for the week. Enjoy!
Switch Retail - New Releases
Super Mario 3D All-Stars (Nintendo, 18th Sep) - Super Mario 3D All-Stars, which includes Super Mario 64, Super Mario Sunshine and Super Mario Galaxy all in one package, is the ideal way to experience some of Mario's greatest adventures of all time. In addition to having higher resolutions than their original versions, the games have been optimized for a smooth gameplay experience on Nintendo Switch. Super Mario 3D All-Stars also includes an in-game music-player mode to play the music and songs from all three games. Put on your adventure cap as Mario explores the Mushroom Kingdom and beyond! Read our Super Mario 3D All-Stars review.
Ori and the Will of the Wisps (iam8bit, 17th Sep) - From the creators of Ori and the Blind Forest comes the highly-anticipated sequel, Ori and the Will of the Wisps. Embark on an all-new adventure in a vast and exotic world where you'll encounter towering enemies and challenging puzzles on your quest to discover Ori's true destiny.
WWE 2K Battlegrounds (2K Sports, 18th Sep) - The world of WWE is your battleground with over-the-top, arcade action as your favorite WWE Superstars and Legends battle in interactive environments around the world. Compete using special abilities and power-ups in match types like Steel Cage and Royal Rumble. Play through a new story mode told through original comic strips, compete in Online Tournaments or stake your claim as King of the Battleground against players from around the world! Plus, battle it out in local multiplayer and dominate your friends.
Switch eShop - New Releases
2weistein – The Curse of the Red Dragon (14th Sep) - All was peace and quiet in Asban and the whole land of Trillion – until that day on which the gates remained closed, as if by ghostly hand, and other strange things happened. The mean magician Godron has stolen the book Mathematica from the creator of Trillion, and has cast an evil spell over the city: a ban on mathematics. Godron wants to gain power over the whole land and transform the world according to his will.
Active Neurons 2 (16th Sep) - Your main task is to collect enough energy to discover the 12 greatest inventions of mankind. Look for the right way to energy charges using obstacles in the level. Avoid dangerous obstacles, they are destructive! Teleport from one space to another to get closer to your goal. Solve tasks on memory and orientation in space to get to the blocked areas. Destroy, move and combine objects on the levels to get to energy sources.
Caveman Tales (Ocean Media, 17th Sep) - Long ago, in a land before time, there was a forest. For as long as you can remember, a tribe of humans lived safely there. Their village was small but the tribe was happy. But then, everything changed! For mother nature is unpredictable sometimes... Will you help Sam and Crystal and their family to find a new place for the entire tribe?
Dog Duty (Soedesco, 17th Sep) - Control a squad of misfits as they go up against some evil bigwig Octopus Commander and his army who are threatening world peace. In this fun, fast-paced real-time tactics game, you go into combat and use guerrilla warfare to eliminate all octo-scum. Fight on top of your moving vehicle as you go from island to island to liberate outposts and defeat wicked bosses in their crazy octo-machines. Wreck those squids up, but beware, they're well-armed.
Drag Racing Rivals (No Gravity Games, 17th Sep) - Become part of the thrilling world of underground street drag racing in this awesome high-speed game with realistic graphics. Start as an unknown outsider and race your way to the top. Race in underground street races against your rivals from drag racing clans. Win cash, new amazing cars, and upgrade them to the max! Drive on!
Endurance – space action (Ivan Panasenko, 17th Sep) - Endurance is a prequel of Ailment (another top-down sci-fi action shooting game). Endurance will tell you the story which happened before events in Ailment (you don't have to play Ailment before). You're a researcher on a spaceship called Endurance, and one day your crew members, your friends get infected and become insane and start acting like zombies.
Fight Crab (Mastiff, 15th Sep) - Fight Crab is an over-the-top physics-based, 3D action battle game that combines giant crustaceans, insane weaponry, and intense claw-to-claw combat into one absurdly hilarious, must-play game. You are a crab. Embark on a world tour of devastation, flipping over as many crabs as possible in a quest to be crowned lord of the crustaceans! - Read our Fight Crab review
Flying Soldiers (Wild Sphere, 17th Sep) - Not everything is as it seems in this outlandish puzzle game, because these "flying soldiers" can hardly glide a few inches and they don't exactly have the abilities to go into battle. So, it's no surprise that, with squads made up of these "characters", they wouldn't be able to get themselves out of the mess they're in.
Georifters (Busy Toaster Games, 31st Jul, $29.99) - Steal the ground right from under your enemies! or yourself! In "Georifters" you can spin walls, twist tunnels, crush critters, battle against the ground or with it! It can be your tool or a weapon you use to smash others in a series of fast-paced ground busting arenas. Choose from a variety of heroes, dress them up (or down) and combine outfits to look fabulous on your way to victory.
Goosebumps Dead of Night (Cosmic Forces, 15th Sep) - The best-selling Goosebumps franchise has been reimagined as a first-person spooky survival adventure game. Experience three chapters of stealth gameplay with 3D graphics and chilling AI monsters. Slappy the Dummy has unleashed a nightmare of Goosebumps monsters, and they're all out to get you! Escape from frightening creatures like the Graveyard Ghoul, Lawn Gnomes, Annihilator 3000, Murder the Clown, and the Werewolf of Fever Swamp as you collect the scattered pages of Slappy's book to seal him away.
GORSD (Springloaded, 18th Sep) - Intense arena combat, set deep inside the heart of darkness. Discover the story of the GORSD alone, or enter battle with up to 4 friends in local multiplayer. Born from a womb-eye, you discover a world seething with challenges created by an unknown power. For what purpose were you created? Uncover the truth of the GORSD.
Hades (Supergiant Games, 17th Sep) - Hades is a god-like rogue-like dungeon crawler that combines the best aspects of Supergiant's critically acclaimed titles, including the fast-paced action of Bastion, the rich atmosphere and depth of Transistor, and the character-driven storytelling of Pyre.
Her Majesty's Ship (Ultimate Games, 15th Sep) - In this resource management game, you Start your career as a Captain on a 3rd rate Ship of the Line, then work your way up to become the next Admiral of the Fleet.The primary objective of the game is to be promoted to Admiral of the Fleet, without having any mutiny nor losing the vessel. The player will receive tasks from the admiralty which will need to be executed in order to get the desired promotion.
Journey of the Broken Circle (Nakana.io, 18th Sep) - Meet fascinating characters on your quest to complete the imperfect Circle, and eventually pair with some! These partners bring their unique abilities to let you overcome new obstacles and keep discovering the world. They also bring their own personality to roll with. In this 4-5 hours adventure, full of ups and downs, but always playful and rewarding, the Circle learns about itself and you, along with it.
Kingdom Rush Origins (Ironhide Game Studio, 17th Sep) - Kingdom Rush Origins is the third instalment of the award-winning Kingdom Rush saga, loved by millions and earning accolades from gamers and critics around the globe. Take a trip back to the beginning, before Vez'nan ever thought to threaten the kingdom with the gem of power, and experience even more of the lightning-fast, exceptionally captivating gameplay that made the franchise a cornerstone of essential tower defense games. Read our Kingdom Rush Origins review.
Moero Crystal H (eastasiasoft, 17th Sep) - Take the role of Zenox as he embarks on a mission to retrieve the Bra of Darkness from a mysterious thief who's corrupting monster girls throughout the land. In this enhanced "Hyper" version of first-person dungeon RPG Moero Crystal, encounter and recruit more than 80 monster girls, including all previous DLC characters, in remastered HD presentation and subtitled in English for the first time! Read our Moero Crystal H review.
Nevaeh (CFK, 17th Sep) - Darkness looms over a bright and peaceful town as street lights begin to go out one by one. To bring back the light, a girl heads to the Tower from which the light came. Hidden in the Tower was a glowing butterfly. Thinking its light could help the town, the girl takes the butterfly with her. But what she found was the town entirely covered in darkness. The girl heads to the Tower once again to find a way to save the town. With the light gone, the Tower turned into a place full of lethal traps and monsters lurking in the dark. Venture forth with the glowing butterfly. It is up to you to drive out the dark and save the townspeople!

Space Elite Force (QUByte, 15th Sep) - With a wide variety of weapons, enemies, and improvements to your ship, it presents all the intensity, depth, and beautifully handcrafted pixels of a classic side-shooting game. Have fun in insane battles, facing epic bosses and unlocking a wide variety of achievements in one of three game modes, alone or with a friend in local cooperative mode.
Space Elite Force 2 (QUByte, 15th Sep) - Fast and intense phases, insane battles against epic bosses, 68 achievements. Play with a friend in local cooperative mode! Beautiful visuals made with handmade pixels. Online ranking for each game mode. Immerse yourself in the immersive story of Space Elite Force and try to recover the data stolen by the merciless and hostile Klyvu race.
Super Punch Patrol (Hörberg Productions, 17th Sep) - Classic Beat 'em Up action from the creator of Gunman Clive and Mechstermination Force. When crime and violence dominate the streets, Police Chief Anders Punch decides to take desperate measures. Defeat the Evil Crime Syndicate using just your fists!
The Long Dark (Hinterland Studio, 17th Sep) - Bright lights flare across the night sky. The wind rages outside the thin walls of your wooden cabin. A wolf howls in the distance. You look at the meager supplies in your pack, and wish for the days before the power mysteriously went out. How much longer will you survive? Welcome to THE LONG DARK, the innovative exploration-survival experience Wired magazine calls "the pinnacle of an entire genre".
Vampire's Fall: Origins (Ultimate Games, 17th Sep) - Vampire's Fall: Origins is a 2D open-world RPG with tactical combat. Create your character, choose your bloodline and venture out in the world. For countless years the villagers of Vamp'Ire have enjoyed a life of peace and happiness. But now, rumors are spreading about a wielder of dark magic - a Witchmaster. Fearing the rumors to be true, the village musters a militia to prepare for the worst. You are a recruit enrolling to defend the village. Little do you know, fate has something special in store for you…
Switch eShop - Pre-Orders
Monster Hunter Rise (Capcom)
Fitness Boxing 2: Rhythm & Exercise (Nintendo)
Empire of Sin (ParadoxInteractive)
Switch eShop - Special Offers
So that's your lot for this week's Nintendo Download. Go on, be a sport and drop a vote in the poll above, and comment below with your hot picks!