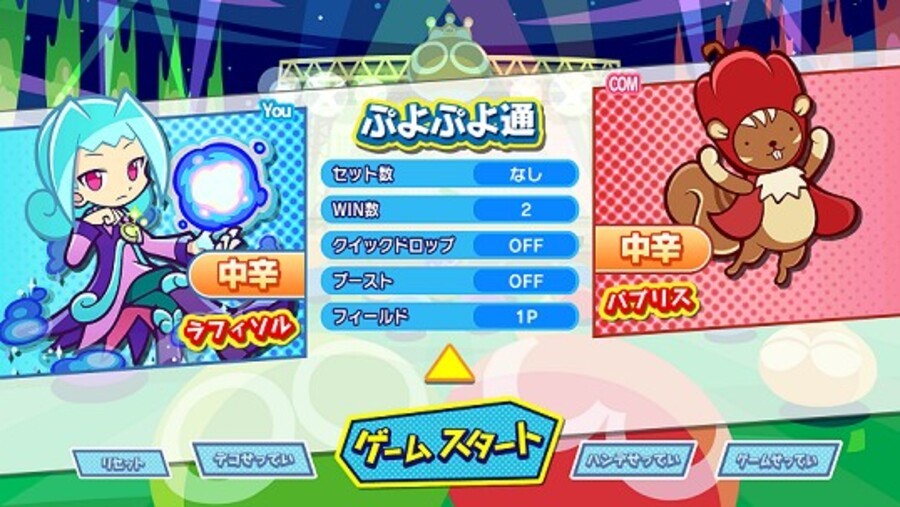 Sega has announced that it will soon be launching an update for Puyo Puyo Champions, introducing a new spectator mode, new playable characters, and more.
The update is planned to arrive in the Switch version of the game in Japan on 27th August, with other platforms to follow at a later date. It's presumed that the update will then arrive for all systems in the west, although no specific timing has been announced for this just yet.
We have a full rundown of the new update for you below, with thanks to Gematsu for the translation:
"Spectator Mode" Added
Watch matches between other players in the online "Free Play" mode. You can also send support stamps in the "Awaiting Spectators" screen before a match.
"Color Adjustment" Functionality Added to Options
By switching "Filter" to ON, you can switch between four color calibration patterns—"trichromatism," "protanopia," "deuteranopia," and "tritanopia"—as well as adjust color strength.

"Game Speed" Option Added to Game Settings
Adjust the game speed between three settings—"x1.0 (normal setting)," "x0.7," and "x0.5." Changing this setting does not affect how a match starts and ends, the fall speed of Nuisance Puyo, or Quick Drop time.

Added "Gummy" to Puyo Types
Added "Gummy" to the types of Puyo that can be used during matches.

"Field" Option Added to Pre-Match Settings
Select which field to use when playing against the CPU in "Solo." You can select between 1P (standard setting, field on the left side of the screen) and 2P (field on the right side of the screen).

Detailed Match Information Added to Results Screen
"Number of Puyos Erased," "Total Number of Times Erased," "Largest Chain," "Total Score," "Total Match Time," and "Number of Fevers" have been added to the match results screen.
"Auto Play" Function Added
Set "Handicap Settings" to "Sweet" or "Super Sweet," or set to "Auto Play" in the match settings for online Free Play games. By using auto play, the CPU will automatically perform up to 10 drops, but auto play will end if you make any moves manually during this time. Auto play also cannot be used continuously—you must manually make five drops before being able to use auto play again.

Rafisol and Paprisu Added as Secret Characters
Rafisol and Paprisu, who appeared in Puyo Puyo Chronicle and Puyo Puyo! Quest, can be unlocked as secret characters by inputting special codes on the character selection screen.

Rafisol is a mysterious being from another world, and she herself does not seem to know why she is here. Her fever type is "Aims for Big Chains." Her unlock code is "L + Y" (Switch version) on the character selection screen.

Paprisu is a mischievous squirrel who lives in the forest. He appears laid back at first, but is actually very gifted. His fever type is "Aims for Fever." His unlock code is "R + Y" (Switch version) on the character selection screen.
Other
Staff credits updated and subtle balance adjustments.
Of course, it just so happens that the game is currently reduced in Europe as part of Sega's Switch eShop sale. That sale ends today, though, so you'll have to get on it if you're wanting to grab the game at a lower price.
If you're wanting to learn more about the game, make sure to check out our full review.
[source prtimes.jp, via gematsu.com]