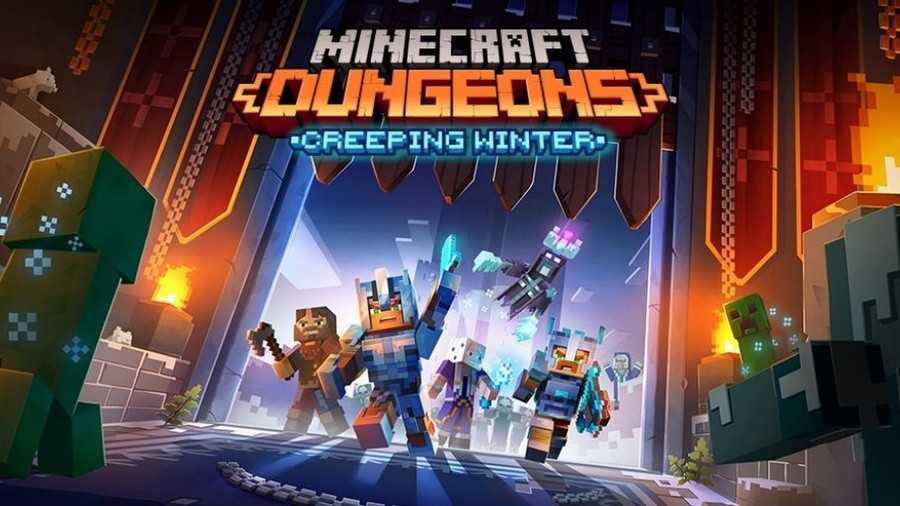 Lots of lovely announcements for Minecraft Dungeons have been shared today, and we won't have long to wait before getting stuck into all of them.
The game is set to receive a 'Creeping Winter' DLC, a free game update, and a physical version across all platforms all on the same day, 8th September. The physical retail version will be called the 'Hero Edition' and includes the Jungle Awakens DLC, Creeping Winter DLC, base game, and unique cosmetics as standard.
As for that Creeping Winter DLC, here's what you can expect:
The Creeping Winter DLC brings a wintry storm that threatens to consume all it touches. The only chance of halting the biting frost is for a hero to take on new missions and relentless new enemies! Since no good deed goes unrewarded, let's say it's finders keepers on all the new armor, weapons, and artifacts you'll run into along the way. Just watch out for chilling new mobs and slippery ice on your way to save the day!
The free update we mentioned, also coming on 8th September, is set to add some new merchants and daily trials.
Save captured Merchants you encounter as you play the game and they'll be so grateful that they'll set up shop in your camp! The Blacksmith will upgrade items for you, and the Gift Wrapper will allow you to trade items with other players in multiplayer. The Merchants can also be levelled up for additional stock. The Daily Trials will provide fun new challenges every day! Daily Trials make wild changes to the game mechanics which provide difficult, experimental, or fun challenges for you to overcome.
Lots of cool stuff on the way, then. Are you looking forward to the new content? Are you perhaps considering picking up a physical edition of the game? We'll be listening below.
[source minecraft.net, via nintendoeverything.com]