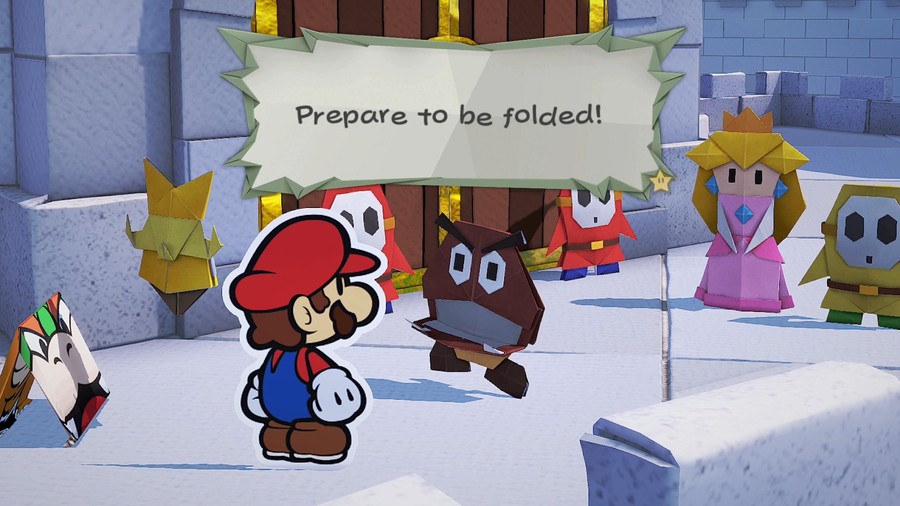 In just a couple of days' time, we'll all be jumping and hammering our way into Paper Mario: The Origami King on Switch. If you've already visited our homepage today, you'll have spotted that reviews for the game have now gone live. So, what do the critics think?
Below, we've rounded up a selection of quotes and review scores from a number of different outlets. The response is mostly positive, although there are a fair few complaints that are pretty consistent across the board. Before we dive in, we'd naturally like to urge you to check out our very own review:
---
OK, now you've read that, let's see just how well (or not) the game has gone down with other critics around the world:
GamesRadar noted a 'wildly varying' difficultly level among other little issues, but otherwise came away impressed, awarding the game 4.5 out of 5:
Gripes aside though, the latest Paper Mario title is a joy to exist in. An excellent story, charming characters, and the ability to team up with your oldest foes makes The Origami King a triumph. Yes, it may not be the new Thousand-Year Door RPG, but it's something special that should be celebrated.
Godisageek awarded the game a 9/10, saying:
This is by far the best Paper Mario game in a great long while, and if you can accept it's not quite an RPG by most people's definitions, and instead appreciate a sprawling, beautiful action adventure with turn-based combat, a great script, and a sublime soundtrack, you'll have a wonderful time.
Gamespot says that the battle system 'revitalises the series', while also noting that the game's characters aren't as charming as past games. It awarded the game an 8/10:
With a newfound combat system that steals the show and offers a novel take on turn-based combat, its winking, nodding, and adventuring shine all the brighter. Its world and characters might not be the series' best, but it's still able to consistently throw left turns, good gags, and smart surprises at you.
Game Informer gave the game a quirky 7.75/10:
As a series, Paper Mario constantly explores new concepts and mechanics, which is exciting, but that comes with plenty of risks. Origami King's biggest chances don't pay off in a satisfying way. I enjoyed Mario's hijinks and all the misfits he encounters, but the new ring-based action needs refinement.
Eurogamer called it 'a heartfelt creation that doesn't quite stand up':
There's plenty I'd recommend about The Origami King, a journey generous with its humour, its spread of locations, its continual sense of adventure in Mario's bid to defeat the evil Origami King... But each time the game changed settings, every time it swapped in a new party member, whenever I cleared another boss, I expected it to grow the shoots it had begun to set out and dig in a little deeper. For all of the game's sense of personality and place, it never grows into anything weightier.
VGC wasn't fully impressed either, awarding the game a 3/5:
The Origami King contains some of the series' absolute standout moments – almost all of them related to its enjoyable script and wonderful, varied environments – but it also frustrates with some disappointing new features and all-too-familiar missteps.
Finally, IGN gave the game a 7/10, describing it as 'truly likeable' despite feeling that the combat is 'largely unfulfilling':
The Origami King is a truly likeable game despite the shallowness of its new spin on gameplay. Its characters are winsome, its visual design is gorgeous, its world is fun to explore, and its storytelling is outside the box and playful. At the same time, however, it could be so much more. Combat is largely unfulfilling, and your journey as a whole lacks meaningful choices. For a series with RPG roots, that's a real shame.
---
Paper Mario: The Origami King launches on 17th July and is available to buy either digitally from the Switch eShop, or physically at retail. Are you looking forward to playing the game this Friday? Let us know in the comments.