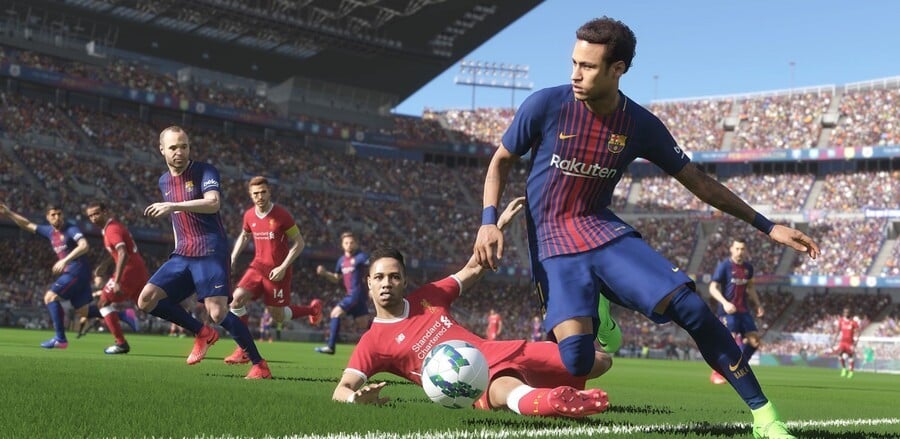 Konami's Pro Evolution Soccer might not be the force it once was, but the series still has its long-time fans, and those same fans would no doubt appreciate being able to play the game on Switch.
While that might seem like a pipe dream for some, Robbye Ron, PES brand manager for Latin America, has hinted that it's closer to happening than you might think.
Speaking to RPP, Ron was asked if PES on Switch was a possibility and replied:
I think we are closer to that. The Unreal Engine will help us a lot to be a little more flexible on what platforms we appear on. I can't assure you yet, but I think we're getting closer to getting there (to Switch). Whenever we announce a new game, people let us know that they are still waiting for the Switch version. It is something we want, because people ask us and there are many consumers who have stopped playing PES just because we are not on that platform. We are focused on seeing how we can (do it), and I think that the change of engine will help us a lot to fulfill the dream to several Nintendo fans.
That's not all; Ron also reveals there is a desire to make sure older entries of the Winning Eleven series – back when it was known as International Superstar Soccer in the west – available to fans:
I internally probed the possibility, because I'm a big fan of the International Superstar Soccer saga , and for me it would be great to have it back again, and if it's Switch, better, because I grew up playing Nintendo. But when we asked the production team internally if it was possible or not, I found something that surprised me: the team that made International Superstar Soccer, it is a totally different team [from the one which makes] PES.

The truth that surprised me and they said it is difficult, because it is something that belongs to someone else. I ran into that. I'm not saying it can never happen, but you have to look at who was working at that time in that game and see how we can resurrect it. It surprised me. It is an anecdote, but hopefully we can have it. For us older people, we would like to have something more retro.
Would you like to see PES come to Switch, or does FIFA give you your footy fix? What about playing some classic versions of ISS from the SNES and N64 days? Let us know with a comment.
[source rpp.pe]