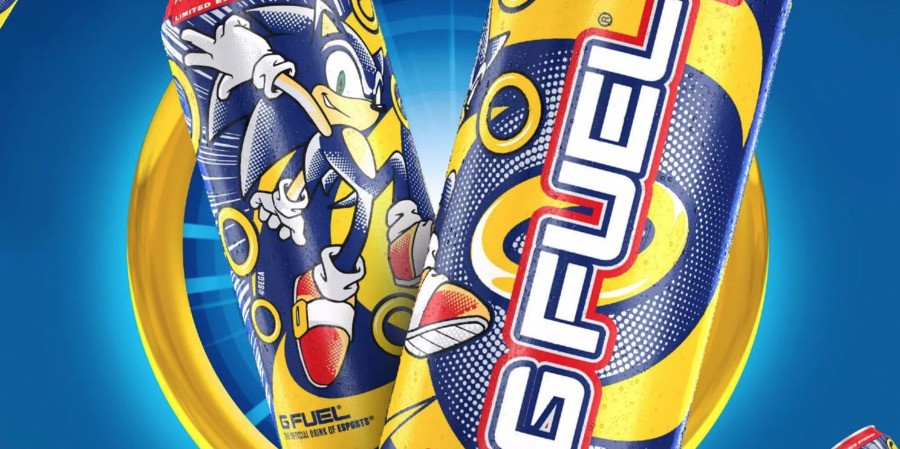 Remember that officially-licensed Sonic curry that turns your poop blue? Well, the speedy little hedgehog's back with a second consumable product that we'd probably be pretty cautious of.
This time, Sega's teamed up with G Fuel, a US-based energy drink brand, to release a crossover product "inspired by iconic elements from across the Sonic the Hedgehog universe". We're not sure how a drink can really be inspired by Green Hill Zone, but its flavour's going to be given the super-appetising name of 'Sonic's Peach Rings' (which is apparently "bursting with peach gummy flavour").
Sega of America's Manager of Licensing, Michael Cisneros, says that the company's "ecstatic" to be partnering with G Fuel for this peachy new endeavour:
"We're ecstatic to partner with such an established energy drink company in the gaming community to bring Sonic's Peach Rings to market. Sonic the Hedgehog has always been a character that embodies perseverance and endurance, which are qualities that are central to G FUEL's product. We can't wait for Sonic fans to enjoy it!"
If you're hoping to enjoy it for yourself, those in the US will be able to pick up a can from G Fuel's website from 12th August, with a powdered variation tucked neatly inside a limited-edition collectors box also arriving a week later.
Mmm, Sonic Peach Rings.