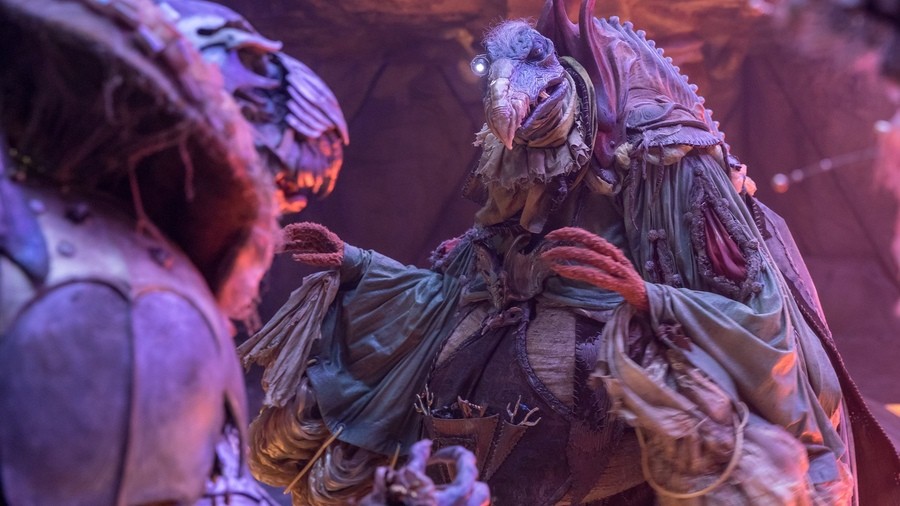 The latest Nintendo Download update for North America has arrived, and it's bringing new games galore to the eShop in your region. As always, be sure to drop a vote in our poll and comment down below with your potential picks for the week. Enjoy!
Nintendo Switch

Monster Energy Supercross - The Official Videogame 3 (Milestone, Tue 4th February, $49.99) The only Official Monster Energy AMA Supercross Championship videogame is back! Relive the 2019 Supercross season with 100 riders of both 450SX and 250SX categories, 15 official stadiums and tracks and for the first time in the series you'll be able to join the official teams in the career mode. Enjoy an amazing co-op experience with your friends in the brand new compound! Create, share and download an infinite number of tracks with the track editor!
Switch eShop
The Dark Crystal: Age of Resistance Tactics (En Masse Entertainment, Tue 4th February, $19.99) In The Dark Crystal: Age of Resistance Tactics, lead the heroic Gelfling to restore light to the world of Thra! Experience everything the fantasy world has to offer by playing through–and going beyond–the events of the Netflix series. Encounter never-seen-before playable characters, stories, and environments.
Skellboy (Fabraz, Q1 2020, $14.99) Life was peaceful in the Cubold Kingdom until the king's evil court magician got dumped by the princess. With his heartbroken and his rage fueled, he called upon the evil spirits to resurrect the dead and the kingdom's long-forgotten monstrosities.
7th Sector (Sometimes You, Wed 5th February, $19.99) Immerse yourself on this intricate path, solving different puzzles, facing its dangers, and collecting scattered information to discover the story of this world. Gain control over several different characters, each with their own abilities that can help you navigate the world's devices and machinery.
Arc of Alchemist (Idea Factory International, Today, $39.99) Newly Polished - In the western release, players can now choose from seven playable characters each specializing in unique weapons, attacks, and abilities! Four Orbs to Rule Them All - Wielding the Lunagear allows players to combine two of the four elemental orbs (fire, water, wind, earth) to solve puzzles, manipulate environments, and blast any foe.
Ascendant Hearts (Visualnoveler, Today, $9.99) Hayato lived an ordinary life until he wakes up one day with amnesia… and finds himself in a world closer to the video games he plays than the world he remembers. Fetch quests? Skill points? Respawning after death? It's all a bit much to accept.
Ash of Gods: Redemption (Koch Media, Fri 31st January, $29.99) Ash of Gods is a tactical turn-based RPG with rich lore and detailed nonlinear storyline about three heroes facing an ancient mythical evil. Captain Thorn Brenin, the guard Lo Pheng and scribe Hopper Rouley don't yet know that the Reapers have returned and are planning to drown the world in blood so they can awaken the slumbering gods.
Aviary Attorney: Definitive Edition (Sketchy Logic, Today, $19.99) Take yourself back to 1848 in Aviary Attorney: Definitive Edition. Paris is on the brink of yet another revolution, and the prisons are overflowing with guilty and innocent alike. One bird stands for justice amid society's chaos. Play the role of Monsieur Jayjay Falcon, a bird of prey with a good heart and questionable lawyering expertise. Read our Aviary Attorney: Definitive Edition review.
Battleground (Sabec, Today, $9.99) Battleground brings classic grid board gameplay to the Nintendo Switch by using state of the art 3D UI game graphics while maintaining the original look and feel. Your mission is to destroy your enemies tanks and artillery before it destroys yours. Deploy your tanks and artillery and then fire at your enemy using your grid screen to find and destroy their tanks and artillery before your tanks and artillery are taken out. The first player to destroy all of the opponent's tanks and artillery wins the game. Play against either another player or against the smart Ai player - either way, winning won't come easy.
Bookbound Brigade (Intragames, Today, $19.99) Bookbound Brigade is a new take on the established Metroidvania genre where classic stories and well-known characters get the video game treatment, and where the player gets to lead a colorful bunch of real and fictional heroes through a 2D side-scrolling platform-adventure in a quest to battle overwhelming hordes of monsters and bring order back to the literary world.
Bridge Constructor Ultimate Edition (Headup Games, Fri 31st January, $14.99) Bridge Constructor Ultimate Edition includes the "Bridge Constructor" and both DLCs "Slopemania" and the "Trains" Expansion Pack! In Bridge Constructor, you can become an accomplished bridge builder without any formal training.
Eclipse: Edge of Light (White Elk, Today, $14.99) Crash-landed on a sentient planet, you awake to discover a dreamscape world, filled with alien wonder and the remains of a betrayed civilization. You find a powerful relic, the Artifact, that can interact with ancient technology and grant you near-magical powers. Just what secrets does the planet harbor? What cataclysm befell its inhabitants? Using your jetpack-equipped space suit, investigate the ancient ruins to uncover the planet's perplexing past. Immerse yourself in a fascinating and memorable new world. Can you rise to the challenge and solve the haunting riddle of this mysterious place?
HYPERCHARGE: Unboxed (Digital Cybercherries, Fri 31st January, $19.99) The player assumes the role of a Small Plastic Soldier and must scavenge the environment for resources in order to construct turrets, build defences and protect the HYPER-CORE. The environment is much larger than the player making every normal household item an obstacle.
Indie Gems Bundle - JRPG Edition (Plug In Digital, Fri 31st January, $19.99) This bundle includes Dungeon Rushers and Robothorium. --- Dungeon Rushers is a 2D tactical RPG combining dungeon crawler's gameplay and turn-based fights. Manage your team, loot dusty dungeons, crush armies of monsters and craft mighty equipment.
Milo's Quest (Fri 31st January, $4.99) The young pupper, Milo, is enjoying his time in the park and sees a delicious bone to chew on! This bone is cursed and sets free the Evil King Old Skull. Now it's up to Milo to go on an adventure to stop the curse! Choose from three difficulty levels for your adventure! You can even change up the kind of experience you want by focusing only on puzzles or combat.
Never Again (Vyacheslav Grivorev, Today, $13.99) The main essence of the game is research locations and puzzles, plunging in the dramatic story of a little girl suffering from asthma. The main character - Sasha Anders, a thirteen-year-old girl who awakens from a nightmare. The world seems to be upside down for her. Everything becomes so strange.
Not Tonight: Take Back Control Edition (No More Robots, Fri 31st January, $24.99) Not Tonight is a post-Brexit management game, fusing a time-pressure RPG with a politically charged story where every decision matters. Will you join the resistance and fight the regime -- or keep your head down and hope that one day this will all be a distant memory? Not Tonight: One Love is a full, extra chapter that follows on from the main Not Tonight storyline.
PHAR LAP – Horse Racing Challenge - The Ride of your life! Experience the thrill and thunder of racing with the pride and prestige of building your own stable of champions. Make history and build a brighter future in PHAR LAP - Horse Racing Challenge! Cinematic Graphics showcase realistic horses and capture the action of the race with motion captured animations. Online Racing lets you run in real-time alongside other players. Breed Champion Horses with an in-depth genetic breeding system. Place Bets alongside your mates and watch the race play out in real-time.
Please The Gods (Ultimate Games, Mon 3rd February, $9.99) Your family is starving and only a miracle can save you. Set on a journey to the land of the Gods to find the legendary Sampo, a treasure of endless riches and nourishment. Please the Gods is an atmospheric old school fantasy roleplaying game, inspired by shamanistic Finnish mythology and tabletop classics such as Hero Quest.
Prison Princess (qureate, Today, $19.99) Lead two captured princesses to solve puzzles and escape the Demon King's castle. Your actions alone as a hero will decide their fates, and your own! A ghostly sliver of your former self, can you rescue the princesses? A new escape game experience, with cute girls, puzzles, and 'special' events.
Reknum (JanduSoft, Fri 31st January, $4.99) In Reknum you play the role of the princess Cheri, who must advance through 6 different completely explorable zones, loot chests with crystals that will increase her passive skills in order to advance. Each zone introduces different elements which must be evaluated in order to be able to advance, to examine how to advance, to examine the behavior of the enemies and to fight bosses.
Sisters Royale: Five Sisters Under Fire (Chorus Worldwide Games, Today, $13.99) The first new game in 12 years from Alfa System, the team that brought you. the shoot 'em up "Castle of Shikigami III" in the "Castle of Shikigami" series. Five uniquely talented sisters are squabbling over which of them will marry the angel Yashin.
Sparkle 4 Tales (Forever Entertainment, Today, $9.99) Begin the emotional journey and start as a small spark of life. Move out of the depths into the bright and peaceful place of grown species. Immerse yourself in the atmospheric surroundings from the beginnings of life, and the beautiful soundtrack to complement your experience. Have a conversation with the Creator to determine your future. Will you grow into a peaceful being, a bloodthirsty carnivore or something in between? Explore the Void and find your destiny. Become a magnificent being and explore your potential in a unique story.
Speaking Simulator (Today, $20.00) Do you have a vague understanding of human interaction? Well, this is the game for you! Your mission is simple: Infiltrate a world of extremely trusting humans, speak to them, and convince them that you're definitely not a robot.
Super Battle Cards (Baltoro Games, Fri 31st January, $5.99) Help! Darkness has fallen on the kingdom. Vile creatures now roam the land they seek to conquer. Our good king has been imprisoned, and his subjects robbed of their gold by the evil Ogre. He's the strongest monster of them all! But thankfully he's not that bright - you can outwit him! Watch your step, as the road ahead is filled with traps and obstacles. No one is safe in the dungeons, and you will have to face it all - merciless monsters, wraiths and more! Good luck!
Touchdown Pinball (SuperPowerUpGames, Fri 31st January, $3.00) Get ready for Touchdown Pinball, a pinball machine where you'll play an exciting match. Score field goals, touchdowns and show who is the greatest football player on this table. Discover all the missions and secrets, including a secret arena match where your abilities will be tested.
UORiS DX (Regista, Today, $9.00) UORiS has become DX (Deluxe) and reborn! Redesigned as it is cute. There are more types of fish blocks, and a mysterious huge block has appeared!? The rules are simple, just align them side by side and erase them. However, when the head disappears, all the body except the line also disappears.
Wide Ocean Big Jacket (Tender Claws, Tue 4th February, $7.99) Take part in a classic camping trip: Roast hot dogs on the fire, go birdwatching, tell ghost stories, grab a beverage from the cooler and do cartwheels on the beach.
Willy Jetman: Astromonkey's Revenge (Fri 31st January, $14.99) Willy Jetman: Astromonkey's Revenge is an arcade shooter full to the brim with action and shooting, inspired by the console classics of the 90s. In the orbit of the planet Gravos there has been a terrible accident that has caused an environmental disaster, filling the planet with space garbage.
Arcade Archives TECMO BOWL (Hamster)
Orbitblazers – (ogsoftgames, 31st Jan)
DLC
Byleth Joins the Fight in Super Smash Bros. Ultimate – Teach your opponents a lesson in discipline! Byleth, the skilled mercenary and tactician from the Fire Emblem series, enters battle as the newest playable character in the Super Smash Bros. Ultimate game. Byleth's unique ranged playstyle enables a new host of combat strategies in the game. The purchase of Byleth's Challenger Pack for $5.99 also includes the Garreg Mach Monastery stage and 11 newly added music tracks from the Fire Emblem series.

Six New Super Smash Bros. Ultimate Fighters Available for Pre-Purchase – The ultimate celebration of legendary video game characters keeps growing! Fighters Pass Vol. 2, which will include six more Super Smash Bros. Ultimate fighters currently under development, is now available for pre-purchase for only $29.99. Players will get access to six more yet-to-be-announced Challenger Packs as they release, which will each include one new fighter, one stage and multiple music tracks. Those who purchase Fighters Pass Vol. 2 will also receive an exclusive costume for Mii Swordfighter, the Ancient Soldier Gear from The Legend of Zelda: Breath of the Wild game, available for use in-game now!
So that's your lot for this week's North American Nintendo Download. Go on, be a sport and drop a vote in the poll above, and comment below with your hot picks!