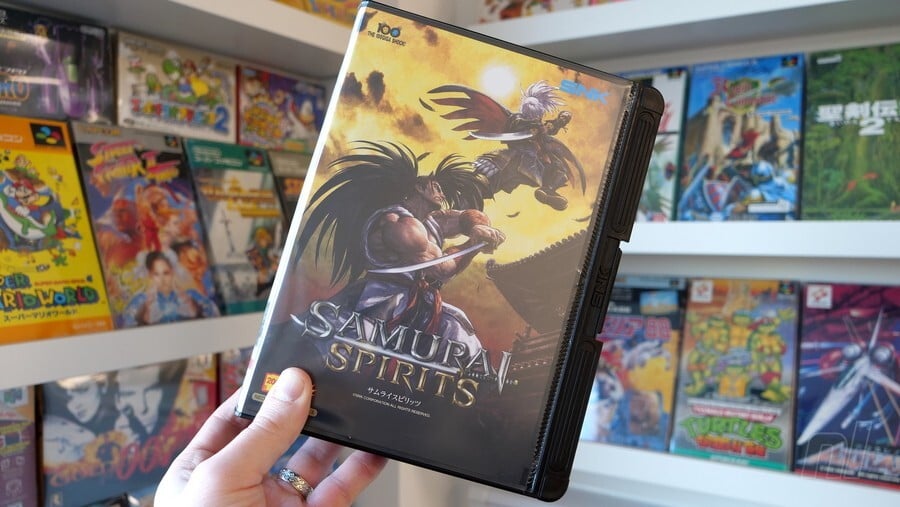 There's not long to wait for Samurai Shodown's Switch release in the west, but if you're willing to pay a little more over the odds and like getting limited edition junk, then you might want to invest in the Japanese version – known as Samurai Spirits – which comes with full English language support (it even boots with the western name when it detects your system language).
We bagged our copy from Hong Kong importer Play Asia, which came with a few more bonus goodies over the 'basic' limited edition version.
The coolest thing about this pack is that the game is placed inside an authentic Neo Geo AES "Shockbox" cartridge case – complete with convincing cover inlay – alongside a mini artbook full of gorgeous illustrations.
On top of that, there's a 36-page Neo Geo Freak magazine devoted to the game, a 2-CD soundtrack album, limited edition Switch carry case and a download code for Samurai Shodown 2 on the Neo Geo Pocket Color (the latter of which has to be redeemed using a Japanese eShop account, just in case you were wondering).
The emulation of this handheld game is excellent, and it gives us hope that SNK will give us more NPGC games in the near future, as the console's library is criminally underrated and deserves to be enjoyed by a wider audience.
Special editions are hardly rare these days, but this package is taken to the next level by the inclusion of that faithful AES cartridge case. It might be a pain to fit on your Switch games shelf, but if you grew up with Neo Geo hardware, it ticks all of the right boxes.
Will you be taking the plunge with this edition, or are you waiting for the western release on February 25th? Let us know with a comment.