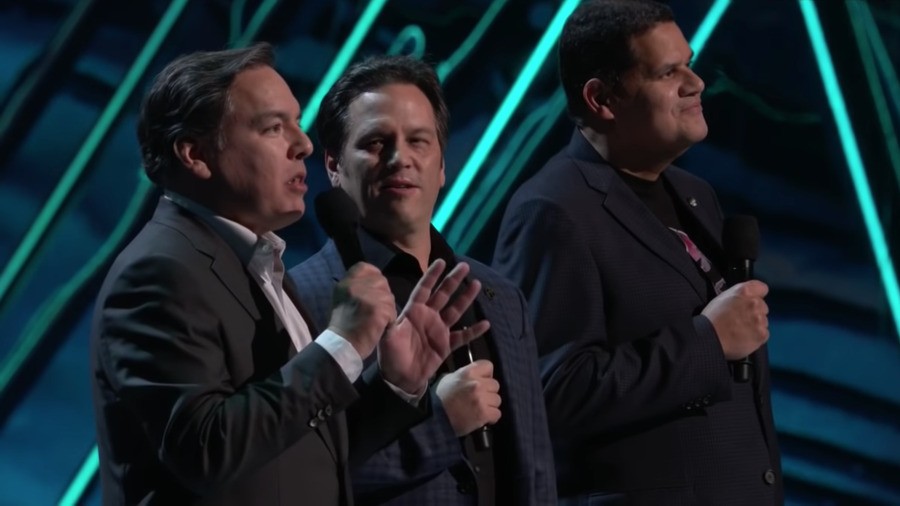 One of the highlights of last year's Game Awards was right at the very beginning of the show, as Nintendo of America's president at the time, Reggie Fils-Aimé, shared the stage with Xbox's Phil Spencer, and ex-PlayStation boss Shawn Layden. It was a humbling display of solidarity between gaming's major rivals, something which has made its way into games themselves in the form of a rise in cross-platform play.
As it happens, though, the special moment wasn't a particularly easy one to create. The show's host and creator Geoff Keighley recently spoke with fans on Reddit, answering their questions on this year's upcoming event. He revealed that it took "months of negotiations", and that just days before the show he thought it wasn't going to happen at all.
"It was a dream of mine for a long time -- since the first show. I asked all three of the guys personally and they agreed to do it, but it did take months of negotiations to make it happen. A few days before the show I thought it had fallen apart and I was really sad. But then magically it came back together. Producing these shows is always an emotional rollercoaster, but I'm really proud of that moment, and glad I was able to help make it happen."
Here's the moment in question if you need a reminder:
In the very same Reddit session, Keighley also announced that this year's show - taking place later this week - will reveal "around 10 new games". It might be worth a watch.
Do you remember this taking place last year? Would you like to see Nintendo of America's new president, Doug Bowser, take the stage this year? Tell us below.
[source reddit.com, via nintendoeverything.com]