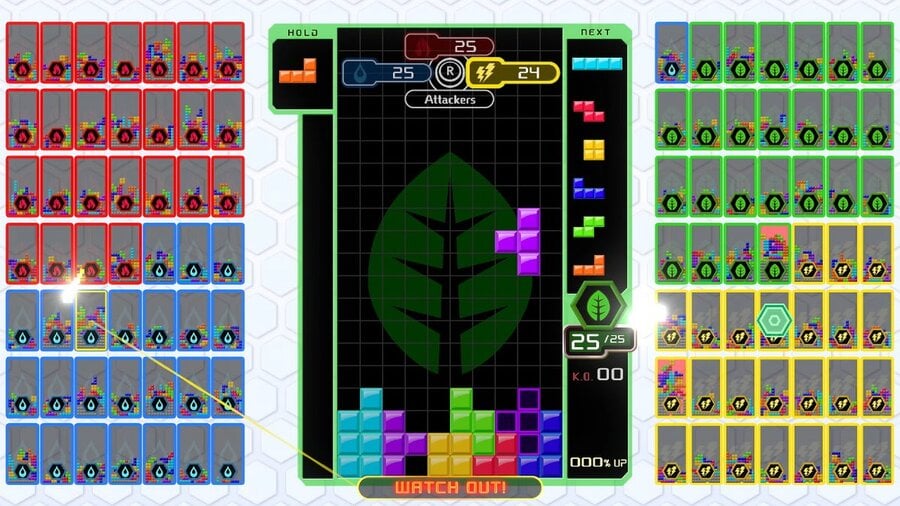 The tile-matching puzzle game Tetris has traditionally been about your own performance, but now in Nintendo's battle royale version – Tetris 99 – it's all about the team effort. A new update to this Switch exclusive has added a new team mode.
In Team Battle Mode, you must select your favourite of four teams before each game starts. If a team has more members, it means smaller teams receive a boosted attack power. The aim is to be the last team standing, and all members of the winning team share the victory.
Players who get K.O.'d will become spectators and can send 'Likes' to cheer on their teammates. Sticking around to see the outcome is important if you want to receive XP points or event points if a Maximus Cup is active. You can now also team with friends, thanks to the new password-based matchmaking feature.
Additional features in this latest update include new button configuration options, new user emblems and the option to redeem 30 in-game tickets for elusive special themes featured from the game's earlier events. These themes include: Tetris from the original Game Boy game, Splatoon, Fire Emblem: Three Houses and Super Kirby Clash.
Last of all is a new Maximus Cup taking place from 12th December until 16th December. This one is slightly different, as it takes "full advantage" of the new Team Battle Mode. Here's the rundown:
The Tetris 99 10th MAXIMUS CUP will be available to all Nintendo Switch Online members* and will take full advantage of the new Team Battle Mode. Points will be awarded based on placements during each match, and at the end of the event the top 999 players will each win 999 Gold Points** that can be used to help purchase games in Nintendo eShop.
Are you looking forward to testing out this Tetris 99 update? Will you be participating in the Maximus Cup? Let us know.