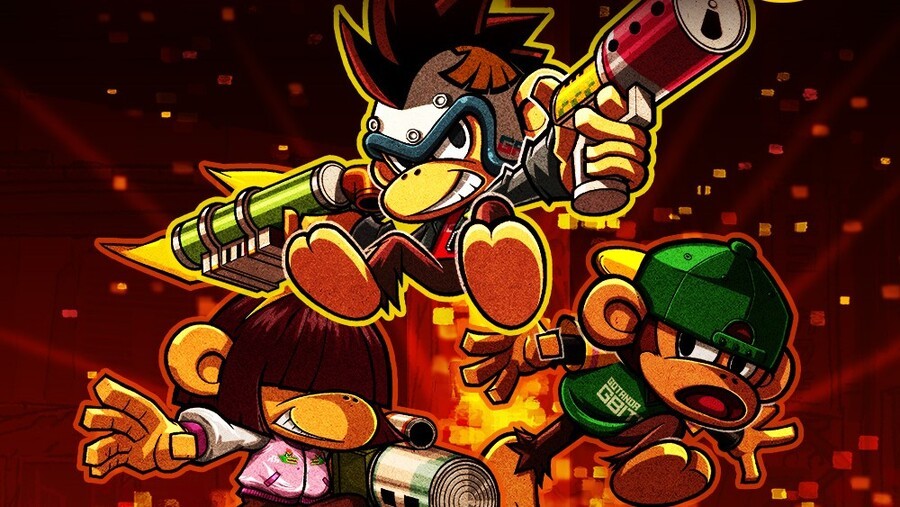 Japanese developer Good-Feel is the company behind a host of heart-warming Nintendo games, including the excellent Kirby's Epic Yarn, Yoshi's material-based platformer Yoshi's Woolly World on Wii U and the more recent Yoshi's Crafted World on Switch. A couple of weeks ago Good-Feel released Monkey Barrels, a top-down twin-stick shooter that's a far cry from the family-focused platformers it's been creating so successfully for over a decade now.
Recently, we had the opportunity to ask Good-Feel President Etsunobu Ebisu a few questions regarding his company's latest game, the thoughts behind its intriguing art style and the challenges of self-publishing on Switch...
---
Nintendo Life: Monkey Barrels looks like quite a departure from its previous titles. Please tell us about the game and where the idea for Monkey Barrels came from.
Monkey Barrels is made with Unity, because I wanted to spare more time to develop content rather than the engine.
Mr. Ebisu: Top-down shooter is one of my favourite genres, which I used to play at an arcade. I wanted to make a challenging game with the essence of an old-school arcade game and the latest technology.
Monkey Barrels mixes 3D and pixel art to great effect and, again, feels very different from Good-Feel's recent output. What were the influences behind the game's art style?
Good-Feel always puts an emphasis on creating unique graphics to express the theme of the game. This time, we combined 3D rendering and classic pixel art to realise gaming experience that is new but has a retro feel. I hope you can feel the warmth of the graphics even though you are in a fierce battle against hundreds of enemies.
Your last Switch release, Yoshi's Crafted World, used Unreal Engine 4. Does Monkey Barrels use the same engine? What do you feel are the pros and cons of using a licensed game engine as opposed to something developed in-house?
Monkey Barrels is made with Unity, because I wanted to spare more time to develop content rather than the engine. At the beginning, I was worried about the flexibility of development, but now I don't feel any inconvenience.
After working at Konami for many years on series such as Castlevania and the Goemon games, you formed Good-Feel in 2005 and mainly concentrated on educational titles before Wario Land: Shake It! on Wii in 2008. That's quite a dramatic change of focus – how did it come about?
We made several educational titles on request from an educational company, because I was interested in developing different types of game from what we have made before.
We always have plural development lines, and the educational titles were just a part of them, but because of the difference of development period, those were launched continuously in our early times.
Good-Feel has obviously had a strong relationship with Nintendo that started over a decade ago. Will your relationship with Nintendo continue alongside your own console projects? What was behind the decision to self-publish Monkey Barrels?
Publishing our own title has been one of the goals since we established Good-Feel in 2005.
And I decided to take on a challenge after we marked our tenth anniversary, regarding the active market on the Nintendo eShop.
With so many games coming to the Switch eShop, it's increasingly a challenge to stand out in the crowd. Do you think the eShop could be modified in any way to help both developers and publishers get their games in front of players?
Monkey Barrels is our first title to publish, so we may face that kind of situation in the near future, but still I think it depends on what kind of game you make. We will keep seeking how to bring our games in front of players.
Good-Feel has not only an excellent back catalogue of games, but also a varied one. After the twin-stick shooting action of Monkey Barrels, what's next for the company?
Actually, Monkey Barrels was planned to be our second self-publishing title. The former one is a pure 2D-shooter, which is developed by a director who is fully committed to the genre. The development started earlier than the Monkey Barrels, but we are still working on it to polish it up. I think we can announce it in the near future.
We decided the genre first, and then started development for these two titles, but next one we will put a priority on "how-you-play" more than what genre it is. So please look forward to Good-Feel's new titles.
---
Our thanks to Mr Ebisu. Unfortunately he was unable to answer some of our other Nintendo-related questions, but we're looking forward to seeing what's coming next from Good-Feel. In the meantime, check out our review of Monkey Barrels and if you like what you see, the game is available now on the Switch eShop.