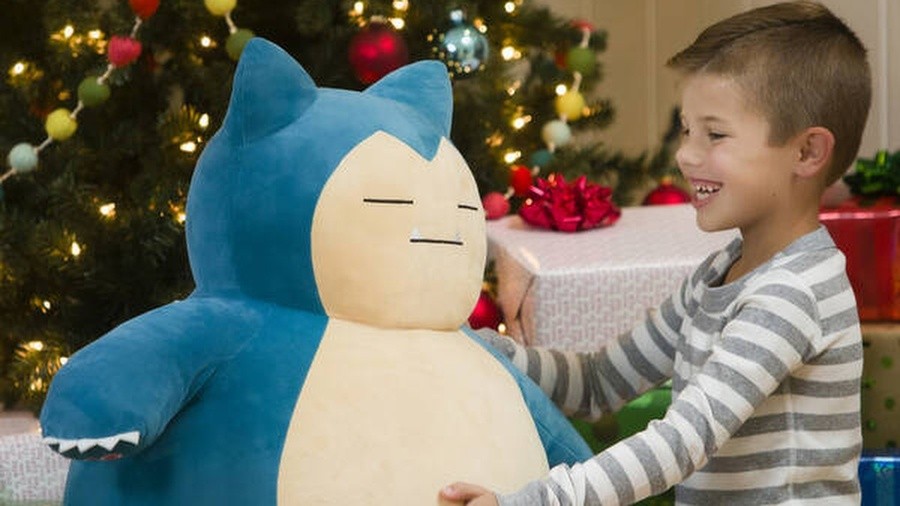 Build-A-Bear's ever-growing range of Pokémon plushies has had yet another friendly face join the ranks, with 'Jumbo-Sized Snorlax' available to buy as we speak.
The new toy can be picked up from both the UK and US Build-A-Bear stores as an online exclusive; for Snorlax and the full set of accessories, you'll need to hand over £76 / $99.50, or you can grab the plush on its own for £54 / $70. A smaller, non-jumbo Snorlax is also available for a little less at each store.
According to the website, Snorlax's mighty 60cm size means that it can only be shipped with next-day delivery. Here's the product description and some photos:
Catch the biggest Zzzz's ever when you add Jumbo-Sized Snorlax to your Pokémon lineup! Its jumbo 60 cm. size makes this extra-large Build-A-Bear Snorlax one of the snuggliest Pokémon around! This online exclusive bundle features the Normal-type Pokémon ready to doze off with a cosy printed Snorlax crest robe, sleeping cap and Build-A-Bear Workshop Exclusive Snorlax Pokémon TCG Card! Please note: due to Jumbo-Sized Snorlax's extra-snuggly size, this furry friend cannot fit inside our standard-sized gift box or Cub Condo.
Price includes:
- Jumbo-Sized Snorlax
- Jumbo Snorlax Robe and Sleeping Cap
- Build-A-Bear Workshop Exclusive Snorlax Pokémon TCG Card
Snorlax joins the likes of Pichu, Psyduck and Snubbull, Piplup, Vulpix, Meowth and more in the Pokémon Build-A-Bear range.
Will you be getting one of these? Can you think of somewhere to actually put it? Let us know in the comments below.