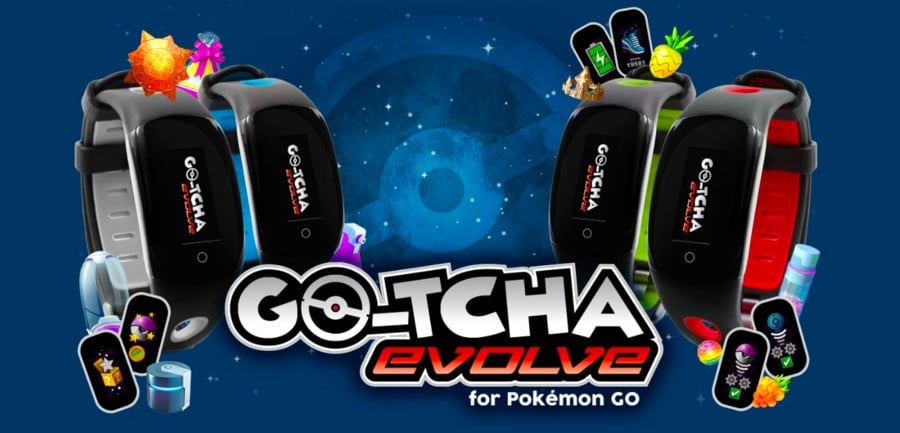 Keen Pokémon GO players will no doubt recall that we spoke very positively about the Go-tcha and Go-tcha Ranger accessories – unofficial third-party devices which replicated the performance of the Pokémon GO Plus but added some much-needed enhancements, like auto-capture and auto-swiping of Pokéstops.
These two devices came highly recommended – until a few months down the line when two of our Go-tcha units stopped working. The same fate befell the Go-tcha Ranger not long after launch.
It's with a great deal of trepidation that we report on the announcement of the Go-tcha Evolve, the next device in the range. Available in four different colours – Daredevil Red, Trailblazer Blue, Dynamic Grey and Globetrotter Green – the Evolve boasts a colour screen which delivers animations depending on what task it's performing in-game. It also has vibration alerts.
You'll be able to use it as a watch this time around too, and it also includes a step-counting feature. An app is promised in the fullness of time that will allow you to look at your stats and unlock other features.
In terms of compatibility, it is confirmed to work with the following iOS and Android devices:
iPhone 5s, iPhone 6, iPhone 6 Plus, iPhone 6S, iPhone 6S Plus, iPhone SE, iPhone 7, iPhone 7 Plus, iPhone 8, iPhone 8 Plus, iPhone X, iPhone XS, iPhone XS Max, iPhone XR devices with iOS 10.0 or later installed

Android devices with 2 GB RAM or more, Bluetooth Smart (Bluetooth Ver. 4.0 or higher) capability, and Android Ver. 5.0 or higher installed
With a price of £34.99, it's certainly an interesting prospect, but questions remain over the quality of the construction and internals. We still can't quite believe that we've had three different Go-tcha products all die within a year of buying them, which might suggest it's best to wait a while before investing in this particular device.
[source twitter.com]