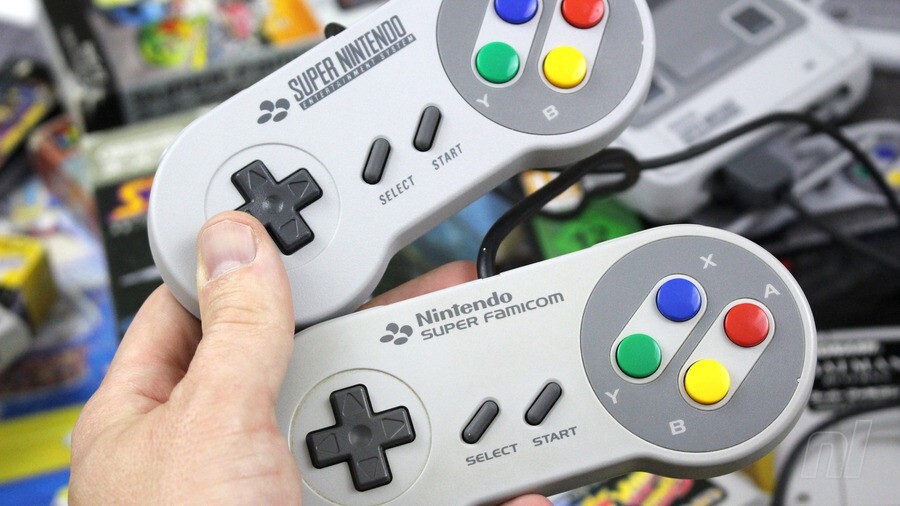 The discovery of an FCC filing showing a SNES controller with the model number 'HAC-042' (indicating it's part of the Switch's library of peripherals) has all but confirmed that Super Nintendo games are finally on their way to the Nintendo Switch Online service alongside their NES-based brethren.
The current line up of games available to NSO subscribers features a host of NES classics, and in September it'll be a year since the service launched and Nintendo is eager to add value to its online offering as those annual subscriptions are coming to an end. We've seen monthly updates to the NES library and recently the welcome addition of a rewind feature. SNES games are the next logical step and we're excited to see what Nintendo has in store (and if we can play in handheld mode with two SNES pads strapped to our console).
We'll forgive you if this overdue arrival doesn't immediately get your hype nodes buzzing, though. With the SNES Classic Mini, the Virtual Console on Wii, Wii U and New Nintendo 3DS, plus the remakes and various collections we've been treated to recently, there's hardly a shortage of ways to play 16-bit classics these days. Still, with SP versions of certain NES games (essentially save states that start you off in late game scenarios with commensurate powers), Nintendo has shown a willingness to be playful with its line up and there's plenty of potential for the service if the company is serious about making Switch Online essential.
Here we've collected together 12 SNES games we'd like to see come to Nintendo Switch Online. You'll find a few of the usual suspects (spoilers: Mario and Metroid are in there), but we've included a few which, for one reason or another, didn't turn up on SNES Mini which we'd love a chance to play again while we're out and about...
---
There we are - a varied bunch, we're sure you'd agree! Obviously, this is a very select list - we've only chosen twelve games and even with heavy hitters from Mario, Metroid and Zelda, there are dozens of titles we could have added from the spectrum of classics the SNES hosted. Which ones would you (re)play on Switch? Are there any others you'd like to see which perhaps haven't been available for a while? Let us know your picks below.