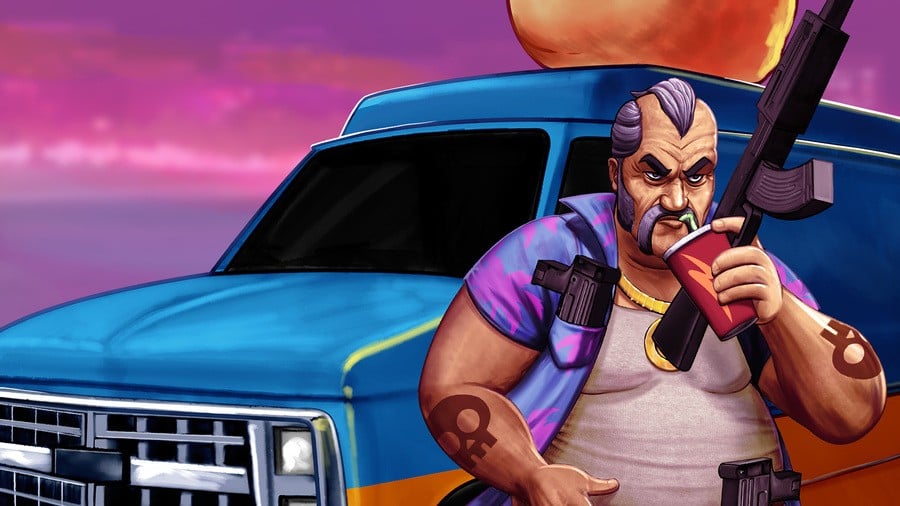 The latest Nintendo Download update for North America has arrived, and it's bringing new games galore to the eShop in your region. As always, be sure to drop a vote in our poll and comment down below with your potential picks for the week. Enjoy!
Switch eShop
Shakedown: Hawaii (Vblank Entertainment, Tue 7th May, $19.99) Shakedown: Hawaii follows three protagonists through a 16-bit open world. Build your own "legitimate" corporation by completing missions, acquiring businesses, sabotaging competitors, "re-zoning" land, and shaking down shops for protection money.
Puyo Puyo Champions (SEGA, Tue 7th May, $9.99) Easy to learn, tough to master! Jump straight into fast-paced puzzle action with features fit for both friendly rivalries and competitive tournaments in Puyo Puyo Champions. Challenge your friends and family in local multiplayer or compete against players from around the world through online matchmaking.
Arcade Archives PSYCHO SOLDIER (HAMSTER, Thu 25th April, $7.99) PSYCHO SOLDIER is an action game released by SNK in 1987. Play as the Two Soldiers of Light, ATHENA ASAMIYA and SIE KENSOU, and use their psychic powers to defeat the otherworldly monster SIGMA! Fill up the Psycho Gauge for a Psycho Ball attack! The super items inside of eggs can be used to perform amazing transformations!
Bird Game + (Ratalaika Games, Fri 3rd May, $4.99) In Bird Game, a third person flying adventure by Bryan Tabor, a very special adventure awaits you. Featuring a black and white 3D art style, Bird Game has you guide a majestic bird through a detailed world that grows all around you, full of challenging obstacles, hostile enemies, and punishing bosses.
Black Paradox (Digerati, Fri 3rd May, $14.99) Black Paradox is a fast-paced roguelite shoot 'em up. Unleash an arsenal of weapons, power-ups, drones, and other upgrades to survive waves of enemies, against a backdrop of vibrant pixel art and synth-wave soundtrack. As the infamous bounty hunter Black Paradox, travel through space and defeat the most dangerous criminal organization in the galaxy: the Hellraisers and its seven lieutenants.
Car Mechanic Simulator (Ultimate Games, Tue 7th May, $14.99) Buy used cars, repair and sell them. Do you want to earn more? Find out about trends and Pimp cars before selling.
Defend your Castle (XGen Studios, Thu 25th April, $4.99) Those crafty barbarian hordes have amassed their forces once again to challenge your domain. Will you and your court rise to the challenge, or stand aside as they raze your Castle to the ground?
Duck Game (Adult Swim Games, Today, $12.99) The year is 1984. Ducks run wild in a frantic battle for FAME and GLORY. Win over spectators by destroying your feathered friends with an IRRESPONSIBLE NUMBER OF WEAPONS. One shot and you're ROASTED.
European Conqueror X (CIRCLE Entertainment, Tue 7th May, $9.99) In European Conqueror X you engage in turn-based strategy and resource management, taking on battles in the late 18th- and early 19th-Century. You utilise weapons and soldiers distinct to that period in European warfare, making key decisions to turn the tide of war.
Giga Wrecker Alt. (Rising Star Games, Today, $24.99) In the near future, where Earth has been ravaged by robot invaders, the fate of the planet rests on the shoulders of a young girl who becomes more than human. Saved from death and cursed with cybernetic powers beyond comprehension, it's up to Reika Rekkeiji to save humanity from the evil Ajeet in this exciting new game from legendary developer Game Freak!
Gyro Boss DX (Chequered Ink, Fri 3rd May, $4.99) Your home planet is under siege from a band of intergalactic pirates led by the fiendish Gyro Boss! Unfortunately, your technology is no match for this deadly beast and his crazy weapons. Every game is doomed from the start, but you'll fight with honour to complete your mission objectives and achieve the best possible score.
Hellmut: The Badass from Hell (2tainment, Fri 3rd May, $29.99) Take control of various Transformations and unlock new Transformations each time you complete the game. Challenge randomly generated bosses across the randomly generated world, defeat demonic hordes, loot valuable treasures and soulstones, equip powerful weapons and use all your skills to save humanity!
HexaGravity (Forsaken Games, Today, $1.99) Hexagon tower world of geometry platformer game. Every new world is a new game! Make your way between dangers jumping in this amazing platformer and rhythmic action game! Be prepared for a near impossible challenge in this hexagon tower world of geometry. Test your skills as you battle your way jumping through dangerous passages and spiky obstacles.
Impossible Mission (System 3 Software, Mon 29th April, $14.99) A faithful adaptation of the past retro classic that improves on the original in every way. You have just 6 hours to find all the pieces to solve a mad scientist's puzzle while avoiding devious human-seeking robots and deadly black orbs. Includes three versions, the C64 original classic, a re-skinned classic and the totally updated new version.
Isoland (ORENDA, Thu 25th April, $2.17) Isoland draws players in with its original setting and visuals. It's an adventure game with tons of puzzle elements. Players play an investigator who arrives at a mystical island floating somewhere in the Atlantic to uncover its secrets.
Isoland 2 - Ashes of Time (ORENDA, Thu 25th April, $3.62) Like its sequel, Isoland 2 is an adventure game where the player who loses their memory searches to solve the secrets that lie on a small, mysterious island.
James Pond: Codename Robocod (System 3 Software, Mon 29th April, $14.99) James Pond, one of the true gaming legends, returns for his greatest adventure yet in Codename: RoboCod. With scores of mind-bending levels, cunningly hidden rooms, topped off with some of the best cartoon-style graphics around makes James Pond – Codename: RoboCod on Nintendo Switch a true collectors classic.
Meow Motors (ArtVostok, Wed 8th May, $14.99) You will take to the track and play as one of a dozen colorful cats memorable for their different characteristics and unique personalities. Overcome various difficulties of the tracks drifting through mines and bombs, stop and slow down your competitors by blasting them with bubble gum and other astonishing weapons. And don't forget to gather power-ups along the way if you want to be the fastest driver on the track!
Panty Party (Cosen, Thu 25th April, $14.99) "I have to find... the Warrior of Love! " "The Warrior of Love...? " "Yes... it is you! The one who loves panties, the Warrior of Love!
Preventive Strike (SimFabric, Fri 3rd May, $1.99) Preventive Strike is a dynamic arcade scroll-shooter. You control an overpowered attack helicopter with the objective to drive the enemy out of your land and make your way to the enemy base and eliminate the threat. They don't know what's coming, but neither do you!
Rollin' Eggz (GrimTalin, Fri 26th April, $2.99) Children and parents alike, this one is for you! Collect the eggz from the chickens before they fall down! But careful, every now and then there is a nasty rotten egg to avoid. Or maybe a shiny golden egg to snag and restore a heart to keep playing.
Shadows of Adam (CIRCLE Entertainment, Fri 3rd May, $14.99) Tucked away from the outside world by the impenetrable haze of the Misty Woods, the village of Adam has mostly lived in peace since the days of the Wraith War. The dark power that fueled that war has vanished, but darkness is descending once more and Adam's legendary hero, Orazio, is no more. Read our Shadows of Adam review.
Strike Suit Zero: Director's Cut (Today, $19.99) In the year 2299, an interstellar war rages on. In a bid to save Earth from destruction, you must take control of the Strike Suit – a revolutionary fighter craft with the ability to transform into a lethal suit of space armor. Immerse yourself in massive fleet battles where your dog-fighting skills will directly affect the fate of the cosmos.
Super Star Blast (EntwicklerX, Fri 26th April, $4.99) Super Star Blast is a space-based game with challenging levels of increasing difficulty. All enemies must be shot down to finish a level and go to the next one. A scanner around the player tells roughly where the enemies are located.
The Little Acre (Pewter Games Studios, Thu 25th April, $12.99) The Little Acre follows the story of Aidan and his daughter, Lily, set in 1950's Ireland. After discovering clues as to the whereabouts of his missing father, Aidan begins investigating until he inadvertently finds himself transported to a strange new world. Ever the hero, Lily sets off after him, encountering her own perils along the way.
The Swords of Ditto: Mormo's Curse ( Devolver Digital, Today, $14.99) The Swords of Ditto: Mormo's Curse is a compact action RPG that creates a unique adventure for each new hero of legend in the relentless fight against the evil Mormo. Explore a delightful but dangerous overworld, brave menacing dungeons, and improve your hero in a charming village, during your quest to overcome the evil that plagues the island. Read our The Swords of Ditto: Mormo's Curse review.
VA-11 HALL-A: Cyberpunk Bartender Action (Ysbryd Games, Today, $14.99) Welcome to VA-11 Hall-A! In this world, corporations reign supreme, all human life is infected with nanomachines designed to oppress them, and the terrifying White Knights ensure that everyone obeys the laws. But, this story is not about those people.
Venture Kid (FDG Entertainment, Today, $10.00) Venture Kid is an action-packed platformer that will keep surprising you with inventive level design, highly entertaining action challenges, responsive controls and a great variety of bosses. Your Mission: The evil Dr. Teklov is about to build a secret weapon, disguised in his huge space fortress.
Xtreme Club Racing (EnjoyUp Games, Fri 3rd May, $9.89) Get behind the wheel in one of eShop's most frantic extreme driving games. Travel back in time with a flashback to the ARCADES with pure ARCADE style retro-playability. Tracks in the mountain with different theme park type settings. Many and diverse interactive elements in the competition where the driver's driving and reflexes are put to the test.
Nintendo eShop Sales

Check out the full list of deals available this week here.
So that's your lot for this week's North American Nintendo Download. Go on, be a sport and drop a vote in the poll above, and comment below with your hot picks!