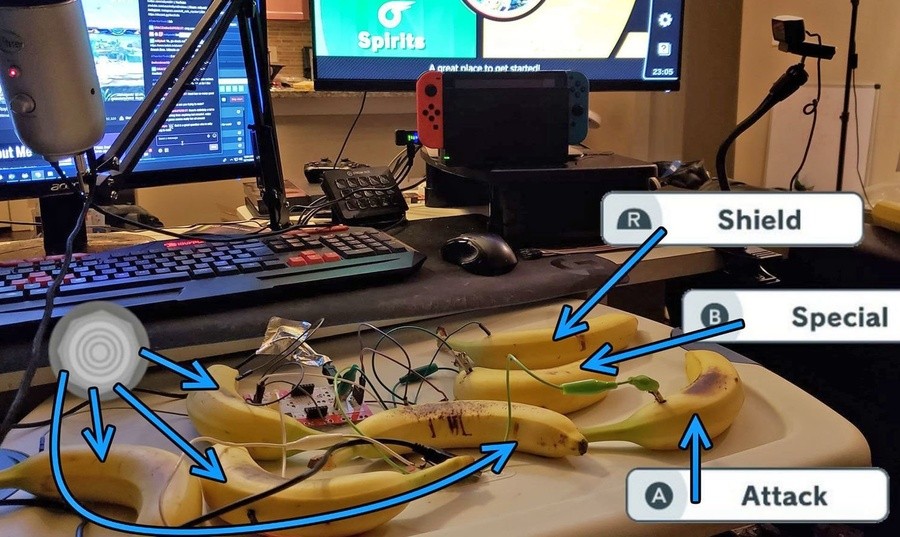 When it comes to finding the best setup for playing Super Smash Bros. Ultimate, there are usually two options people go for - the Switch Pro Controller, or a GameCube controller (and maybe the Joy-Con in extreme cases). A new challenger to this heated battle has now entered the fight, however, as demonstrated by Twitch streamer ATwerkinYoshi.
In the video below, ATwerkinYoshi decides to take on Smash Ultimate using only a bunch of bananas. The setup makes use of a Makey Makey kit, which can be used to hook up all sorts of weird and wonderful things and turn them into touchpads, with each individual banana being assigned to a button from a traditional controller. Using your 'Down B' has never been so complicated.
The video starts off with a lengthy introduction as he sets up his bananas (what a sentence); the first match takes place at around the 42 minute mark. From there, we see him take on standard Smash battles, the Classic mode, and even come up against those tasty, adrenaline-inducing Challenger Approaching battles, all while playing as none other than Donkey Kong. Poetic.
You can see the whole thing down below.
So, the next time your friend comes over and blames your slightly dodgy controller when they lose, show them this video. Anything's possible with enough practice (and bananas).
[source twitch.tv, via nintendosoup.com]