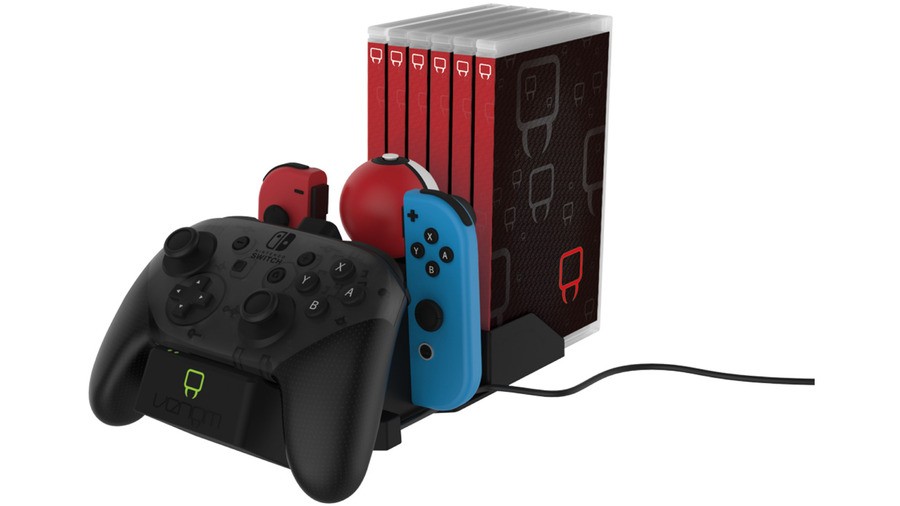 Gaming accessory maker Venom has revealed a brand new 'Charge & Store' dock for the Nintendo Switch, allowing you to, well, charge and store multiple controllers at the same time.
As you can see, the Charge & Store holds two Joy-Con, a Pro Controller, and even the Poké Ball Plus accessory, instantly charging all controllers simultaneously when placed onto the dock. No battery packs or external AC adaptors are required; the dock can be plugged into your official Nintendo Switch dock and is simply powered via USB. With another two Joy-Con attached to your Switch, this means you'll actually be able to charge four Joy-Con at the same time.
It also holds up to six of your favourite games, cleverly putting everything you'll need on a regular basis in one place. We've got a feature list and some images for you below.
Charge and store two Joy-Cons, one Pro Controller, and your Poké Ball Plus simultaneously
Drop and charge – no need for battery packs
Storage for up to 6 games
USB powered for easy connection to your Nintendo Switch
Matt finish to match your console
LED charging indicators let you know when controllers are fully charged
The product has a recommended retail price of £14.99 and is currently available to pre-order from Amazon UK. It actually launches tomorrow, so you should have your hands on it very soon indeed.
Is this the kind of storage and charging solution you need? Will you be treating yourself to one for the holidays? Let us know in the comments.