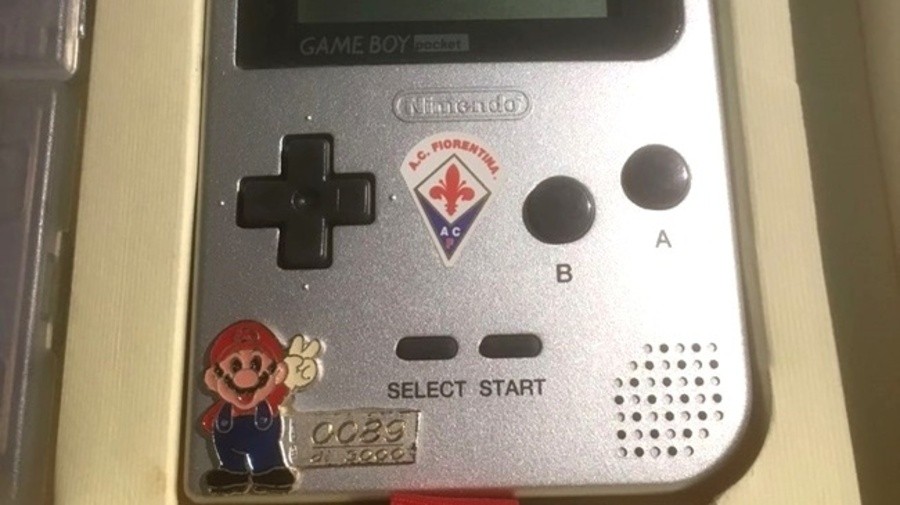 If you live and breath calcio, you might be fond of the Serie A Italian football side Fiorentina. Even if you just love the global game and are also a fan of Nintendo, you'll probably remember this team's classic 'Nintendo' kit of 1998. To this day, it remains one of the club's most iconic and memorable designs.
During this same period, Nintendo and Fiorentina maintained such good relations on and off the pitch, the Japanese company's kit sponsorship led to the release of an officially licensed Game Boy Pocket in the same year. The system was limited to Italy and distribution was handled by Florence-based toy company GiG. There were only 300 of these units ever produced, even though the issue number on the front of each system extends to 3,000. As noted by football news site WhoAteAllThePies, it's likely this was a misprint.
Each system featured an embossed club logo; the cardboard box it was inside had appropriately-themed logos and the plastic case had ribbons to help lift the system out. The silver handheld came bundled with Super Mario Land and the Game Boy version of Soccer, which was a fitting choice given the collaboration it spawned from.
This wasn't the only time Nintendo released a football-themed Game Boy. There was a Manchester United one, based on the original system, that was also made available many years ago. Considering how the Red Devils were a marketing powerhouse back then, and still are, this would have been a great way to cash in on what was young and hip at the time. Check it out in all its glory below:
Do you remember the years of the Game Boy Pocket? Would you like to add this limited edition system to your collection? Tell us below.
[source whoateallthepies.tv]