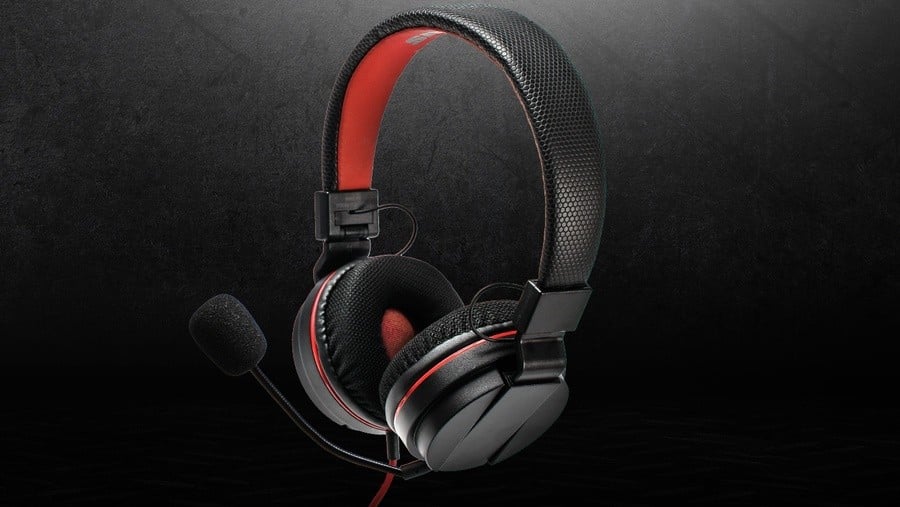 Electronics hardware manufacturer snakebyte has launched a brand new gaming headset specifically designed for Nintendo Switch. Available as we speak, the new release is called the 'Head:Set S'.
Offering "great audio quality and crystal clear chat" when you want to chat with your friends online, the Head:Set S plugs directly into your Switch or to a standard 3.5mm input on your smartphone when using the Nintendo Switch Online app. Setting this headset apart from your average pair of headphones is its customisable cable, which can be adjusted from 1.5 metres in length to 4.5 metres to suit handheld mode, TV mode, or table-top mode on the fly.
You can also make use of the in-line volume control - so that you don't have to pause the game to find your TV remote - and the headset contains 40mm Neodymium drivers which are said to deliver "richly detailed audio", allowing you to pinpoint the exact location of enemies in games such as Fortnite. Of course, with Fortnite being the only game which currently allows voice chat directly from the Switch console itself (without having to hook up the Switch Online mobile app) we imagine fans of the game will find the most use for this new release.
It would seem that Nick Repenning, CEO of snakebyte USA, would agree:
"Since exploding on to Switch at E3 2018, Fortnite was downloaded a remarkable 2 million times in 24 hours, and it's popularity continues to soar. Our Head:Set S is ideal for all Switch software, but gamers looking to gain the winning edge in battle royale games like Fortnite know how essential clear chat is to the gaming experience. We're confident that the comfort, superb audio quality and remarkable affordability of the Head:Set S will prove a winning combination for Switch gamers everywhere, allowing us to grow our market share in this competitive segment."
You can check out some features for the headset below if you're interested in grabbing a pair.
Removable mic with flexible design allows for a tailored fit and optional use
40mm speakers perform at an optimal level of sound quality
Cushioned earcups allow for comfort and noise isolation
Volume control is attached to a 1.2 m long cable for easy access
Design matches the Switch color scheme
The "remarkable affordability" mentioned above is actually pretty accurate - the headset is currently available on Amazon for £14.53. If you're not too fussed about having a wireless setup, and are happy to make use of the customisable cable found here, this could be a decent way to play Fortnite with your buddies.
Do you tend to chat with others online when playing on your Switch, either on Fortnite or through the app with other games? Let us know in the comments below.