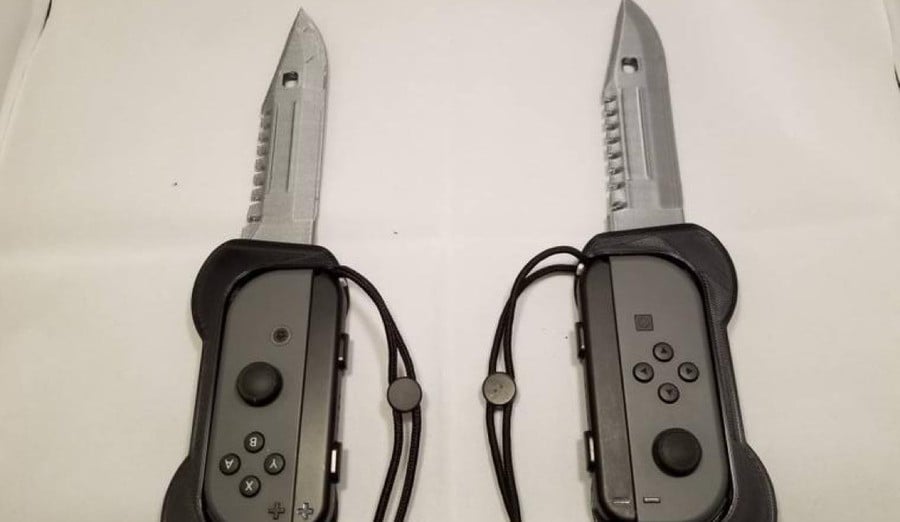 With the holiday season fast approaching, you may be starting to search for the very best gifts money can buy to present to your nearest and dearest. If you're buying for a gaming fan, it's pretty likely that a Nintendo Switch-themed present could go down rather nicely indeed. Well, as it happens, we've just stumbled across the perfect present for that very situation - because nothing says "Merry Christmas" quite like a set of Joy-Con knife blade holders.
Yes, these controller grips are made to order, and are available to purchase right now from Etsy seller Inceptualize3D. The blade that you'll receive isn't actually sharp (it's there for the appealing aesthetic only) and the whole product is 3D printed using PLA plastic. It actually comes in two pieces, so you're free to attach the blade to the grip, or leave it off entirely.
We have spotted one cause for concern with the product, however, relating to the seemingly upside-down nature of the design. We haven't tested the product ourselves, but it does seem like the blades would dig into your stomach or legs if you were hoping to use the Joy-Con in a happy game of Super Mario Party or the like. Still, when the product description states "u may ask why? But you should be asking why not??", you can't really argue.
If you're interested, you can grab them from Etsy for just $15 plus shipping.
Will you be treating yourself or a loved one to these Nintendo Switch accessories? Where would we be without 3D printing, huh?
[source etsy.com, via dualshockers.com]