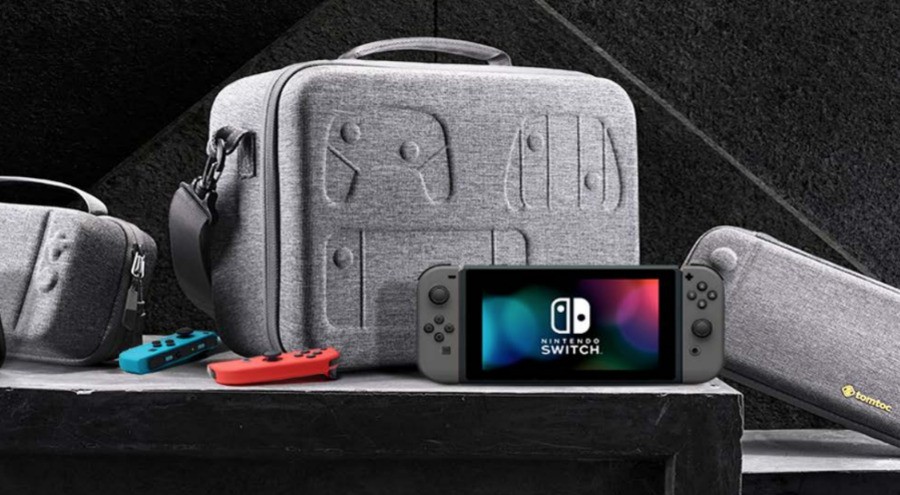 Tech accessory manufacturer tomtoc has released a new line of Nintendo Switch travel cases, with three different options available to suit your specific needs.
Each case comes with three layers of different materials, aiming to keep the designs light but sturdy, ensuring your console is safe. The outside is made from a soft textile material which acts as a water-resistant cover; the second is a hard shell designed to protect the Switch from any knocks or drops; and the final inside layer is a soft fleece to protect the more sensitive parts like the console's screen.
The smallest of the three designs is for those who want a quick and easy way to carry their console around. As you can see, the outer shell has raised parts for the Joy-Con sticks, ensuring that no additional pressure is exerted onto them during transport, and several colour options are available.
Then there's the medium build, which includes a fabric handle and can hold 18 games, your AC adaptor, and a small selection of accessories.
And finally we have the monster of the group, designed for professional gamers and those who need to transport their entire system setup. Described as a Switch "garage", this one can carry 32 games, your Joy-Con, HDMI cable, dock, four Joy-Con straps, and seemingly a whole lot more. There's a nice chunk of foam padding inside to securely hold your bits and pieces in place, too.
They come at a surprisingly reasonable cost, too. You can grab the designs from Amazon UK for £14.99, £18.99 and £37.99 respectively, or Amazon US for $16.99, $19.99, and $42.99.
Do you like the look of these designs? Are any of them perfect for your needs? Let us know your thoughts on these down below.