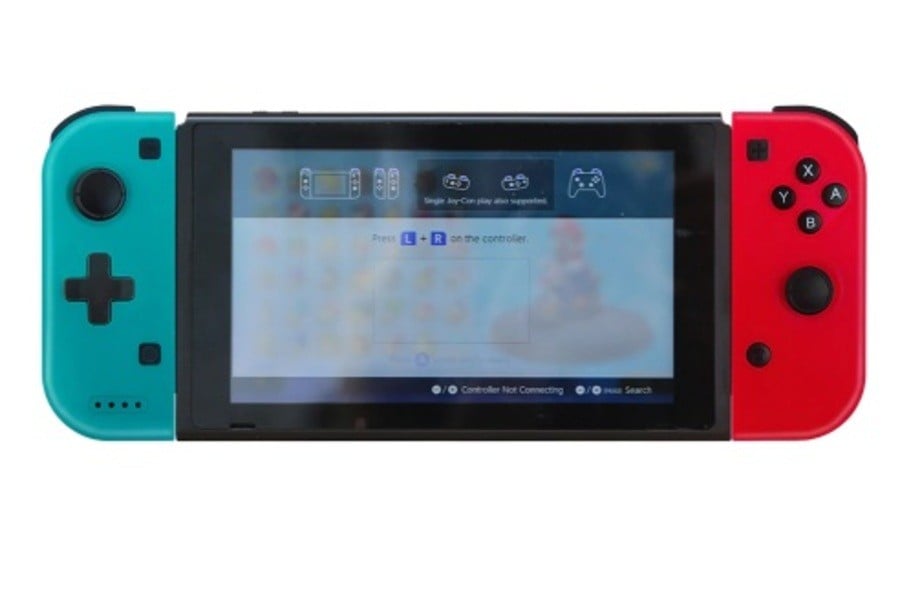 The Switch has provided good business for many officially licensed accessory manufacturers, so it's no surprise there are plenty of other companies out there now attempting to cash in on the success of Nintendo's hybrid console. 
Introducing the Wireless Controller by Chinese firm, Time Owner. In actuality, this is an unofficial controller for the Switch that connects two knock-off Joy-Con together with what appears to be an extra long rubber strip (we're not entirely sure what magical powers it contains). Despite the design of the controller favouring the Switch handheld mode, it can still apparently be used when the system is in docked or tabletop mode. Here's the rundown according to the description:
Compatible with Switch console & support Windows PC 360 mode, BT v3.0 wireless connection, Built-in motion sensor, Realtime vibration with built-in motors, Built-in rechargeable lithium battery, Play even while charging, Support multiplayer gaming,Capture gameplay screenshots, Light weight and ergonomic design
There's even a Type-C port built into the controller, as it is unable to charge off the Switch directly. The company behind it claims the battery lasts up to four hours. Noticeably it replaces the buttons on the left Joy-Con with an actual control pad as well. The controller is available in the standard neon red and blue colours, or there's the option to go with a transparent design and coloured buttons. 
As honest as the descriptions above make it sound, we can't say how safe this controller would actually be to use with your Switch. If you want to check it out, visit this website. The price alone should be enough to discourage you. This isn't the first time we've stumbled across a product such as this - earlier in the year, we spotted a knock-off Ouya controller doubling as a Switch Pro pad.  
Take a look at the "Wireless Controller" in the gallery below and tell us what you think about it in the comments.
[source aliexpress.com]