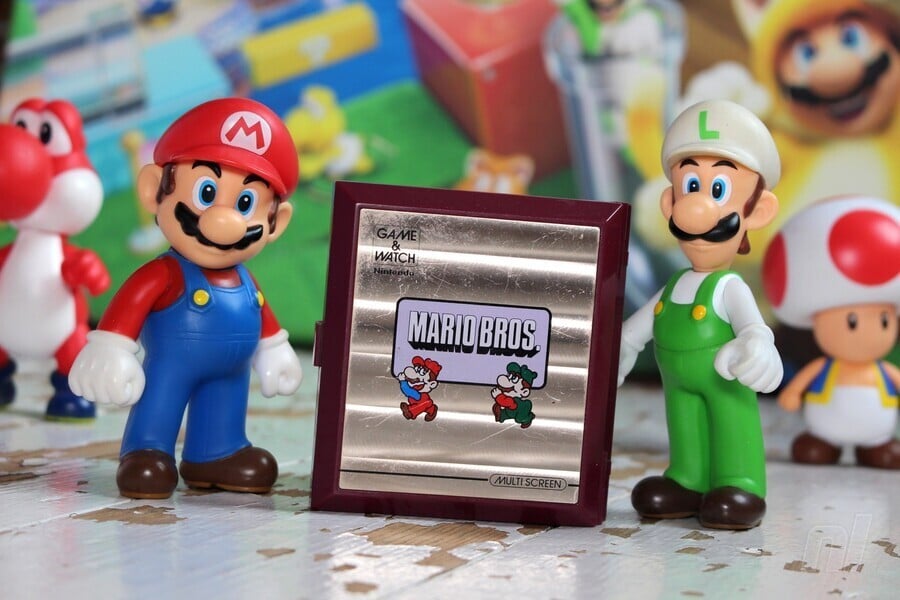 Luigi may not be quite as famous as his illustrious sibling, but there's a fair chance that you could stop a random person on the street and they'd still be able to identify him or at the very least acknowledge his association with the Super Mario Bros. series. Keeping this in mind, it's an odd sensation to play the first-ever appearance of this iconic character – and it's even odder when you consider that the setting is totally alien to rest of the series.
The 1983 Game & Watch release Mario Bros. is noteworthy for being the first of the 'Multi Screen' range to place two LCD displays side-by-side (the previous Multi Screen releases, such as Donkey Kong II, used a design which would later be seen on the Nintendo DS). However, a more important milestone is the fact that this pocket-sized title marked the debut of Luigi, and pre-dates his (arguably better known) appearance in the arcade version of Mario Bros. by four months (it released on March 14th in Japan, while the arcade game arrived on July 14th). Mario, of course, had opened his video game account in 1981's Donkey Kong.
It's perhaps understandable that this landmark release has gone unnoticed by so many, because outside of the colour artwork on the front of the unit (which, it should be noted, opens 'backwards' like a Japanese book), you wouldn't be able to tell if the two protagonists were Mario or Luigi at all; their black silhouettes lack any facial detail and they both look identical. Only the text on the unit denotes who is who.
It's also noteworthy that the signature platforming gameplay that would make Mario Bros. and its successor Super Mario Bros. so popular is absent; instead, the aim is to load a truck full of bottles by passing them from one screen to the next. You're in control of both characters in this case, using the simplistic pair of rocker controls to switch between the various conveyor belts in the factory. Because of this setup, it's possible to play Mario Bros. with a friend, making it a unique and sought-after entry in the Game & Watch line.
Outside of its historical importance, Mario Bros. is your typical Game & Watch release; despite the primitive nature of the technology used it is tightly-designed and instantly compelling, with the focus on achieving a high score ensuring that it boasts surprising longevity.
Powered by two LR44 batteries and equipped with the tremendous USP (well, for 1983 at least) of a digital clock and alarm, Mario Bros. may feel somewhat archaic by today's standards, but like pretty much every Game & Watch release, it's akin to a work of art you can hold in the palm of your hand. It's also relatively easy to find online at a reasonable price, so there's no excuse not to sample Luigi's debut and get a grounding in an important part of Nintendo history.