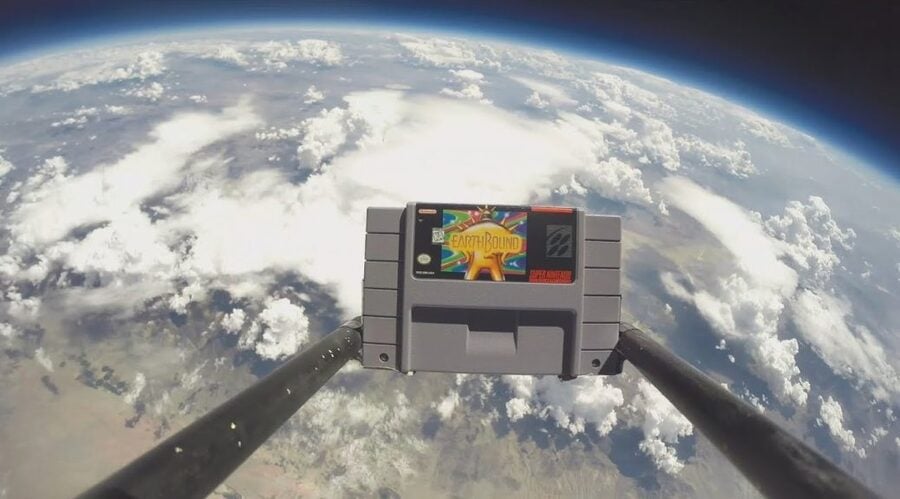 Here's a whacky and wonderful one for you: a copy of EarthBound has recently been sent up to the edge of space, presumably being the only copy of the game that isn't actually bound to Earth.
14-year-old student, Ronnie Doyle, was recently given the chance to send an item of his choosing into space through a donation made by his grandfather. Thanks to this donation, crowd-funded science group Earth To Sky Calculus gave him the opportunity to have his item be whisked away and for the journey to be recorded on camera for good measure.
Speaking to Kotaku, Doyle reveals that he could pick anything "smaller than a lunchbox," opting to go with one of his prized possessions - his very own copy of EarthBound on SNES. "The process of sending the game is very frightening," Doyle explained, going on to say that "this is a $200 game that has a big risk of not coming back in one piece. The cartridge was drilled into both sides to ensure it had a safe flight, but I decided to take that risk."
The cartridge was hoisted up by a helium balloon with a GPS attached to it, allowing the Earth To Sky Calculus team of students - and their teacher - to find it once it had landed. The game reached an altitude of 100,000 feet before coming back down to Earth with a gentle crash. Luckily, the game still works, and Doyle is now even accepting offers for those who want to buy this one of a kind cartridge.
On the one hand, it's pretty epic to watch a SNES game fly up into space, but on the other, we couldn't help but feel incredibly nervous about the potentially catastrophic end it could have seen. Maybe you shouldn't try this at home...
[source kotaku.com]