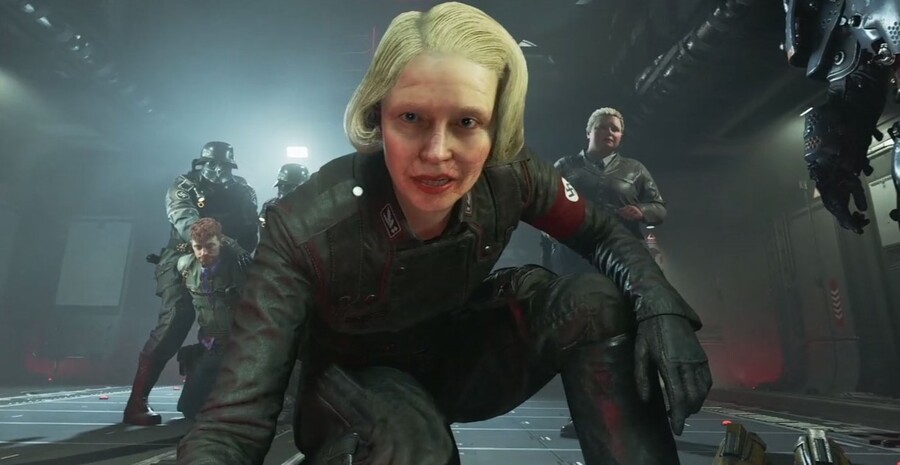 The Nintendo Download update has gone live, bringing with it plenty of new additions to the eShops. From tiny indies to full-blown triple-A releases, there's bound to be something to tickle your fancy. As always, be sure to drop a vote in the poll and a comment below with your favourite new additions to the digital stores.
Switch eShop
Wolfenstein II: The New Colossus (Bethesda, $59.99) – As BJ Blazkowicz, experience an unforgettable action-packed story brought to life by extraordinary characters. Reunite with your friends and fellow freedom fighters as you take on the evil Frau Engel and her Nazi army. Wage the second American Revolution your way – at home or on the go. And for the perfect blend of immersion and accuracy, use the Nintendo Switch system's motion controls to stop the Nazi threat. The Wolfenstein II: The New Colossus game is available on June 29.
Crash Bandicoot N. Sane Trilogy (Activision, $39.99) – Spin, jump, wump and repeat as you take on the epic challenges and adventures through the three games that started it all: Crash Bandicoot, Crash Bandicoot 2: Cortex Strikes Back and Crash Bandicoot 3: Warped. Relive all your favorite Crash moments in their fully remastered graphical glory. The Crash Bandicoot N. Sane Trilogy game is available on June 29. 
de Blob (Nordic Games, $29.99) - Equal parts amorphous blob of paint, struggling artist, revolutionary and juvenile delinquent, de Blob's goal is to replace the drab, lifeless gray coloring that the I.N.K.T. Corporation has imposed on Chroma City and its inhabitants, the Raydians, with a range of vibrant life-giving colors, all the while avoiding and battling the gray-clad forces of the Inkies. Read our review.
LUMINES REMASTERED (Enhance, $14.99) - The critically-acclaimed puzzle game produced by legendary creator Tetsuya Mizuguchi arrives on the Nintendo Switch! An HD remaster of the original game, LUMINES REMASTERED beautifully marries the elements of sound, light and puzzle-action into one addictive, yet easy-to-play game. Read our review.
Ys VIII: Lacrimosa of DANA (NIS America, $59.99) - Adol awakens shipwrecked and stranded on a cursed island. There, he and the other shipwrecked passengers he rescues form a village to challenge fearsome beasts and mysterious ruins on the isolated island. Amidst this, Adol begins to dream of a mysterious blue-haired maiden living in a unknown world. Join Adol as he unravels the riddle of the cursed isle and the blue-haired maiden Dana in Ys VIII: Lacrimosa of Dana! Read our review.
ACA NEOGEO Money Puzzle Exchanger (HAMSTER, $7.99) - "Money Puzzle Exchanger" is an action-puzzle game released by FACE in 1997. The definitive version of this non-stop fun money-exchanging action-puzzle game first made its debut on the Neo Geo. It offers three modes of play: VS COM, SOLO PLAY and 1P VS 2P!
Arcade Archives Renegade (HAMSTER, $7.99) - Save your good friend Hiroshi! Your enemy: the mob. In this battle your life is on the line!
Dream Alone (Fat Dog Games, $8.99 (normally $9.99)) - Dream Alone is a 2D platforming game with classic platform gameplay, deadly traps, a dark storyline and unique hero abilities.
Figment (Bedtime Digital Games, $15.99) - A action-adventure set in the recesses of the human mind... Welcome to the world of Figment. A strange and surreal world; a place filled with our deepest thoughts, urges and memories, populated by the many voices we hear in our heads. Read our review.
Fossil Hunters (Smiling Buddha Games, $16.99) - You are an adventuring Fossil Hunter who has traveled to a remote, mysterious dig site to discover the most incredible fossils the world has ever seen! Discover and assemble your own fossil creations and avoid cave-ins, monsters, and traps while you explore exciting underground environments. Find secrets, treasure and more as you uncover clues to the whereabouts of the fossil hunters who came before you.
Grave Danger (Joindots, $16.99 (normally $19.99)) - This is the Ultimate Edition of Grave Danger. It includes 10 new levels, a UI overhaul, an expanded story, and many new gameplay features.
INSIDE (Playdead, $19.99) - Hunted and alone, a boy finds himself drawn into the center of a dark project.
LIMBO (Playdead, $9.99) - Uncertain of his sister's fate, a boy enters LIMBO.
MotoGP 18 (Milestone, $39.99) - Pursue your career as a professional rider making your way from the Red Bull MotoGP Rookies Cup up to the Premier class of the MotoGP.
No Heroes Here (Mad Mimic, $14.99) - NO HEROES HERE is a co-op game for one to four players. Coordination and cooperation are your key weapons to success - everyone must play a role in the battles to come and work together as a team to protect the castles and Kingdom from imminent doom.
Paranautical Activity (Digerati, $7.99) - Paranautical Activity is a blisteringly-fast first-person shooter that combines classic arena-style FPS action with roguelite elements. An intense and challenging test of precision, skill and reflexes awaits!
Photon Cube (SMILEAXE, $13.65) - "Photon Cube" is a unique puzzle game using light function.
The Journey Down: Chapter Two (BlitWorks, $19.99) - Far below the noisy metropolis of St. Armando, Bwana follows in the footsteps of his lost father together with Kito and Lina. In their search for the mysterious Underland, they discover a dark conspiracy shrouding the fate of Captain Kaonandodo.
Angels of Death (Active Gaming Media, $14.99) - The hit indie game (anime version coming soon) is coming to the Nintendo Switch!
Air Mail (N-Fusion, $13.49 (normally $14.99)) - N-Fusion Interactive's award winning flight-adventure game, Air Mail, has arrived on Nintendo Switch™! Get ready for an incredible ride through a fantasy world filled with exotic lands to explore.
Cubikolor (LIGHTMAZE, $8.99) - Move your Kube by matching the kolors of the sides and the platform to complete each level. Armed only with your logic and your Kube, move through the 150 levels outwitting the traps in the System, an evil, scheming entity, to confront the machine and pass the test!
Anima: Gate of Memories (BLG Publishing) – Anima: Gate of Memories is a third person action RPG that tells the story of two beings bound by an unwilling pact, an ancient monster and a girl who lost her past... Available June 29.
NEKOPARA Vol.1 (CFK) – "NEKOPARA", a famous PC adventure game that has sold over 2 million copies of series worldwide, is out for Nintendo Switch! Available July 4.
Runbow (Headup Games, $14.99) – With tons of competitive modes for up to nine players online and eight players locally and a massive Single Player Adventure, Runbow is the crazy, color-based platformer you've been waiting for. Available July 3.
SpiritSphere DX (Fabraz, $9.00) – Play solo or compete with friends by battling across fantastical realms and unleash the power of the Spirit Spheres! Available July 2.
Waking Violet (MixedBag Srl, $4.99) – Waking Violet is a classic 2D top-down puzzle game, but with awesome spells and a unique time rewind mechanic. Available June 29.
3DS eShop
I.F.O (Turtle Cream, $3.99) - I.F.O is an old school LCD-style shoot'em up game. Shoot down UFOs using a classic style aircraft and save the abducted animals from the aliens. Save the Earth from the Aliens! You're the world's last hope.
Demos
Block-a-Pix Color – Demo Version (Nintendo eShop on Nintendo 3DS)
What are you downloading this week? (336 votes)
Ys VIII: Lacrimosa of DANA
14%
ACA NEOGEO Money Puzzle Exchanger
2%
Arcade Archives Renegade
2%
The Journey Down: Chapter Two
0%
Wolfenstein II: The New Colossus
21%
Crash Bandicoot N. Sane Trilogy
13%
Anima: Gate of Memories
0%
Please login to vote in this poll.
So that's your lot for this week's haul. Be sure to drop a vote in the poll and a comment down below with your hot picks for the week...