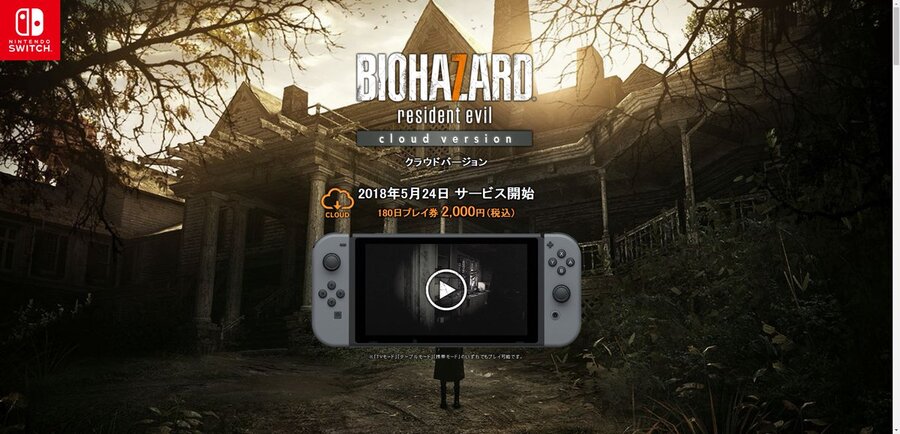 It's fair to say that Resident Evil 7 surprised the gaming community back in early 2017. As well as being a dramatic departure and reinvention of the franchise, what was more interesting to most was that it was actually really good. More than good. 
Developer Capcom has been a strong supporter of the Nintendo Switch, not least in the coming months, with two Mega Man collections and a Street Fighter collection, along with Okami HD dropping in August.
This morning, Capcom announced that their most recent incarnation of the iconic survival horror franchise Resident Evil (Biohazard) 7 is coming to Switch this week, but there are a couple of caveats.
First of all, so far it has only been announced for Japan, with no indication as to whether it is playable in English, or if it is going to see a western release.
It will be known as a 'cloud version', essentially similar to services such as Playstation Now, that requires a constant internet connection. The game will be streamed from Capcom's servers, rather than being played directly from the console.
Finally, the ¥2000 (£14/ $18) asking price is limited to a 180 day 'ticket', giving access to all the games previously released DLC. There is also a 15 minute free demo available. 
This is certainly an interesting approach. Square Enix has tried the stream-only idea before with the option available for Dragon Quest X MMO for 3DS.
This could be an experiment to test the technical waters, or it could be a low risk method to gauge interest. 
Either way, what do you think? Would you like to see RE7 Cloud Version come to the west? Are cloud based games the way forward for the consoles online services for more hardware heavy titles? 
Did you pick up the Revelations Collection and need another slice of survival horror? 
Let us know below.