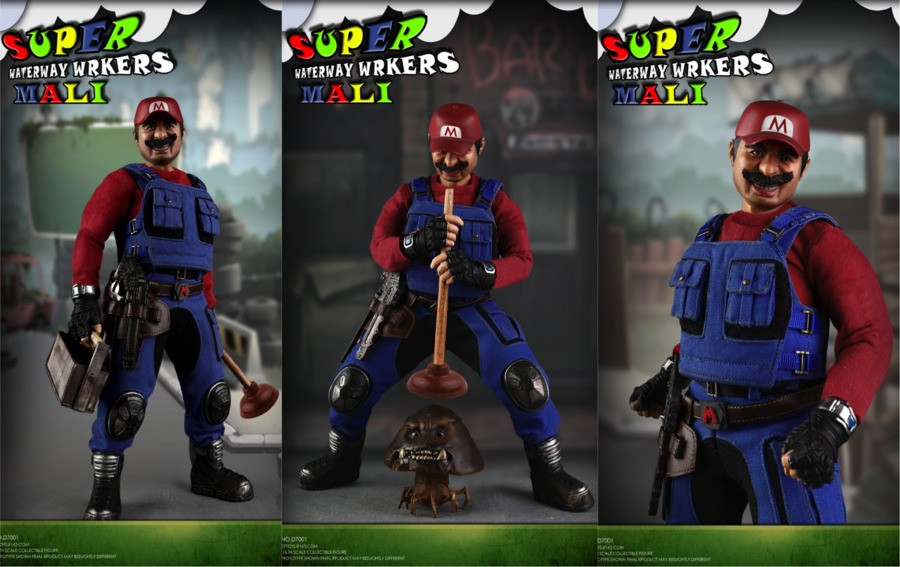 Many of us likely know the feeling of sending a parent or loved one to the game store, hoping to get the latest and greatest product upon their return, only to end up receiving a broken copy of Fifa 2002 and a knock-off 'Pokémon Sparkly Glitter Version' instead of the real deal. Well, here's an article especially for you.
Introducing Super Mali, or 'Super Mali Waterway Wrkers' (yes, without the 'o') to give it its full name. Expected to release in Q4 2018, pre-orders are now open for a limited time, allowing Super Mali fans across the globe to get their hands on this exclusive figure.
If Super Mali isn't great enough for you on his own, you don't have to worry. You can also get these Goomba and Piranha Plant toys (cleverly disguised as 'Monster Mushroom' and 'Piranha Flower') to go alongside the main man and, as we're sure you'll agree, these will look perfect on any mantelpiece. Just as a quick side note to the Goomba: we're sorry for whatever must have happened to you during your seemingly terrifying lifetime.
If you're left desperately wanting to get your hands on one of these for yourself, you can pre-order the item here right now. Amazingly, a pre-order will cost you $135 USD (approx. £100) so have fun with that.
What do you think? Will you be getting one of these? Let us know your thoughts down below.
[source thedragonvault.com]