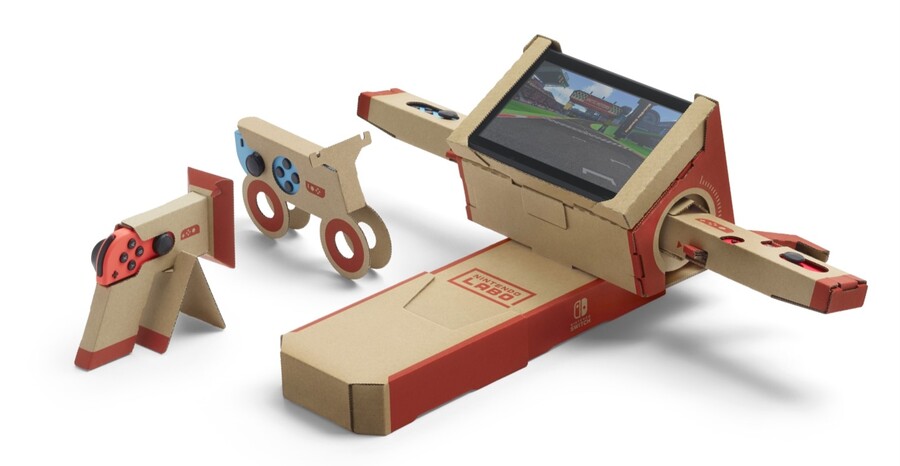 The weekend is here so it's (hopefully) time to sit down, grab a few quiet minutes and enjoy some time with your favourite Nintendo console. The Nintendo Life are right in the thick of it this weekend, with Nintendo Labo, Splatoon 2, NBA 2K18 and even some classic retro titles getting a bit of love. We'd love to hear which games you're playing, so drop a vote in the poll and a comment below. Have a great weekend!
Dom Reseigh-Lincoln, editor
This weekend I'll be mostly consumed with cardboard folding, decorating and Toy-Con Garage creations as I review Nintendo Labo's Variety Kit for Nintendo Life. No one manages to capture that childlike fun of discovery quite like the Big N so I'll be in my element. I imagine my two boys will be helping me quite a bit along the way. I've also been playing quite a lot of NBA 2K18 recently, so might squeeze in a few games on the court with my beloved Timberwolves here and there.
Alex Olney, video producer
I'm stuck on my own for most of this weekend, so I suppose I'll probably be doing more Splatoon 2 than anything else. Might dip my toe into a smidge of Donkey Kong Country: Tropical Freeze as well, but a lot of what I'm doing will be beholden to whether or not I'm able to brew properly. Some of you may not know this, but I've started brewing my own beer, largely as a way to have a hobby that isn't also my job. That last part is unrelated but I had to pad this out somehow didn't I?
Dave Letcavage, contributing writer
If I'm being realistic, God of War (a niche PS4 game you've probably never heard of) will receive majority of my attention from now until it's complete. However, with the Switch release of Donkey Kong Country: Tropical Freeze being oh so close, I'm feeling this urge to play through the entire DKC series in preparation. Will this happen? Probably not. But I want it to. And I might possess the tenacity to try. If it doesn't happen, blame Kratos and mini-Kratos, aka "boy!"
Glen Fox, guides editor
Splatoon 2 has stolen my heart and I totally didn't see it coming. I'd played the original Splatoon to death, and eagerly got Splatoon 2 at launch. I was initially disappointed because I felt that there weren't really enough changes to justify the sequel treatment. It dropped into the abyss of games I'll play some day, and I didn't think about it again until the Octoling expansion was announced. I thought, alright, let's give this another chance.
I don't know exactly what happened, but I was up until 3am that night obsessively trying out each weapon to find my favourite. I wasn't as good as I remembered from the original, but I was having a ridiculously good time, and could see clear as day that refinements had been made. There are less useless perks, the motion controls feel more precise, and it's an all round more beautiful game.
I've since dug into Salmon Run, which I don't really like as much as multiplayer, but it's a really nice change of pace when you fancy something a little more relaxing. I like how the progression system is different as well - gives you different things to aim for. Ranked battles are where the true fun is for me though. I love objective-based modes, and these feel on point. Splat zones is a personal favourite. So suffice to say I'll be playing a ton over the weekend. I might even dig back into the single player to grab some of the collectibles I missed the first time around!
Ryan Craddock, news reporter
As I'm sure other team members will also say, most of my spare time this weekend – and pretty much any day of any week – will be spent playing Splatoon 2. The recent news of the Teenage Mutant Ninja Turtles-themed Splatfest has got me all pumped up once again, and I'll be making sure to prepare my gear accordingly. Other than that, I plan to use this summer to either finally start some Wii U gems that I never found time for originally, or properly explore the wonders of my SNES Mini. Bayonetta 2? The Wonderful 101? Donkey Kong Country? Earthbound? So many to choose from, so little time!
Goncalo Lopes, contributing writer
Sky Rogue and I go back several years and I am very happy to see the game getting a new chance at the spotlight with the Switch audience, I always reckoned it deserved a lot more attention upon release. Using the cockpit view and the new 'Danger Zone' motion controls is simply a fantastic experience. I really hope Project Aces is taking notes. Elsewhere, I will be mostly 'playing for work' as I work up my assigned reviews and adulting (really!) hard by skipping Nintendo Labo's intriguing offerings. I am also not jumping into the KORG Gadget bandwagon just yet. If I did, none of you would see me again before I finished at least five original LPs and completed my Japan Tour.
Dave Frear, retro reviewer
Not much planned this week, but WGAYPTW Fun Fact: at one point I placed quite highly on the Arcade Archives Double Dragon leaderboards (actually topping the arcade mode), but I had a look the other day and noticed I've slipped way down the rankings. I'm not expecting much free time this weekend, but if I get a chance I hope to post some more respectable scores. I think I'm a bit too cautious on playthroughs so although I can easily give the gang members a good kicking, my lethargic pace is causing me to miss out on some sweet, sweet time bonuses. Also those bricks that push you off the platform on the final stage; many a fine playthrough has been messed up by those things!
Richard Atkinson, contributing writer
Now that the dust has settled after the big move to a new house - quite literally, I'm awful at dusting things - I can kick back and play some video games. Switch is taking a backseat this weekend as I stumbled across my Resident Evil 4 silver GameCube which has inspired me to untangle the mess of wires and fire up some cubey-goodness. Time permitting, I'll be delving into the world of Pikmin, Resident Evil 4 and, of course, Super Smash Bros. Melee. No Switch Virtual Console? No problem!
Tony Stephenson, social media manager
As usual, it's going to be a mixed bag for me this weekend. After having a shift around a bit at home, I now have a more dedicated gaming area so more time to play some of those games I have yet to touch. When I can put down ARMS for five minutes - which I have been playing most of the day with a friend - I am going to give DOOM a proper go. I played the first few levels and I am very impressed with the game, running extremely smoothly - glory killing is such fun. On top of that, I am also going to give Goetia a try-out after being kindly given the game by the publisher randomly on Twitter a few days ago. I have no idea what to expect, I'm going in blind.
Which games are you playing this weekend? (158 votes)
Nintendo Labo - Variety Kit

24

%
Nintendo Labo - Robot Kit

3

%
NBA 2K18

3

%
Splatoon 2

22

%
Donkey Kong Country: Tropical Freeze

3

%
Bayonetta 2

8

%
The Wonderful 101

1

%
Donkey Kong Country

4

%
Earthbound

3

%
Sky Rogue

5

%
KORG Gadget​

1

%
Arcade Archives Double Dragon

1

%
Resident Evil 4

1

%
Pikmin

1

%
Super Smash Bros Melee

1

%
Goetia

1

%
ARMS​

4

%
DOOM

11

%
Please login to vote in this poll.
So those are our picks for the weekend, but which games will you be playing? Drop a vote in our poll if it applies, and a comment down below with your choices...