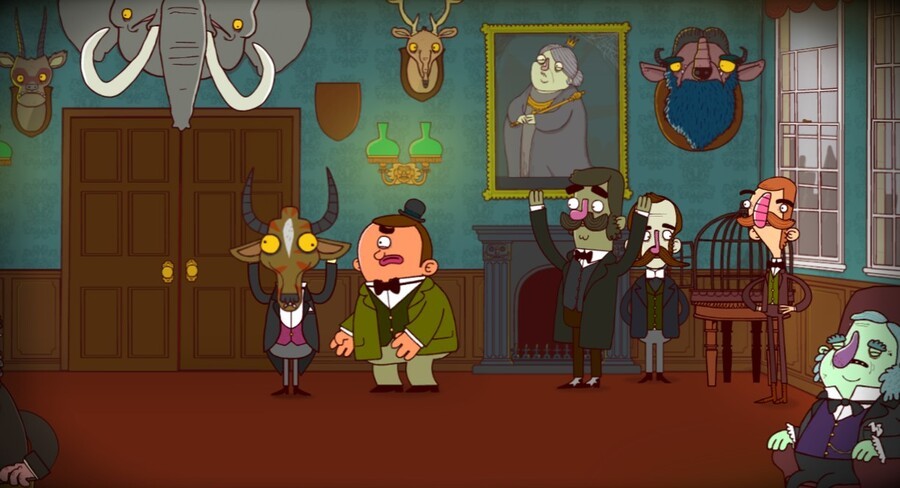 The Nintendo Download has arrived, and the final instalment of the month brings games to the Nintendo Switch, 3DS and Wii U eShops. As usual, it's a varied bunch of titles to choose from, ranging from HAMSTER's ever reliable Neo Geo re-releases to some charming indie highlights from across the industry. As always, drop a vote or three in the poll below, and add a comment letting us know what you think of the week's Nintendo Download update. Enjoy!
Switch eShop
The Adventures of Bertram Fiddle: Episode 1: A Dreadly Business (Chorus Worldwide Games, $4.99) - The Adventures of Bertram Fiddle is a hilarious tongue-in-cheek point and click adventure game that mixes the classic formula up with riveting action elements all weaved together lovingly by Rumpus Animation.
The Charming Empire (D3Publisher, $24.99) - "The Charming Empire" is a dating simulation game set in the Taisho Roman era of Japanese history. Popular voice actors known for their talent in anime and video games bring our five main characters to life. Your ears will thank you to hear their performances across all the main scenarios.
Zombillie (Forever Entertainment, $4.99) - The world has changed. Irrevocably and completely. Green parks have been replaced by grey ruins. Colourful meadows have become toxic swamps. Once vibrant lands are now littered with dust, rubble, concrete, and debris. Most creatures did not survive the Great Change. The survivors faired rather poorly in the immediate aftermath, becoming prey to all manner of predator. However, a lucky few managed to survive even then, to adapt, to thrive, to evolve. Zombillie was one such creature.
Gotcha Racing 2nd (Arc System Works, $9.99) - Get parts from the gacha and customize your own original machine. Win a variety of races and aim for the top of the Grand Prix! There are about 700 varieties of parts. Roll the gacha by prize money from racing, and upgrade to better parts! You can fuse the parts remaining to make the machine more powerful. Design your own original machine with them!
Johnny Turbo's Arcade: Bad Dudes (FTE Games, $7.99) - "Rampant ninja related crimes these days... Whitehouse is not the exception...". As soon as that occurs, a Secret Service agent asks two street-smart brawlers, the "Bad Dudes" named Blade and Striker: "President Ronnie has been kidnapped by the ninjas. Are you a bad enough dude to rescue Ronnie?" Check out our Bad Dudes review.
TENGAI for Nintendo Switch (Zerodiv, $7.99) - A great commander ruled an eastern plain for a long time, but his mind completely changed one day...
ACA NEO GEO SENGOKU 3 (HAMSTER, $7.99) - "SENGOKU 3" is a side-scrolling action game released by SNK in 2001. In order to purge malicious souls, Shinobi travel the world to defeat the undead. Cut, smash, throw, and use weapons as well as Ninja Arts and Ultimate Ninja Arts in this hyper-action ninja game.
ClusterPuck99 (Coatsink Software, $9.99) - Local multiplayer madness! ClusterPuck 99 is an 8 player sports game built for parties, competition and smack talk! Bash your friends to gain control of the puck and then fight your way through to your opponent's goal. Try to score while avoiding spikes and utilizing speed boosts to blast past other players.
Alteric (Sometimes You, $4.49) – You are alone. Are you lonely? You're lost. Or stuck? Somewhere...but where? And most importantly, who are you? Available 30th March.
Atelier Lydie & Suelle ~The Alchemists and the Mysterious Paintings~ (KOEI TECMO AMERICA, $59.99) - A new Mysterious story to mark the 20th anniversary of the Atelier series! Delve into the fantastic worlds of Mysterious Paintings together with Lydie and Suelle!
D/Generation HD (West Coast Software. $9.99) - Hours after receiving an urgent call in his Parris apartment, the protagonist of D/Generation, a nameless courier, arrives in London via his Jet-Pack, touching down on the 80th floor of Genoq Biolabs' medical research facility with an important package for lead Genoq scientist Jean-Paul Derrida. As soon as he enters, however, the doors shut and seal themselves behind him...
Devious Dungeon (Ratalaika Games, $6.79) – et in the Dark Ages, Devious Dungeon is a medieval focused action platformer title. Under orders by the King, players assume the control of a Knight instructed to head into the catacombs beneath the Kingdom, to slay the foul beasts and monstrosities that have invaded the murky depths. You must venture deep within the dungeons eliminating the threat! Available 30th March.
Farm Expert 2018 for Nintendo Switch (SimFabric, $29.99) – The special edition of farming simulator Farm Expert 2018 for Nintendo Switch which succeeded on mobile platforms last year with over 2 million installations now on Nintendo Switch. Available 30th March.
Metropolis: Lux Obscura (Sometimes You, $7.19) – You can't even tell night from day in this hell where big money runs everything. And the best way to prove you're right is with brute force. Available 4th April.
Shadow Bug (Muro Studios. $8.99) – You are the overpowered ninja hero Shadow Bug! Save your home forest from the evil factory by slicing monsters to pieces. Adventure through beautiful and twisted landscapes full of action and adventure as the ultimate ninja. Available 30th March.
Spartan (Sinister Cyclops. $11.99) – Block, stomp, run, jump, fall, climb, cling, push, spring & slice your way to victory. Outsmart intelligent enemies, tread carefully through obstacles and use your wits to defeat bosses in epic battles. Available 1st April.
Switch DLC
Xenoblade Chronicles 2 – New DLC is releasing for owners of the Xenoblade Chronicles 2 Expansion Pass. Buy the Expansion Pass to gain access to titanic new content, including the pack below and a new story this fall. To learn more, visit the Xenoblade Chronicles 2 site. (Full version of game required to use DLC.)
New Quests Pack 2 – Launching at 10 p.m. PT today
Nopon of Good Tastes (Talk to Bipopo near Galad Residential Zone in Gormott. Available after adding Poppi.)
Cleared of All Charges (Talk to Strath in Fonsett, Leftheria. Requires Perun, Godfrey and Perceval.)
Beneath the Aurora (Talk to Len at Rigitte Harbor in Leftheria. Available from Chapter 6.)
Upgrades and Tinkering (Examine the table in Tora's house. Requires Tora. Available from Chapter 8.)
Most Awful News?! (Stay at the inn in Tantal. Requires Finch's Birdbrain Lv.3 and Zeke. Available from Chapter 10.)
Fire Emblem Warriors Season Pass (for Nintendo Switch/New Nintendo 3DS) – Expand your Fire Emblem Warriors adventure with DLC. All three DLC Packs for the Fire Emblem Warriors game are now available! Here's what's in the new Fire Emblem Awakening DLC pack release: three new playable characters (Owain, Tharja and Olivia), three new History Maps, new costumes, new armor break models, new support conversations, new weapons and new weapon attributes. If you already purchased the Season Pass, this DLC Pack, as well as the Fire Emblem Fates Pack and Fire Emblem: Shadow Dragon Pack, are available to you at no additional cost. The Fire Emblem Warriors Season Pass, as well as the Fire Emblem Awakening DLC Pack, can be purchased on the game's site. Note: new costumes, character-exclusive weapons and weapon attributes must be unlocked as rewards from playing through the new History Maps. The full version of the game is required to use the DLC.
Switch activities
Upcoming ARMS Events – Exciting new ARMS events are stretching your way! It's hard to believe, but ARMS, the stretchy fighting game for the Nintendo Switch system, is almost a year old. Whether you're a newcomer to the game or a seasoned veteran, there's no better time to get into the game, thanks to three upcoming ARMS events:
ARMS U.S. & CANADA ONLINE OPEN – After fighting through a tough online qualifier, eight top ARMS players and four alternates will meet in the online finals at 10 a.m. PT on March 31. The finals will be streamed online for all to see, so be sure to check it out.
ARMS Global Testpunch – A global Testpunch demo for the ARMS game, which lets Nintendo Switch owners try out select modes for free, will be running for three days starting at 9 p.m. PT on March 30 and ending at 8:59 p.m. PT on April 2. To participate, players just have to download the Testpunch in Nintendo eShop on Nintendo Switch.
Save on ARMS – Ready to buy? Starting at 9 p.m. PT on March 30, you can get the ARMS game for 30 percent off in Nintendo eShop or on Nintendo.com. Act fast, though, as the sale ends at 8:59 a.m. PT on April 6.
Switch demos
10 Second Run RETURNS – Demo Version (Nintendo eShop on Nintendo Switch)
3DS eShop
WAKU WAKU SWEETS: Happy Sweets Making (Sonic Powered Co, $24.99) - With easy operation, you can make sweets happily! You can learn how to make sweets with over 100 kinds of fun while playing! There are many recipes including cakes, cookies, Japanese sweets and so on.
Dodge Club Pocket (JAMES MONTAGNA, $4.99) - The underground ravers of Dodge Club invite YOU to play in their pixel dance party. Dodge the red hot fireball and electric spark in a variety of unique minigame challenges, each one more wild than the last!
Witch and Hero 3 - (CIRCLE Ent., $3.99) - Witch and Hero 3 is an action game where you control the Witch, Hero and Little Hero at the same time. The two Heroes are physically strong and will keep fighting no matter how many times they're beaten. The Witch, however, is vulnerable and even weaker in stone form; if she goes down the game is over.
Wii U eShop
Spellcaster's Assistant (Ultra Dolphin Revolution, $3.99) - You are Emmy Epheremelda, a sorcerer in training/magical assistant. Your master is out on a mission and has left you in charge. All was fine and well till these annoying Tomeverme showed up and decided to wreck the magical library! It's up to Emmy to do away with these nuisances before Master shows up! And remember, it wasn't your fault!
What are you downloading this week? (224 votes)
The Adventures of Bertram Fiddle: Episode 1: A Dreadly Business​
4%
Johnny Turbo's Arcade: Bad Dudes​
8%
TENGAI​ for Nintendo Switch
6%
ACA NEO GEO SENGOKU 3​
8%
WAKU WAKU SWEETS: Happy Sweets Making
1%
Spellcaster's Assistant
2%
Atelier Lydie & Suelle ~The Alchemists and the Mysterious Paintings~
4%
Farm Expert 2018 for Nintendo Switch
0%
Metropolis: Lux Obscura
3%
Xenoblade Chronicles 2​
8%
10 Second Run RETURNS​ – Demo Version
4%
Please login to vote in this poll.
Well, that's your lot for this week. Be sure to add a vote or three to the poll, and share your thoughts on this week's download haul in the comments section below...