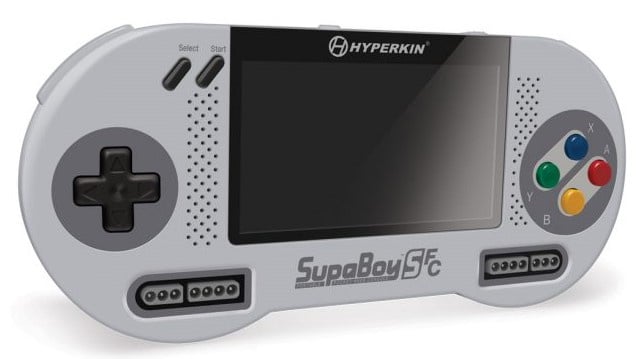 The Hyperkin SupaBoy has already been revised once - resulting in 2016's SupaBoy S - but the company isn't done with the machine yet. The SupaBoy SFC is the latest variant and brings with it some notable upgrades.
The most welcome is the ability to toggle between 16:9 and 4:3 aspect ratio by holding down the brightness button. As we noted in our review of the SupaBoy S, the picture was stretched to fit the widescreen display, making games look a bit odd. Hyperkin has taken this feedback on-board and come up with a solution for the new model. A proper 4:3 screen would have been preferable - the first model had one - but we imagine the move to a 16:9 panel is related to the fact that these are available cheaply, whereas very few devices use 4:3 screens these days.
The second big change relates to the buttons - they're now multi-coloured to match the scheme sported by the Super Famicom and European SNES. We might be biased here - we're from the UK - but we vastly prefer this colour scheme to the purple and violet buttons of the North American SNES.
Elsewhere, there's a 3.5mm headphone jack, adjustable brightness, two SNES controller ports, AV output and Hyperkin's patented "Pin Perfect" cartridge slot technology:
Pin Perfect™ technology ensures gameplay isn't interrupted even if you shake or bump the machine. The cartridges slot into the SupaBoy in a satisfyingly secure way and – given that you'll be taking the SupaBoy and your games on the road – it's a great addition to this portable console.
The console will accept carts from any region. You can pre-order the SupaBoy SFC from Funstock now, ahead of its March 9th launch. Expect a review the moment we're able to get our hands on one.
[source funstockretro.co.uk]