When you combine platforming, melee action at breakneck speed and a penchant for co-operative play, you're always going to grab our attention here at Nintendo Life. And Claws Of Furry, the debut game from UK and Greece-based developer Terahard Studios, has certainly caught out eye thanks to its bold comic art style and roguelike elements. 
As a crack team of feline ninja warriors, your task is to rescue your master from the clutches of your arch nemesis, honing your skills and clawing your way through over 10 action-packed and high-octane levels. So, with its Nintendo Switch release pencilled in for 'Spring 2018' we sat down with director Aris Tsevrenis to talk all things ninja and feline-related...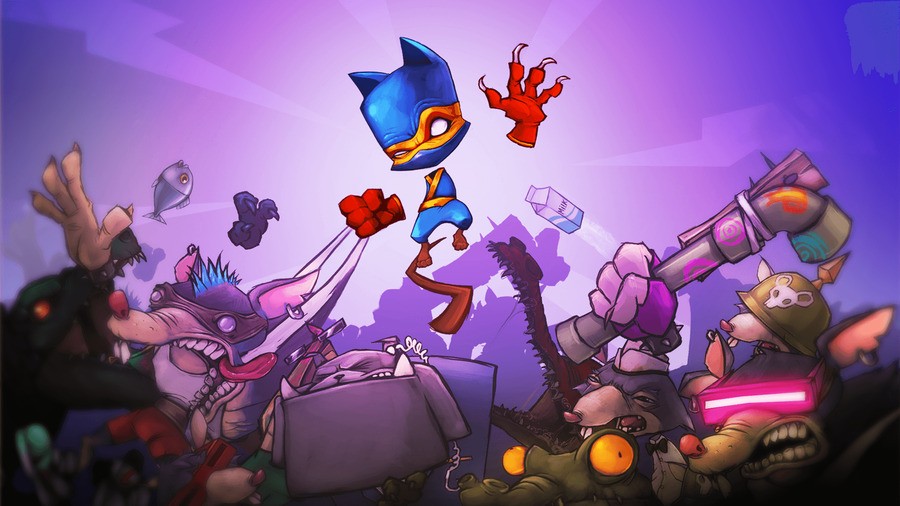 Nintendo Life: Congratulations on bringing Claws Of Furry to Nintendo Switch.
Aris Tsevrenis: Thank you very much! It's very exciting for the team as we are all big Nintendo fans! 
When did development start?
Development officially started in January 2017. Initially, we had five people from the team on the project, but by the end of Summer 2017 we were so excited with the direction we were taking, the whole team was brought on board.
When was the decision made to bring it to Switch?
As I've mentioned, we're all huge Nintendo fans here at Terahard. Pretty much as soon the Switch was released, I bought one immediately and loved the console. I knew Claws Of Furry would be an excellent fit for a few reasons. Being a local co-op game, the Joy-Cons made perfect sense to get multiplayer out of the box and enjoy the game to the maximum with friends. Also beautiful 2D art style and platforming is something that I really enjoy when I'm using my Switch, maybe because it reminds me of the Game Boy days and our game has both.
What games have influenced Claws Of Furry?
Oh, where to begin? Many parts of our game are influenced by many titles, the most obvious, I suppose, would be Rayman, which was a big influence on our initial character style. We are always trying to create characters that have a unique identity and even though one of the first concepts was a cat without arms, it became our favourite straight away! Gameplay-wise, we discussed a few of the classic 2D brawlers like Teenage Mutant Ninja Turtles for the moveset and even Castle Crashers was in the list. Super Mario and Super Meat Boy were also games that we looked into when we decided the game would have platforming elements.
A lot of the team are from around the world, and different cultural backgrounds?
Yes, we are a UK studio but the majority of the team happens to be Greek, myself included. Over the years our team has consisted of developers from all over the world. That's the beauty of working in a global industry like ours, we get to hand-pick talent from across the globe to come and work with us.
How has that impacted the development of the game, both artistically and technically?
We are a company that always tries to look at something from many different angles. As such, our games are definitely impacted by the multiculturalism of our team in both artistic and technical aspects. It does mean we get the odd language barrier here and there, but we have a shared love for games and game development. As passionate developers, it's always beneficial to share and discuss ideas with our peers. For example; some people on the team might consider something funny whereas others might think of it as cringe. Opinions are built depending on life events, cultural upbringing and people that we spend our time with. So having people from very different backgrounds and cultures on the team who put all their energy into making amazing games, is an excellent resource.
You gave yourself three months to put the game together with a relatively inexperienced team. What was the reasoning behind such a tight time frame?
Although Claws Of Furry is our debut Terahard release, our team is very experienced. We have worked with many different clients (including Sony Music, Penguin Books and Happy Finish) and skirted on the edge of technology with VR and AR for gamified experiences. With this in mind, we are used to tackling problems that we've never seen before and we've always had to adapt very quickly. To explain in more depth, with Claws Of Furry, we originally wanted to experiment with what we could achieve within three months with a partial team. What we ended up with was an idea that we all really liked, so we decided to ramp up development and include the whole team on the project to really kick things into gear.
How did the art style develop what are its influences, both aesthetically and from works of popular culture?
We worked a lot in the beginning to find the ideal character shape. We knew we wanted a ninja-brawler in a platformer environment, so we tried a few different things with a few references from some of our favourite franchises: Rayman, Mario, Donkey Kong and Sonic, but even more anime-like. We had a lot of back and forth until we decided on our cats. Having no arms meant we couldn't develop complex moves that one usually sees in martial arts, but we focused on humorous cartoony elements and exaggerated body animations. The team's age range is also roughly 25-35 which means the art style from cartoons of the '80s-'90s, like Teenage Mutant Ninja Turtles, is embedded in our brains. We believe that played a big role in our characters - having them funny but also a bit rough and serious.
There's a lot of different environments, as well as unique and interesting characters in the game - where did the inspiration for them come from?
There are four chapters in our game, each one has a different theme and different enemies to combat. Most of the enemies were, of course, created around cats and their traits. For example, many of the enemies in the game are dogs, which is an obvious enemy to cats. Less obviously, we also drew inspiration from cats love of chasing laser dots, incorporating robotic enemies that shoot lasers. However, unlike domestic cats, our ninja cat heroes have to avoid these lasers in-game.
The environments were created based on the story, which was inspired by the Japanese martial arts dojo where the tale begins. That's based in the slums of the Dog City and as the game progresses players will notice the injustice in the world of Claws Of Furry. We really wanted to tell the story through the environments and the characters, rather than focusing on heavily dialogue.
What is the balance between arcade and modern game styles?
The game leans slightly more towards the arcade game style, but also takes inspiration from more modern styles. Combining the two has created an interesting brawler mixture. Players can look forward to all the beat-'em-up badassery of classic arcade brawlers like Teenage Mutant Ninja Turtles and all the fluidity in gameplay of more modern titles like Castle Crashers, Lost Castle, Viking Squad and Shank.
The roguelike genre has strict criteria, but you decided to add a more traditional progression option with Pussycat mode. Why was that?
We did a lot of playtesting on our own at events and with friends. People who played the game were torn -  some really liked the roguelike part, some thought it was absurd to have it. So we had long discussions as to whether to add it, and in the end, we did. Our reasoning was simple: both types of players enjoyed the mayhem and difficulty of the game, so instead of diminishing one of the two, we created both modes so both hardcore and casual players could have fun. From these conversations, the arena was also created which basically helps you learn to fight and train against enemies you've already encountered, allowing players to get the best of them in the other game modes.
Is there any part of the game that relies on local co-op or is it optional?
The game can be played to completion in single-player alone, but we added multiplayer because playing with friends is always fun. This won't make the game any easier though, each friend that joins increases the difficulty, so you'll need to work together. The only different feature that exists in multiplayer is the revive mechanic, whereby a friend can bring a downed player back into the fray by matching button presses. The closer the players are to each other's buttons presses, the more health the KO'd player will receive.
Is there a competitive aspect to the game, in addition to the co-op modes?
During the game, the player with the most kills gets the bandana! It's a way to see who's the 'MVP' of that particular level at that particular time. At the end of each level you get a board of statistics on how you did during the level, listing kills and deaths and a title based on your performance. We are also considering world leaderboards but that will not be in the initial release.
How do the unlockable costumes affect the game?
Each unlockable has its own set of features and powers, like freezing or burning the enemy. As you play, you'll need to complete a set of requirements to unlock them. Depending on the costume you use, it can alter your gameplay, so different players might prefer different costumes but ultimately they cater to different play styles.
What Nintendo games did the team play growing up?
I am not sure I can answer this question in just a paragraph as I'm sure I could fill a book with just my own answers! I was infatuated with Nintendo growing up, Game Boy was my first console but SNES's' RPGs were my favourite, from Super Metroid and Zelda to Earthbound, Chrono Trigger, Breath Of Fire, Illusion Of Time, Rudra no Hihou and Final Fantasy. I even played some in Japanese and didn't understand a word! Asking the team who are also big fans, they also enjoyed titles like Donkey Kong, Mario, Probotector, Pokémon, Kirby, Yoshi's Island, Castlevania, Tactics Ogre, Secret Of Mana, Punch Out, Isolated Warrior, Fire Emblem, and Mortal Kombat. This list could go on and on!
We'd like to thank Aris for his time. Claws Of Furry is due to hit the Nintendo Switch eShop this spring. Let us know what you make of the game below...
[source clawsoffurry.com]