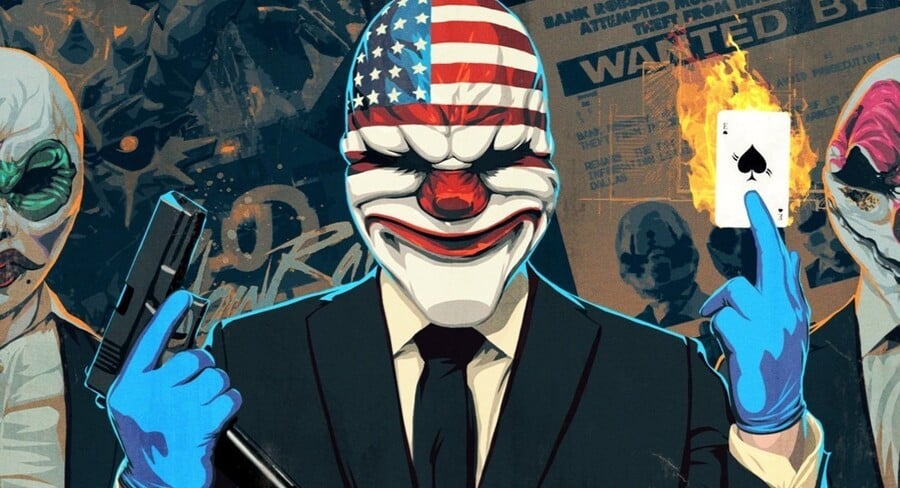 Another week has come to an end, and that can only mean one thing - the weekend is upon us, in all its glory. Some of you might be off relaxing, some of you might have work, but there's still going to be a little time for some Switch, 3DS or Wii U-based gaming. So, to get you in the mood for a little virtual escapism, some of the team at Nintendo Life have offered up their picks for the weekend - ranging from new triple-A releases to obscure curios given a little extra love - now we want to hear what YOU'RE playing. Be sure to use the poll below and drop us a comment or two as well. Happy gaming!
Dom Reseigh-Lincoln, editor
This weekend I'll be continuing my revived love affair with Payday 2 as I strap on my favourite velociraptor mask (while humming the Jurassic Park theme, obviously) and take my Ron Perlman-voiced heister into yet enough shootout with the fuzz. With a huge influx of players hitting CRIME.NET over the weekend, I'll be upping my XP, filling my offshore bank account with cash and smuggling goats out of a burning building. No seriously, that's an actual mission in Payday 2. And just wait until you try out the Christmas-themed ones...
Glen Fox, guides editor
I had a craving to play Bit.Trip Runner again so sought out a copy for my 3DS. Expect me to be addicted to that for a large chunk of the weekend! More importantly though, I just got Celeste on Switch so maybe scratch Bit.Trip Runner. I'm going to climb a mountain instead.
Ryan Craddock, news reporter
After treating myself to a cheap copy of FIFA 18 last week, I've slowly but surely stumbled right back into my formidable footie addiction with games taking place almost every night. As someone who has never really got into the online side of the game or the latest features, this slightly lesser edition on Switch does almost everything I'd want it to. Aside from that I'll be continuing my journey through Toki Tori 2+ which I'm currently playing for review. I seem to remember briefly trying it out when it first launched on Wii U, so it's nice to get a chance to play the game in full.
Gonçalo Lopes, contributing writer
It's a weekend of crime for me as I join the hundreds of European gangs on a bank heist spree all over with Payday 2. (Caution: Never say 'Payday' out loud in Portugal. Trust me on this.). Despite having no issues working with other people, I am often pegged as a bit of a 'Lonly Wolf'. This weekend will continue to play Joe Dever's Lone Wolf, Old Man's Journey and (thanks to the NL weekly Caravan Shooting community challenge) Shock Troopers is back on the menu. I have very little compassion for my neighbors so I will also hook up my Switch to my huge sound system, turn the volume dial up to 11 and let loose on Pac-Man Championship Edition 2 Plus. Waka-waka!
Liam Doolan, Australia correspondent
Like everyone else I imagine, I'll be playing Luigi's Balloon World in Super Mario Odyssey this weekend. I was a bit slow to complete the main story, but the important thing is I finished it in time to be able to experience this free DLC from day one.  From what I've played of this new mode so far, it's obviously an easy way to grow your coin stash – provided you've got the necessary skill. Some balloons have been easy to reach, while others have been near impossible just to locate. I've also got to work on my balloon hiding – it turns out I'm not as great at it as I thought I was.
Alex Olney, video producer
I didn't get nearly enough Stardew Valley done last week, I got distracted by boring things such as organising my DVDs into alphabetical order (of course I'm the one who's laughing because I actually love organising things). As such this weekend will be Stardew, Stardew, maybe a little bit of Eternal Darkness, Stardew, Super Mario Odyssey, Stardew, and possibly some more Stardew.
Liam Croft, contributing writer
This weekend I'll be taking a look at Detention, an Asian survival horror game that is meant to be seriously good and incredibly terrifying. Expect a review early next week. Besides that, I'll be looking to finally finish up Mario + Rabbids Kingdom Battle. It has taken me way too long to actually get around to playing it, but thank god I did, because those strategical fights are so much fun.
Dave Letcavage, contributing writer
Jurassic. World. Pinball. That's what's up this weekend; I'll be taking a big bite out of the three Jurassic Park/World tables recently added to Pinball FX3. I've spent a few hours with the pack already, and so far it's quite the attraction. Because I prefer to avoid the table guides and learn the layout and scoring possibilities for myself, there's still loads of detail to excavate – and I'm all about it. Otherwise, it's a quiet Nintendo weekend around here. I continue to fight the temptation to purchase Bayonetta 2, but I'm not sure I possess the strength to hold out much longer.
Jon Cousins, Japan correspondent
This weekend I will be playing the proverbial Ying and Yang. On the one hand, I'm finally going to get Bayonetta 2. I always intended to, but my time on Wii U was dominated by Splatoon and now that I know the Switch port is solid, there are no more excuses and I'm all in. It looks incredible. As a good palate cleanser, I'll also jump in to Membrane. The hook of solving puzzles through the openness of creativity sounds right up my street when I've had a good session of frantic demon slaying. 
Which games are you playing this weekend? (477 votes)
Payday 2

4%

Bit.Trip Runner

0%

Celeste

5%

FIFA 18

4%

Toki Tori 2+

2%

Joe Dever's Lone Wolf

1%

Old Man's Journey

0%

Shock Troopers

1%

Pac-Man Championship Edition 2 Plus

3%

Super Mario Odyssey

17%

Stardew Valley

4%

Eternal Darkness: Sanity's Requiem

1%

Detention

0%

Mario + Rabbids Kingdom Battle

5%

Pinball FX3

2%

Bayonetta 2

12%

Splatoon

9%

Membrane

0%

Something else! (Tell us in the comments.)

29%
Please login to vote in this poll.
So that's our picks for this weekend, but what are yours? Drop a vote in the poll and add a comment below and get the conversation a-flowing...