Japanese developer Happymeal is bringing retro-style shooter Kyogeki Quartet Fighters to Switch next week, it has been revealed.
The news comes in the latest issue of Weekly Famitsu, which lists a Nintendo eShop release for February 22nd, with a cost of 1,389 Yen.
The game allows up to four players to participate at the same time, and features a "Kyogeki System" which powers up your attacks by pooling the strength of your fellow players.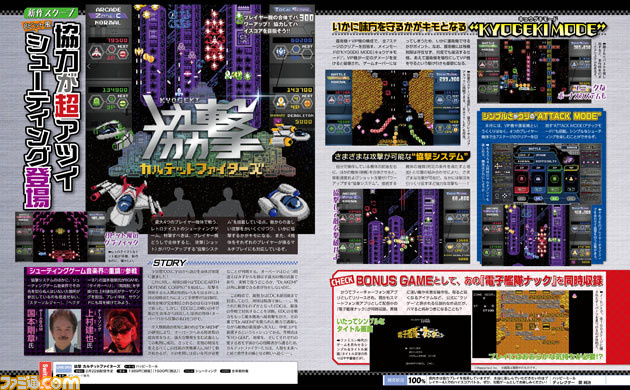 Visually, it looks a lot like the NES version of Star Soldier, a comparison which is given more weight by the fact that Star Soldier and Milon's Secret Castle composer Takeaki Kunimoto is in charge of the soundtrack. In case that's not authentic enough for you, Tiger Heli and Twin Cobra's Tatsuya Uemura contributes the game's theme song. 
And if that's still not enough to convince you, then hear this - also included is Denshikantai Knack, a smartphone title previously released on the iOS App Store.
There's no word on a western release, but given how easy it is to download Japanese games on any Switch, that shouldn't be a barrier if you're interested in this unique-looking blaster.
[source gematsu.com]