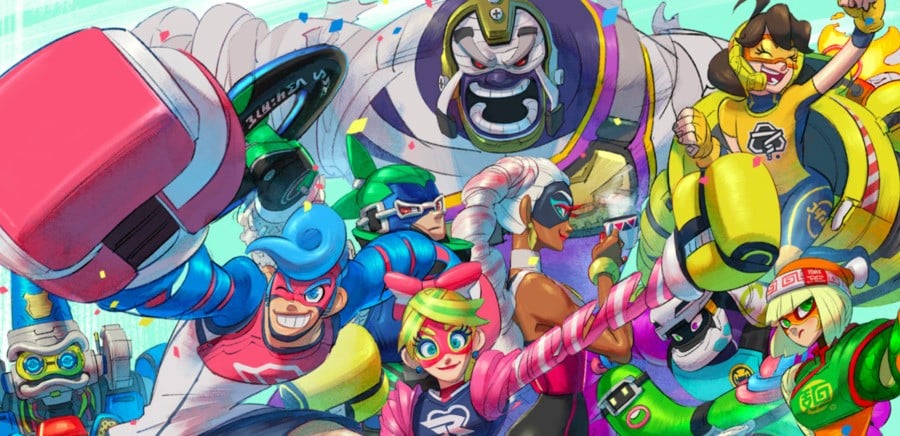 A whole bunch of new stuff has been added to ARMS, despite the fact that Nintendo has stated no more "major" updates would be forthcoming.
You can read the complete patch notes below, but the highlights of Version 5.1 are a gallery feature for viewing game artwork and a new tournament mode.
Here's a list of the full changes:
Added new "Gallery" feature. Unlock amazing illustrations using in-game currency, or by fulfilling certain conditions.

Added new badges.
+ Added badges earned by repeatedly using each ARM.
+ Added badges earned when certain pairs of fighters rack up battles together.
+ And so many more!

New additions to Party Crash.
+ ARMS Labs have thought up some new Bonus Periods. Look out for them!
+ ARMS Labs have manufactured the ultimate version of Hedlok. It will appear only in Party Crash.
+ If a featured fighter is losing by more than 1000 points in the current lobby, the bonus for using them will increase from 1.5x to 2x. Time for some comebacks!

Added "Tournament Mode."
+ A mode made for tournaments with all ARMS unlocked.
+You can switch between Normal Mode and Tournament Mode on the Top Menu by holding in the R Stick and pressing L and R.
+ When in Tournament Mode you will be unable to play other modes such as Grand Prix or Ranked Match, and you won't receive badges or in-game currency. Records will also not be recorded.
+ Fixed an issue where Dr. Coyle's extra ARMS would not fire correctly.
+ Fixed an issue where the Ramram would stop moving in mid-air.
+ Fixed an issue in Skillshot, where the Tribolt would fail to return after punching.
Let us know if you've downloaded the update and what you think of the changes by posting a comment.