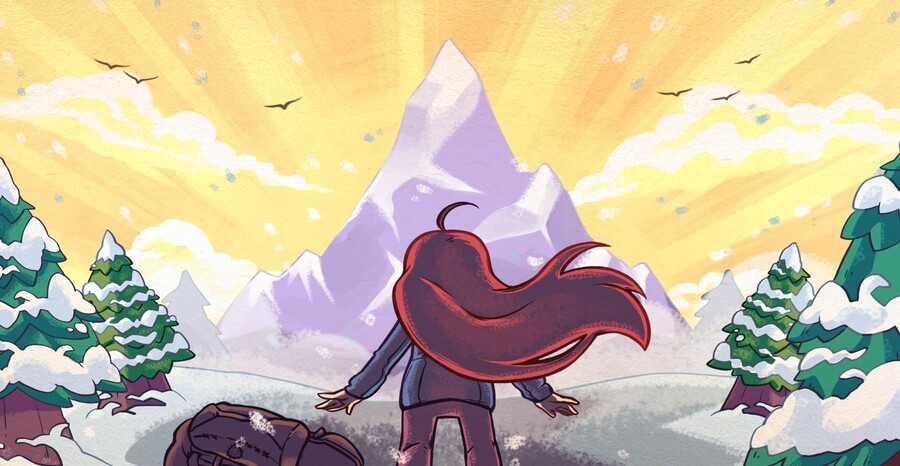 It's Thursday, and that can only mean one thing: new stuff on the eShop day! Yes, it's time for this week's Nintendo Download and we've got a cavalcade of digital treats ready for serving on your Nintendo platform of choice. We've scoured the eShops for you and listed every new entry, its price tag and a link to each respective Nintendo Life review.
And there's some big hitters this week, too - we've got plenty of retro slices (ranging from arcade shmups to Neo Geo deep cuts) as well as a helicopter rescue romp, a flight simulator (on Switch no less), a fantasy RPG and much more. So have a browse, log onto the eShop and start making the most of that pay day money! 
Switch eShop
CELESTE (Matt Makes Games, £17.99) - Help Madeline survive her inner demons on her journey to the top of Celeste Mountain, in this super-tight, hand-crafted platformer from the creators of multiplayer classic TowerFall.
ZERO GUNNER 2- for Nintendo Switch (Zerodiv, €6.99 / £6.99) - Famous for its cool world and innovatively omnidirectional shooting system, ZERO GUNNER 2, is coming back as ZERO GUNNER 2-. Let's blast off every enemy's planes from various sides of your screen. Fans who have enjoyed Psikyo Shooting will definitely enjoy this new Zero Gunner 2. Read our review.
Super One More Jump (SMG Studio/Premo Games, £4.99) - Simple to learn one button controls. Hard to master levels. Test your muscle memory, concentration and sanity! Features: Now fully reworked & upgraded for the Nintendo Switch, including 100+ Hand crafted levels and insanely-hard challenge levels! Read our review.
STRIKERS 1945 II For Nintendo Switch (Zerodiv, £6.99) - The classic, long-run shooting game from the 90s has been perfectly remade! With its endless fun, STRIKERS 1945-2 is now available to enjoy again! Play it now!
FANTASY HERO ~unsigned legacy~ (Arc System Works, £8.99) - Save the world in "Fantasy Hero -Unsigned Legacy-", by choosing from one of four heroes, and reclaiming what was lost to the Decoders! Set yourself on fire and charge head in and pulverize them with powerful throws or pick them off with projectiles, or send your robot in to do your bidding.
Tennis (D3 Publisher, €6.99 / £6.29) - A tennis game that can be picked up and played by anyone. Enjoy the game by yourself, or play against family and friends. With 8 characters and 6 courts available, feel the excitement that tennis brings. The game can be played not only with the Nintendo Switch Pro Controller, but also by swing the Joy-Con or touch the screen.
Dustoff Heli Rescue 2 (Invictus Games/Ratalaika Games, £13.49) - Jump into the hot seat of a combat helicopter and fly behind enemy lines under heavy fire as you search and rescue hostages! Play through 35 tense missions that include rescuing hostages, providing air support and more. Read our review.
ACA NEOGEO WORLD HEROES 2 (HAMSTER, £6.29) - Players are able to take part in epic battles between 14 historic figures such as Hanzo Hattori and Jeanne. Players can enjoy numerous battle strategies via the simple but deep game system featuring mechanics such as Throw Back and Projectile Bounce Back. Who's the strongest in history? A new World Heroes Tournament begins now!
Island Flight Simulator (Joindots, £17.99) - Enjoy fantastic open-ended gameplay, touch down in the tropics and transport freight between 12 exotic islands in more than a hundred exciting missions. Only the most daring pilots will take the risk of accepting both highly lucrative and illegal missions from shifty clients.
Tachyon Project (Eclipse Games, £8.99) - Tachyon Project is an action-packed dual-stick shooter driven by a story. Through the story mode you'll progressively unlock all the weapons, secondary weapons and perks available to configure your ship. You'll need them to face the increasingly hard enemies you'll find with over 30 different types. Read our review.
Arcade Archives Kid Niki Radical Ninja (HAMSTER, £6.29) - Kid Niki Radical Ninja is an action game released in 1986 by IREM. Destroy the enemies in your way and defeat the boss that appears in each stage as you head to the castle to save the captured princess. Enjoy the colourful stages and unique enemies as you battle along and aim for a high score.
ChromaGun (Pixel Maniacs, €19.99 / £17.99) Welcome to ChromaTec's test lab! You're here to test our newest military-grade color-technology: The ChromaGun (patent pending)! Use it to try and solve our test chambers. The basic principle is as easy as applying it is complex: Exit the chambers via the exit doors. But be weary of the WorkerDroids in charge of maintaining the chambers. Read our review.
LOST SPHEAR (SQUARE ENIX, €49.99 / £39.99) - The adventure of LOST SPHEAR begins in a remote town of Elgarthe where a young boy, Kanata, awakens from a devastating dream to find his hometown disappearing. Facing an ominous power that threatens the fabric of reality he must awaken the power of Memory to restore the 'LOST'. To stop the world from disappearing forever, Kanata and his comrades set out to rebuild the world mustering different Memory and crafting the world around them.
Shu (Coatsink Software, €8.49 / £7.69) - When the great and terrible Storm destroys Shu's village, he embarks on a desperate journey to survive. On his travels he'll encounter stranded villagers; survivors of the devastation that need his help. In return for his assistance, these peculiar characters will grant Shu unique special abilities that he can use to traverse the treacherous path ahead. Their only hope is to work together, in search of sanctuary - and a way to stop the Storm. Can you outrun the end of world? Read our review.
Earth's Dawn (known as Earth Wars outside EU) (One Of Eight, £4.00) - In the year 2020 the world has become a nest for the unknown hostile organisms (E.B.E.). No current weapons appear to make any impact on the E.B.E. leaving humanity powerless, and on the brink of destruction. However, humanity has now got one last hope for survival in the development of bioarmor which fuses the EBE's body tissue with metal...
Switch Pre-Orders
Dandara (Raw Fury, €11.99 / £10.79 until 05/02/2018 23:59 local time Regular price €14.99 / £13.49, pre-order from 23/01/2018.) Pre-order until 05/02/2018, 23:59 local time - The world of Salt hangs on the brink of collapse. The citizens, once free spirits, now stand oppressed and isolated. But not all is lost, for out of this aether of fear arises a heroine, a ray of hope. Her name is Dandara. Welcome to a unique 2D metroidvania platformer full of mystical creatures and boundless exploration...
Aegis Defenders (Humble Bundle, €19.99 / £14.99, pre-order from 25/01/2018) - Pre-order until 08/02/2018, 14:59 CET Game description: Explore, build, and defend in this unique mashup of Action-Platformer and Tower Defense strategy. You play as a team of Ruinhunters searching for the one thing that can save their village - a legendary weapon known as Aegis.
Special Offers
Nintendo Switch
New Nintendo 3DS
Nintendo 3DS
Wii U
DLC / Add-On Content
Nintendo Switch
Other
Nintendo Switch
Nintendo 3DS
What will you be downloading this week? (135 votes)
CELESTE

30

%
ZERO GUNNER 2-

10

%
Super One More Jump

3

%
STRIKERS 1945 II

4

%
FANTASY HERO ~unsigned legacy~

1

%
Tennis

2

%
Dustoff Heli Rescue 2

1

%
ACA NEOGEO WORLD HEROES 2

1

%
Island Flight Simulator

1

%
Tachyon Project

0%

Arcade Archives Kid Niki Radical Ninja

1

%
ChromaGun

1

%
LOST SPHEAR

11

%
Shu

7

%
EARTH WARS

5

%
INVERSUS Deluxe

3

%
Pokémon Crystal Version

19

%
Please login to vote in this poll.
That's your lot for today's Nintendo Download update for the EU eShop. Don't forget to let us know what you're going to be picking up this week...