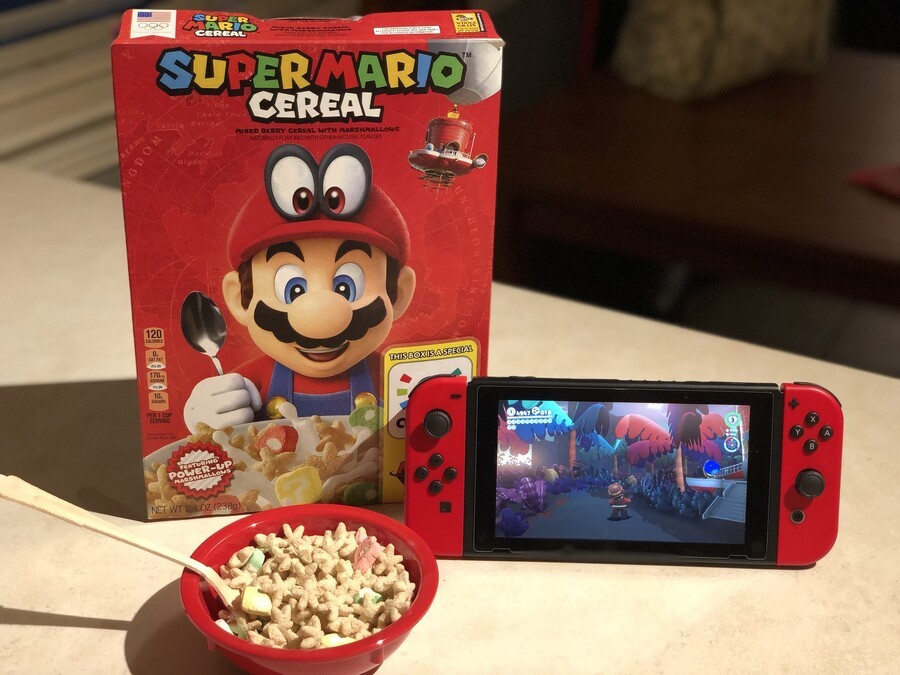 Remember that rumoured Super Mario cereal? It isn't often that we share what we're having for breakfast on these pages, but today we'll make a special exception. We got our hands on a box of Super Mario Cereal ahead of its release on American shelves, and we'll tell you all about it, of course!
The cereal is similar to Lucky Charms in that it's got little marshmallows with shapes familiar to Mario fans as well as cereal bits that have a faint berry taste to them. It's actually pretty good! In case you're wondering what the shapes are, they're one-up mushrooms, question blocks and the traditional red super mushrooms. Yum.
The back of the box, however, is where the real magic happens, and no, we're not talking about that maze. The box itself is an amiibo, and - surprise! - you don't even have to open the box to tap it, meaning if you want to keep your Mario goodies sealed for time immemorial you can still use this little guy. You just need to tap your right JoyCon or pro controller on the amiibo symbol on the back of the box. When you do, Mario will get a few coins or occasionally a heart. What does Uncle Amiibo say when you ask your box of cereal to find you a power star?
That's right, Uncle Amiibo. Delicious, indeed.
This quick look at Super Mario Cereal has been part of a balanced breakfast. We'd like to thank our friends at Nintendo for, of course, sending us an early box to goof around with. Will the edible-filled amiibo become part of your morning routine? Let us know with a comment.