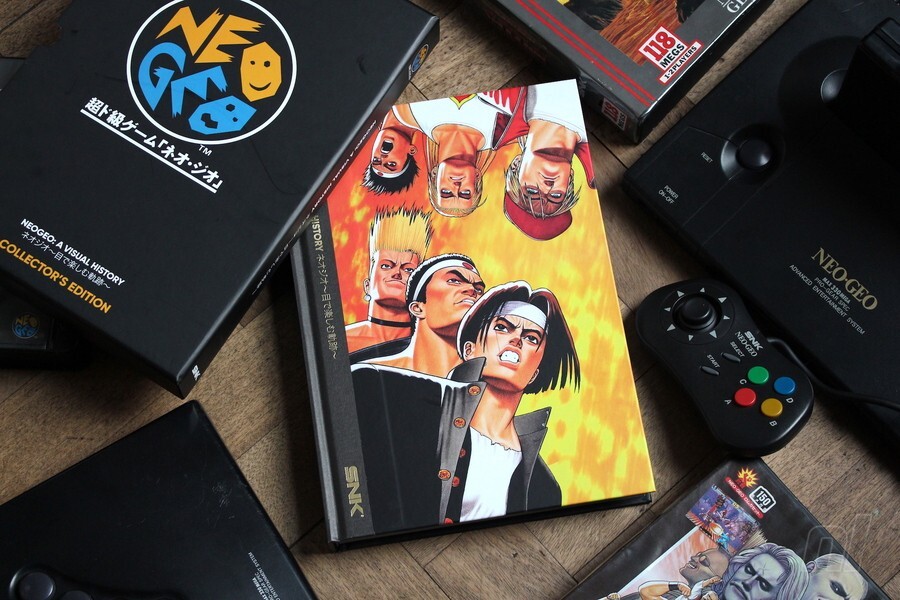 We'll spare you the traditional spiel about how the Neo Geo was the pinnacle of gaming back in the '90s – if you own a Switch then chances are you're already intimately familiar with the amazing library of this beast, thanks to the fact that Japanese firm Hamster has been pumping out a stream of Neo Geo titles on the Switch eShop practically since launch. Over the past months Nintendo fans have been exposed to the delights of Metal Slug, King of Fighters, Samurai Shodown, Super Sidekicks and many other fantastic 2D masterpieces, and if you're keen to learn a bit more about this legendary system then the timing of Bitmap Books' Neo Geo: A Visual History couldn't really be any better.
Click the following thumbnails to enlarge the image. Go on, you know you want to.
UK publisher Bitmap has gained a enviable reputation for creating premium, image-led tomes which focus on all facets of retro gaming. Its popular "Visual Compendium" series has already touched upon the NES (and soon, SNES) and we've had the gorgeous Super Famicom: The Box Art Collection to gawp at, too. However, Neo Geo: A Visual History is something a bit different; not only is it a much larger book (not just in terms of thickness but in footprint, as well) than many of Bitmap's previous offerings, it comes with the official blessing of SNK itself.
As a result, Bitmap has been granted privileged access to all kinds of exclusive material, including official artwork, patent designs, concept drawings and even interviews with key personnel, such as artist Tatsuhiko Kanaoka, better known as "Falcoon", and Yasuyuki Oda, who worked on key SNK titles such as Real Bout Fatal Fury 2, Mark of the Wolves and (more recently) King of Fighters XIV. These interviews are incredibly insightful and will be fascinating for hardcore SNK fans, but it's the visual side of the book which really impresses.
This 400-page book is packed with artwork, bespoke photography of hardware and software, high-quality promotional images lifted from SNK's vault and much more besides. Carefully-captured screenshots show off the sheer beauty of the 2D artwork which populated so many Neo Geo games, while off-shoot projects – such as the ill-fated Neo Geo Hyper 64 arcade system and the plucky Game Boy rival the Neo Geo Pocket – are also included. There's even a chapter which focuses on where SNK is at this moment in time, which serves as an interesting look at a company which, against all possible odds, is actually enjoying something of a resurgence thanks to a recent buy-out.
Neo Geo: A Visual History comes in two flavours – the Collector's Edition (shown here and sadly now sold out) comes in a heavy-duty slipcase and includes some limited edition art prints, as well as a rather fetching metal pin badge, while a "Mega" edition packs in even more stuff, but is also sadly sold out. The readily-available standard edition lacks these bonuses but remains an imposing book. If you plan to make a purchase you'll need to clear some space on your bookshelf – not that it will remain on it for very long, as there's so much information and visual goodness to consume that we'd recommend you open it up every morning to put yourself in a good mood for the rest of the day; Neo Geo is life, some of the company's more overzealous fans would say, but there's some truth in that. In an age when gaming is becoming more and more preoccupied with window-dressing, loot-boxes and exploring social and political issues, this book reminds us of a simpler age where gameplay – combined with admittedly sublime 2D visuals – was all that truly mattered.