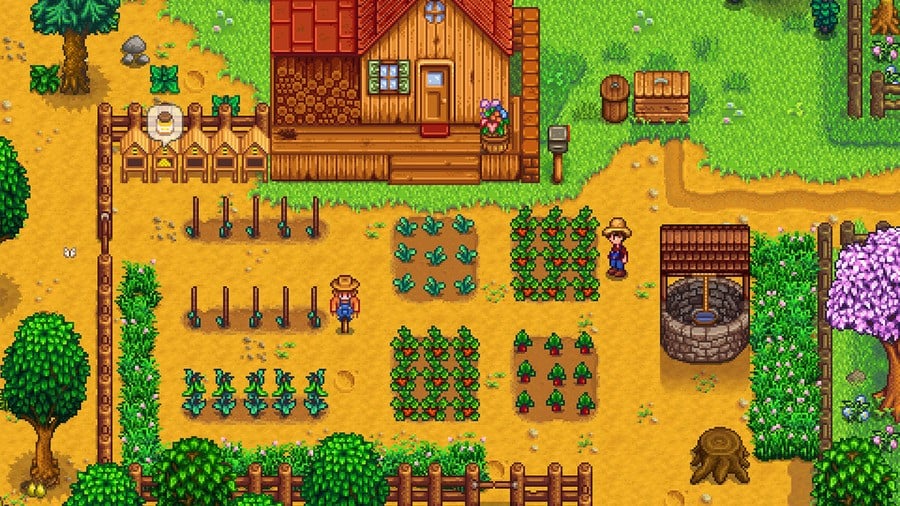 It's Nintendo Download Update time, ladies and gentleman, and it's another cracker. This week brings an impressive range of new releases on Switch, both at retail and as download-only titles. The 3DS also weighs in, with two notable retail releases on the veteran handheld; there's a lot to get through, so let's get to the details.
Switch Retail Download
Touhou Kobuto V: Burst Battle (NIS America, $29.99USD) - A spin-off of the popular Touhou Project series, Touhou Kobuto V: Burst Battle is described as a 3D shooter with fighting elements, which tasks you with taking down opponents 1 vs 1 using projectile and melee attacks. Available from 10th October.
Tiny Barbarian DX (Nicalis, $29.99USD) - An action platformer that pays homage to the retro era, it supports local co-op and also has "four lengthy episodes". We suspect most will aim to get the physical edition of this, however, which will include various goodies in the first run. Available from 10th October.
Switch eShop
Stardew Valley (Chucklefish LTD, $14.99USD) - Since it was announced earlier this year this has been top of plenty of wishlists. A hugely popular game across PC and consoles, this will be the first iteration that'll also be playable on the go. It adds its own modern spin to Harvest Moon-style ideas such as tending to your land and forming relationships with suitors. We'll bring you a review as soon as possible.
Axiom Verge (Thomas Happ Games, $19.99USD) - An innovative Metroidvania that in the eyes of some (including our reviewer) is a modern classic. On the surface it looks traditional, but an innovative approach to glitches and their impact on the world helps to make it a distinctive experience. We love this game, and that didn't change in our Axiom Version Switch review.
Oxenfree (Night School, $19.99USD) Originally released on PS4, Xbox One and Steam in 2016, Oxenfree casts the player as Alex, who travels with her stepbrother Jonas to an abandoned military island packed with hidden secrets. The game offers a multiple-choice conversation system that alters the story as you play, building your in-game relationships with every reply, statement and question. There's also a radio which allows you manipulate the game world and make contact with the strange and mysterious forces that have been dormant on the island for the past 70 years. Critically acclaimed when originally released, we'll check it out on Switch. Available from 6th October.
Earth Atlantis (Headup Games, $14.99USD) - Looking a lot like the classic arcade blaster In The Hunt, Earth Atlantis places you in a world where the majority of the planet's surface is covered in wet stuff. There are plenty of enemies to take down as you embark upon a 'monster-hunting' approach to the side-scrolling shooter genre, all with a distinctive art style. We'll had a review with you soon, in the meantime here's an interview with the director and lead designer.
Tumblestone (The Quantum Astrophysicists Guild, $14.99USD) - The name may sound familiar, as this was a 'Nindie' title given a big push by Nintendo on the Wii U eShop last year. It's a game that reminds us that puzzle titles can be engrossing and a lot of fun, with plenty of content, modes and options to play alone or with buddies. We'll take another look on Switch, but in the meantime you can check out the strong recommendation in our Tumblestone Wii U review.
Ninja Shodown (Rising Star Games, $14.95USD) - Another potential winner to add to the stack of entertaining local multiplayer games on the Switch. This one is all about chaotic arena brawls (either co-operative play or as opponents) and looks like it could be fun. We'll see whether it truly has the way of the ninja in a review.
Volgarr the Viking (Crazy Viking, $9.99) - Also coming to Wii U at some point this has now made its way to the Switch. It pitches itself as a tough action platformer in which you'll die a lot. It looks a tad rough visually, but that doesn't mean it won't be a lot of fun; we'll try it out for review.
Metal Slug X (HAMSTER, $7.99USD) - We've already had three ACA Metal Slug titles on the store to date, though X is considered to be pretty darn good - it's a rearranged version of Metal Slug 2 (fixing that game's drastic slowdown) and we loved it in our Wii Virtual Console review.
3DS Retail Downloads
Mario & Luigi: Superstar Saga + Bowser's Minions (Nintendo, $39.99USD) - One of the most beloved entries in the RPG series gets a revamp on the 3DS, with updated visuals and a new strategy-light spin-off campaign. Though the all-new content is a tad uninspired, the main game is still an absolute delight to play - we get into why in our Mario & Luigi: Superstar Saga + Bowser's Minions review. Available from 6th October.
Layton's Mystery Journey: Katrielle and the Millionaires' Conspiracy (Level-5, $39.99USD) - After spin-offs and experiments the Layton series goes mostly back to its roots in this new release, with Katrielle and chums solving a lot of puzzles while solving a dozen cases. It's a welcome return to form for the IP, as we explain in our review. Available from 6th October.
3DS eShop
Symphony of Eternity (KEMCO, $7.99USD) - KEMCO is bucking the trend, changing up its modus operandi to bring us something completely different... nah, just kidding, it's a retro-styled RPG. There's a legendary weapon and an epic quest, and that - ladies and gentleman - is another KEMCO RPG 3DS eShop release. It might be good though, to be fair.
3DS HOME Theme
BOXBOY! 2.5th Year Anniversary
---
As always Nintendo of America wants you to browse the eShop and check out the official sales and deals website for discount details.
That's the Nintendo Download line-up this week - let us know what you'll be downloading in the poll and comments below.