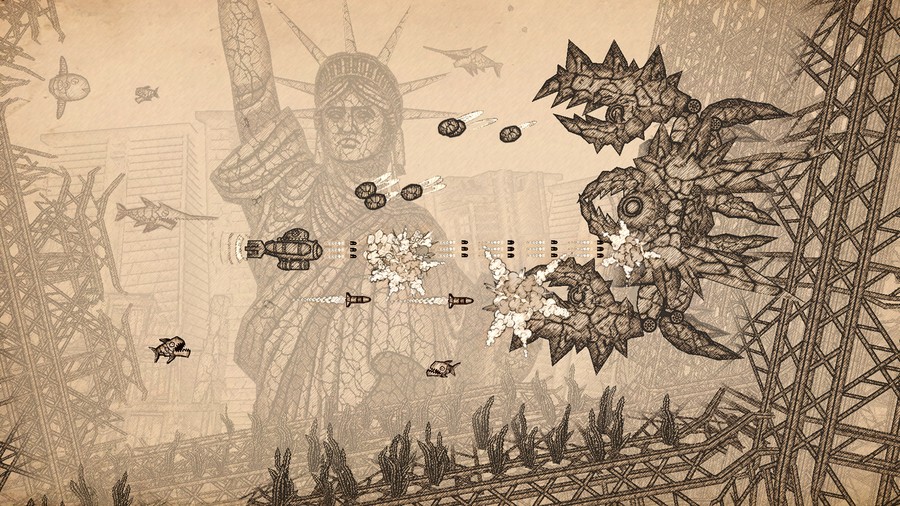 Set after a global catastrophic event that resulted in 96 percent of the Earth's surface being underwater and forced machines to adapt into various marine forms, Earth Atlantis is shaping up to be an interesting shooter on Switch. 
Your mission is to slay more than 20 'boss monsters' by choosing one of four submersibles, each with unique weapons. The gameplay is made up of classic arcade shooting and strong Metroidvania elements. Earth Atlantis also boasts a unique and striking hand-drawn style with dilapidated architecture presented in deep parallax, keeping the visuals engaging and the action intense. 
Director and lead designer and director Anucha Aribarg took some time out to talk with us about the project.
Nintendo Life: How does it feel to be part of a brand new console's library?
Anucha Aribarg: As a big Nintendo fan myself, I am so excited to see Earth Atlantis on a brand new game system from Nintendo.

How has it been bringing the game to a company's hardware that has influenced so many other developers for so long?

AA: The Famicom was my first home console and I have a lot of great memories playing many classic games. I also played some great side-scrolling shooters (like Gradius, Salamander, Parodius, R-Type) on Nintendo game systems. Unfortunately, this genre is a very niche genre today. Nobody makes this type of game anymore. To be able to bring Earth Atlantis - which I truly consider it homage to the genre - to a new system from the company that started everything is just unbelievable.
The game's art style is incredibly unique - how important was it to build the game's identity aesthetically?

AA: The theme and art-style are the core idea of Earth Atlantis. We wanted to make the game about sea monsters that gives players the feeling of 14th century ocean exploration when the sea was considered a very dangerous place and full of terrifying monsters. The old drawing style is just perfect for the game. We are aware that many mainstream gamers will probably not buy the game because of its visual presentation; the art style is definitely not for everyone. But as a designer, I think it's very important that you make something that is unique and interesting. 

Another way to look at it, if we wanted to make a game that sells more copies, we would have made a platformer or a dual-stick shooter instead a side-scrolling shmup. We are very grateful that many people appreciate the game. We won the Best in Show award at BitSummit 2017, the biggest indie-game event in Japan, as well as the Excellence in Art award at BIC festival in South Korea.


In addition to the game's aesthetic, Earth Atlantis is rich with lore, beasts and weapons. What was the selection process like?

AA: Beside the game aesthetic, boss monsters are very important. It's a core gameplay of Earth Atlantis. We have to make sure that all bosses are different. Each boss has a different movement and a different attacking pattern. Some have a weak point, some don't. Players need to learn how they move and attack in order to beat them. Also, Earth Atlantis is about an ocean adventure so we tried to give players a sense of freedom. Earth Atlantis has one large seamless stage, Metroidvania style. It goes very well with the monster-hunting style gameplay.

Do you have any personal favourite monsters?

AA: My personal favourite monster is the last boss. I don't think I should reveal anything now and leave it as a surprise!

As a hybrid system, it could be argued that Switch owners get the best of both worlds. How has the development process been since the console's reveal?
AA: I don't think it had any effect on the development process, but as a Nintendo fan who I followed every single news and rumor about "Nintendo NX" closely; the Switch is everything I hoped for.

As a developer and a consumer, what attracts you to the Switch?

AA: Of course, the fact that you can play the Switch on both handheld and home console modes. Personally, I don't have time to play a console game in front of TV anymore. The handheld mode is just perfect for me. I can play it anywhere and whenever I have a free time.
Was there anything outside of video games or a specific artist that influenced you?
AA: In particular, artworks from 20,000 Leagues Under The Sea. We were inspired by Jules Verne's novels and old monster films. A number of the ships and special events are named after old horror films or classic literature, and most of the bosses were named after Greek mythology or classic "kaiju" monsters.