FAST RMX was one of our favourite Switch launch titles; it's pretty much everything we wanted from an F-Zero game, but without Captain Falcon and the gang.
The lovely folks over at Shin'en Multimedia just got in touch to remind us that the REMIX UPDATE is coming to FAST RMX later today, which will add 6 new tracks and 2 new cups to play in the game. 
The update will be entirely free. Along with this generous update, the game will then also be available in the Japanese eShop for the first time, costing 2200 Yen.
Here's a quick look at what we can expect to see later today: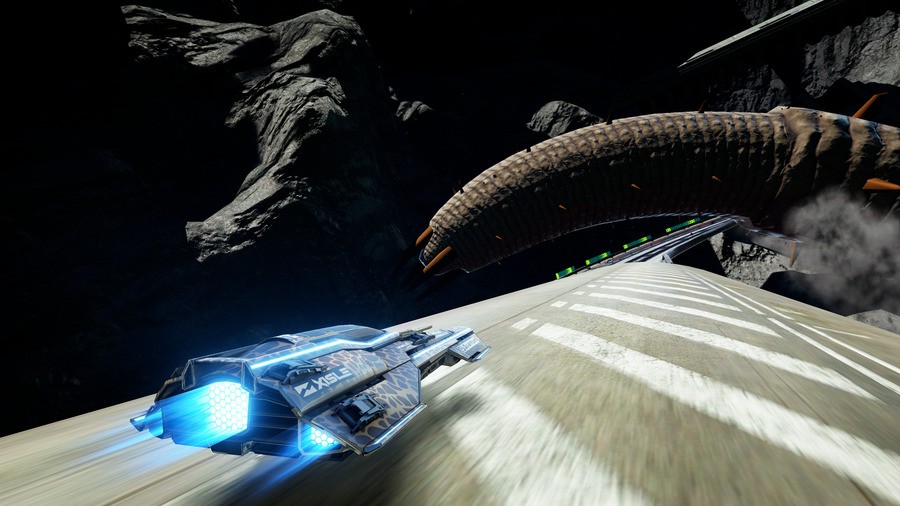 First up we have six new tracks and two new cups:
Titanium Cup
Tepaneca Haze
Chuoku Habitat
Ice Coast
Iridium Cup
Cameron Raceway
Sunahara Valley
Scorpio Mine
This update is called the REMIX UPDATE for a good reason, the 6 new tracks are crossover tracks.
For instance, the new track 'Scorpio Mine' is a remix/crossover from the original 'Scorpio Circuit' and 'Willard Mine' tracks. Shin'en took the 'over the top' sandworm attacks from 'Scorpio Circuit' and mixed them up with the rollercoaster like environments of 'Willard Mine' into a completely new track. How cool does that sound?
Here are some more improvements which we can expect to see also:
The CPU-driver AI has been improved
A hang on the loading screen that happened when your Switch wasn't powered down for a month has been resolved
Friend Online plays are now shown in yours
Switch console 'Friend Activity log'
It's a small present from Shin'en Multimedia to all Nintendo gamers that supported them since the late '90s. The update will become available today at 17:00 CET /  8:00 PDT / 0:00 Japan.
We have to say it's great to see Shin'en Multimedia continuing to support FAST RMX in such a way. Now might be a good time to pick up this excellent racer, if for some inexplicable reason you haven't done so already.