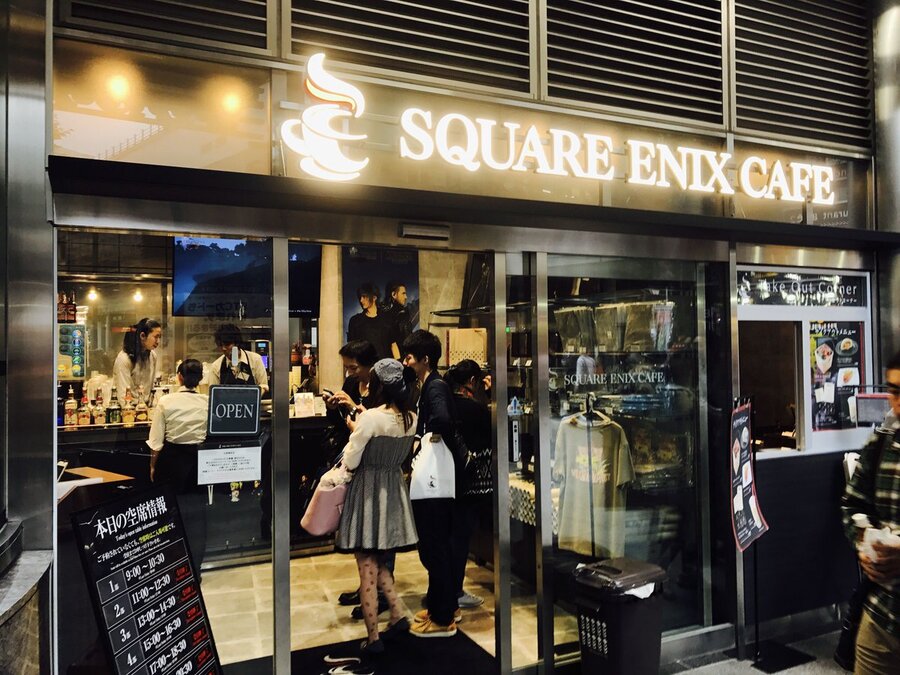 It's been well documented that Akihabara has one of the largest clusters of game, anime and technology shops in Tokyo, the capital and largest city in Japan. You could spend from morning til midnight just walking up and down the many streets and shopping for classic games, new games, DVDs and Blu-Rays, clothes and anything else that you might like.
If you are planning a day out in Akihabara, then you'll need to eat and recharge in order to hit the streets and do more exploring. Fast food and sit down shops abound but since last October, Square Enix has had its own shop open where you can get something eat, if you are lucky enough to get in.
Located next to Yodobashi Camera, the largest shop in Akihabara, The Square Enix Cafe opened on 1st October, 2016. The shop features figures, posters, cups and other memorabilia from the Square Enix catalogue of games. Final Fantasy engraved tumblers and Dragon Quest figures are in varied quantities. There are other franchises on display but it's clear that FF and DQ dominate the shelves and cafe.
The food itself is quite standard restaurant fare. Unfortunately they do not have cute names like "Chocobo BBQ Wings" or "Deep Fried Cactaur Strips." On second thought, the idea of eating a Chocobo might not be so appealing. However, the Square Enix Cafe offers salads, fried shrimp, roast beef, pork sausage and other Western style cuisine. There are cookie sets with the cafe logo on them, however, if you are looking for a unique souvenir. The cafe also gives out types of bonus awards like small merchandise items if you spend enough money during your visit.
But be warned: you cannot simply just walk in, sit down and order. The cafe is quite popular and rather small, so you must reserve a table before going. A reservation, made online (in Japanese only) will grant you 90 minutes to sit, eat and browse the shop. The problem with this system though is that the cafe has been fully booked since opening and, as I write this, reservations are full for the next few weeks. If you are planning a trip you had better plan well in advance. If a reservation is cancelled walk-ins are accepted. so you might get lucky that way.
If you can't get in, that street corner in Akihabara is also quite famous for having dozens of people engaging in 3DS StreetPass, and you might be able to fill up your map of Japan and get other countries as well, while peering in at the lucky few who could get into the cafe. Not a bad consolation prize.