When Nintendo gave its major Switch Presentation earlier this month, following it up with details in press releases, social media and interviews, there was a fair bit of information that was shared. While the Presentation had the task of giving the first major showcase for the system, it did however skip over quite a lot of features that are nevertheless expected. That was inevitable, ultimately - events like these can never cover all of the bases.
The system is due on 3rd March, of course, and there are some notable areas that need to be expanded upon. It's no real surprise that there were aspects of the system passed over in the core reveal, but there's still time for Nintendo to get into the nitty-gritty for its most loyal fans. Whether there'll be a Nintendo Direct to fill in gaps, or possibly just a drip-feed of details through social media, we can be sure that more information will emerge in the coming weeks.
In any case, we've picked up on five key aspects of the Nintendo Switch that should be outlined and explained in more detail before the system arrives in stores.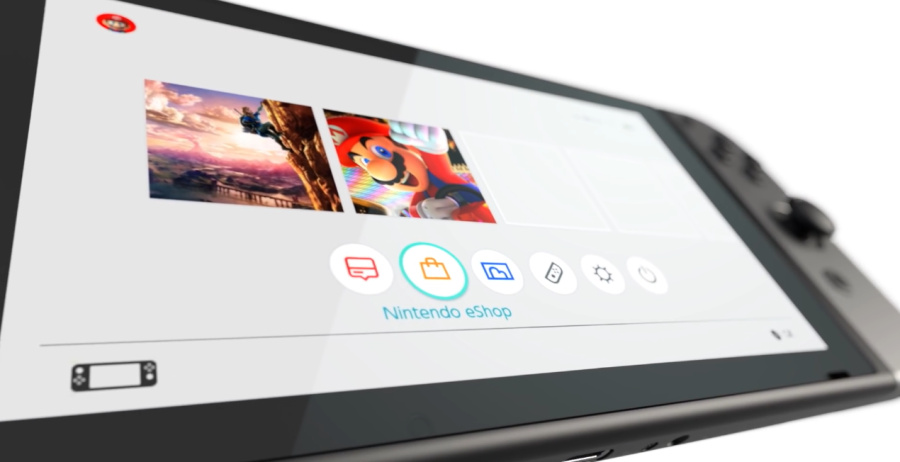 The eShop
This is a big one, and in preparing a feature that involves multiple 'Nindies' there's already a little disappointment in some of their responses that the eShop was largely ignored in the Presentation and, to a degree, since. Nintendo has highlighted some download-only games and pleasingly showcased them to the public, but it's been a minimal nod to the Switch's download store so far.
What we do know from a video snippet and the official websites is that the eShop brand is surviving, and that as expected it'll tie in to the Switch Online Service. We've not seen the interface, however, nor do we have a sense of any other new features the eShop could introduce.
We'll be interested to see the layout, for one thing. Will it be different when the Switch is docked in order to display fully on a TV, adopting a more 'portable' look when on the console's screen? That'd be a neat touch, and there are certainly areas that can be improved over the 3DS and Wii U iterations. In fairness to the Wii U eShop in particular we think it compares favourably to other download stores in its general look, but improvements in processes and particularly navigation speed would be very welcome. Even on Wii U the eShop is oddly slow to do, well, anything. Beyond that steps could be removed to speed things up, and product pages could certainly be more dynamic and interesting; we like the way trailers auto-play in mute on the PSN Store, for example, ready to be viewed fully at any time.
All told the eShop's primary features, ties to My Nintendo and how this all comes together in the user interface are areas yet to be discussed by the big N.
Virtual Console
What do we know about the Virtual Console? Only that it will have some NES and SNES games, potentially with tweaks to add online multiplayer; this is related to the monthly game access that will come with a subscription to the online service.
Beyond that it's largely a mystery. Reputable reports - that are nevertheless rumours until announced - have previously suggested that GameCube titles are on the way, though the lack of analogue triggers on the Switch controllers is a blow to that, albeit not a critical one. Outside of that Nintendo could really go whatever way it wants, as it's a device that's naturally suited to both TV and portable play. With that in mind, and the Tegra-based GPU inside the system, we've argued before that in theory the Switch can deliver the ultimate Virtual Console experience. Dual screen systems are out, of course, and the Virtual Boy is the Virtual Boy, but beyond that Nintendo can push the boat out.
Quite how bold Nintendo will be is anyone's guess - it depends on progress with emulation to the hardware, and the sort of model the company will pursue to sell those games to us. The status quo wouldn't be surprising, with relatively 'premium' prices and some upgrade discounts for those that have bought Super Mario Bros. et al three times previously. Whatever the case, it's a major service that fans care about, and could be central to any additional pre-launch Directs, presentations or media reveals.
Nintendo Account Services, Including Cloud Back-Ups
When the Nintendo Account and My Nintendo rolled out last year, with support for the Wii U, 3DS and mobile stores and apps, it seemed like a wise move to begin the transition before the Switch rolled around. The Nintendo Account is mentioned as the free and mandatory online ID for the Switch, which likely means the end of the Nintendo Network ID moving forward, though existing NNIDs are naturally used on the older hardware and as options to link with the newer accounts.
A key question some have is whether eShop funds shared between Wii U and 3DS will also tie-in to the Switch store, and we certainly hope that'll be the case - it shouldn't be too difficult for Nintendo to implement that for all those with a Nintendo Account.
Another key question, though, relates to whether these accounts will be tied in any way to specific hardware. We've banged this drum a lot, as on Wii U and 3DS accounts get chained to consoles, necessitating system transfers (in which multiple units go through a ponderous process with each other). Though our Wii U/3DS purchases and accounts exist as data that can be managed online and 'through the cloud', as shown when customer services can add and remove software from our units remotely, the end user doesn't enjoy that luxury. As a result switching between systems - for example when buying a special edition or replacement - can be rather fiddly, and there's also danger of losing files and save data if external memory fails.
One little detail that's reassuring with save data is that it'll apparently be stored on the Switch's internal memory, with any micro SD cards added by the user looking after big files like game and app downloads. In other words, if your micro SD fails or gets damaged, reinstalling a game from scratch should - in theory - easily pick up your existing save data. That's a positive, though we should add the 3DS has had a useful save backup option for a while, even if the Wii U - bizarrely - doesn't.
In any case, will the Switch and Nintendo Account also support cloud (online) backups and related services, also making any hardware changes far easier? This sort of thing is the norm with tablets, smartphones and indeed other current-gen consoles; we're not holding our breath, but we're hoping to see this from Nintendo.
Pre-Installed Apps
Most Nintendo systems of the modern era come with pre-installed apps - so far we know the Switch will have the eShop, an 'Album' area with your in-game screenshots, and a 'News and Announcements' shortcut. Apart from that, it's rather mysterious.
We're curious to see how many established ideas make a transition - will there be 3DS-style HOME Themes, for example? How much integrated support will there be for the likes of Twitter and Facebook, both within and potentially outside of the Album app? Will there be any short and sweet game experiences? Thinking back to 3DS we had AR Games and Face Raiders on hand, so a similarly small experience or two that make clever use of the Joy-Cons would be a nice touch; it should be noted that even small pre-installed games seem to have been ruled out, but the wording is vague. A Mii Maker of sorts is confirmed, but we also know that Switch won't have StreetPass due to the positioning of the console as a home system, but that doesn't mean there won't be some form of alternative.
Also worth noting is that the big N is evidently keen to use its Nintendo Account setup and all of that background work with DeNA to tie the Switch to smart devices. Parental Controls and online service features such as lobbies and voice chat are going to be delivered through smart device apps that connect to your Switch through your Nintendo Account. With that in mind, some of the features that typically appear on systems may be absent and delivered through smartphone / tablet apps instead. One app we'd like to see in some form is My Nintendo, with easier and more integrated reward redemptions than currently available through the service's website.
Also of note, it seems pretty clear - based on Nintendo's comments - that there won't be major video streaming or media apps available at launch: such as Netflix, YouTube etc. It seems late to reverse course on that, though not impossible, but they will surely arrive in an update soon enough.
The Touchscreen
In all of its demonstrations, Nintendo has repeatedly ignored the multi-touch screen on the Switch, and it barely features in games. Naturally when playing in docked mode this screen is irrelevant, and it seems that most games simply don't support it. It's there though, we know that much.
We've really only seen some brief video footage, which emerged recently, and Ubisoft has confirmed that the screen will be used in Rayman Legends: Definitive Edition. We assume it'll come into play in the user interface in portable mode, but there are lots of questions. Will there be some kind of mode or trigger to go into a touchscreen-centric UI or to utilise its features, and will many games at launch use it?
Frankly, until we've seen a Nintendo demo video with a translucent finger tapping and prodding a CG version of the Switch - accompanied by low-key and soothing music - we simply won't be satisfied...
---
Let us know what other Nintendo Switch details you want to hear about ahead of launch in the comments below.