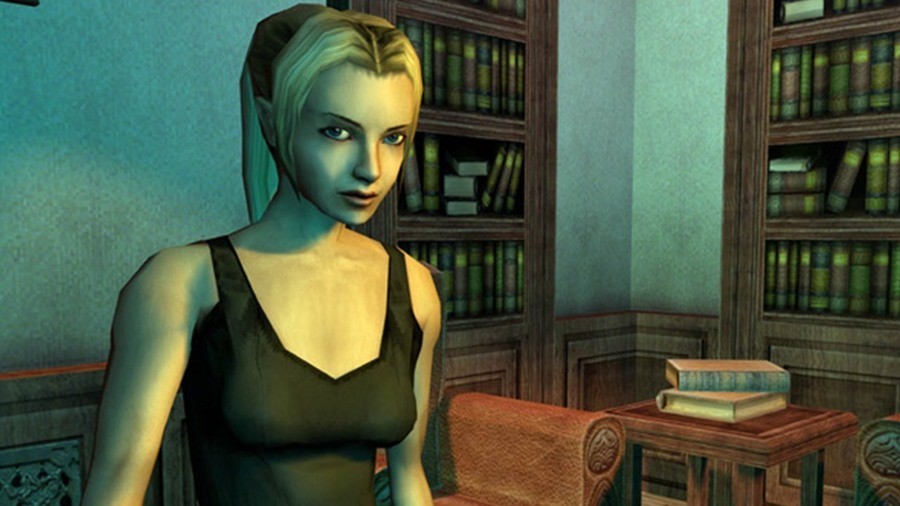 Fans of Eternal Darkness: Sanity's Requiem have had a rough decade. While the franchise lays dormant from Nintendo, a spiritual successor titled Shadows of the Eternal was to be developed (by ex-Silicon Knights devs) for the Wii U. Unfortunately it didn't hit an adequate amount of funding via Kickstarter donations (twice), and has been muddled in development hell since.
If you're one of the many that yearn for another experience with Eternal Darkness, considering it one of the top-shelf games from the GameCube library, this recent trademark application (search for 87274495 at that link) will hopefully pique your interest for the series' future. We've seen this before, of course, but it's nice to see the trademark living on.
If this is the first time the words "Eternal Darkness" have graced your ears, the title is held up in high regard due to its creatively produced psychological experiments in gameplay. Sanity effects replicate your television screen turning off, environments beings turned upside down, or even the main character's head falling off while reciting Shakespeare's Hamlet. Eternal Darkness was a horror game which relied on a cleverly executed (and patented) gimmick, a gimmick that owns and deserves great respect.
While the filing is listed to have been resubmitted almost four days ago, NeoGAF user Rösti has explained that "The application entered the Trademark Reporting and Monitoring System (TRAM) yesterday on December 23, 2016."
Rösti goes on to explain one of the more intriguing factors brought up in the filing, as an excerpt explains that the filing is categorized as "1B (Application based on intent to use), goods and services related to game programs/software." This means that Nintendo could be implementing the title with the rumoured GameCube Virtual Console lineup. Rösti adds, "what can be said is that Nintendo seems very keen on not losing the trademark allowing for anyone to try and register some game under that name. They could be actually working on a title set in the Eternal Darkness universe; it could be an HD remaster, a Virtual Console release or an entirely new game." That's all logical speculation, certainly.
As for now this is still entirely speculative, and we'll hopefully hear more this January.
[source tsdr.uspto.gov]